Division of Languages and Literature
Bachelor of Science in Education – English Education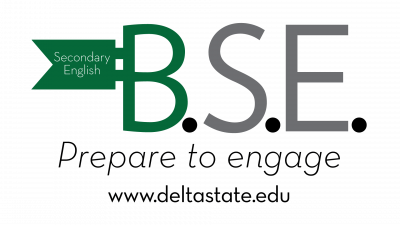 The Bachelor of Education degree is designed for students who wish to pursue professional study in education as classroom teachers.  In the College of Arts and Sciences, Delta State awards the Bachelor of Education degree in English, Social Studies, Mathematics and Science.
The English Education program at Delta State University prepares students to be outstanding educational practitioners and scholars. We believe:
All students can learn and be academically successful
Learning is a lifelong and cyclical endeavor
Critical and creative thinking are essential skills for all learners
The basic aim of education is to teach essential skills and raise critical consciousness
The importance and value of equitable representation in the literary classroom cannot be overstated
Requirements for full admission to the Bachelor of Science in Education in Secondary Education English program are:
Junior year status
Acceptable scores on one of the following:

Passing Scores on the Praxis Core Academic Skills for Educators Tests (Reading, Writing, and Math)
ACT of 21 or higher and a passing score on the Praxis Core Writing Test

General education GPA of 2.75 or higher
Recommendation from Division of Languages & Literature faculty
More information regarding  general admission requirements, tuition & fees, financial aid and campus life can be found at:
Freshman Admissions Home
Transfer Admissions Home
More information regarding full admission to the education program can be found at:
Office of Clinical Experience, Licensure, and Accountability Home
Curriculum Map
Common Assessments & Capstone Project
In addition to the course content, in each course with an ENG prefix you will encounter a series of assignments and discussions that are designed to provide consistency and scaffolding as you work toward the program's capstone project, the Teacher Work Sample and Two-Week Unit Plan.  Below are descriptions and expectations for each:
Digital Portfolio – The digital portfolio is a collection of documents that you create, gather, and publish in a WordPress blog over the course of your program of study to act as evidence of your growth and proficiency in the field.
Annotated Bibliography – English Education majors are expected to develop at teacher-scholars and to identify an area of academic inquiry for which they would like to continue researching after graduation.
Teacher Work Sample– The Teacher Work Sample, or TWS, is a common assessment for all education majors across Delta State University and the state of Mississippi. It is a reflective document that should be constructed hand-in-hand with the Two-Week Unit Plans that are submitted for evaluation in CUR 485 and ENG 486.
Two-Week Unit Plan–  The Two-Week Unit Plan assessment is devised to evaluate the teacher candidate's ability to effectively plan for instruction.
Office of Clinical Experience, Licensure, and Accountability
The B.S.E. in Secondary Education English has a two-year, graduated series of clinical experiences beginning in the Junior year.  The clinical experiences are scheduled as follows:
Junior Year Pre-Internship:

All candidates will participate in a pre-internship that runs for 10 weeks in the fall and spring semesters of the Junior year.

Senior Year Internship:

After a candidate match meeting (held at the end of each Spring semester), teacher candidates will be placed with a single cooperating teacher for both the Senior Methods internship and the Directed Teaching Internship.  Candidates will begin with traditional observation and be given increasing levels of responsibility throughout the Fall semester, eventually taking over the teaching of all classes during the Spring semester.
A candidate for the Bachelor of Science in Education in Secondary Education English is required to meet the following:
Fulfill the general requirements for an undergraduate degree at Delta State University.
Complete work consisting of core courses, major field hours, and elective hours as specified.
Earn a grade point average of at least 3.0 in the major field and overall.
Earn a grade of B or higher on each of the education core courses (CUR 300, 393, EPY 341, CSP 340).
Pass all Praxis Tests (Core, PLT, and English Content).
Successfully complete the Directed Teaching Internship and all clinical experience requirements.
Address and Mailing
Division of Languages & Literature
College of Arts & Sciences
Kethley 203
DSU Box 3215
Cleveland, MS 38733