Bachelor of Fine Arts
in Digital Media Arts
Produce a Foundation for a Successful Career in Animation and Video
A B.F.A. degree in Digital Media Arts provides a foundation for students seeking to develop careers in the rapidly growing areas of motion graphics, sound design, video production, and photography through a multidisciplinary approach. This comprehensive degree fosters skills desired by the field of digital media arts such as creativity, team building, critical thinking, and symbolic communication. Overall employment of film and video editors and camera operators is projected to grow 12 percent from 2021 to 2031, much faster than the average for all occupations. Animation studios, multimedia companies, game developers, and post-production studios are always looking for new talent. This program produces digital media artists and professionals ready to create, develop, produce, and promote professional quality digital content on industry standard software and hardware.
Award-winning Documentary Film
Why Choose Digital Media Arts at DSU?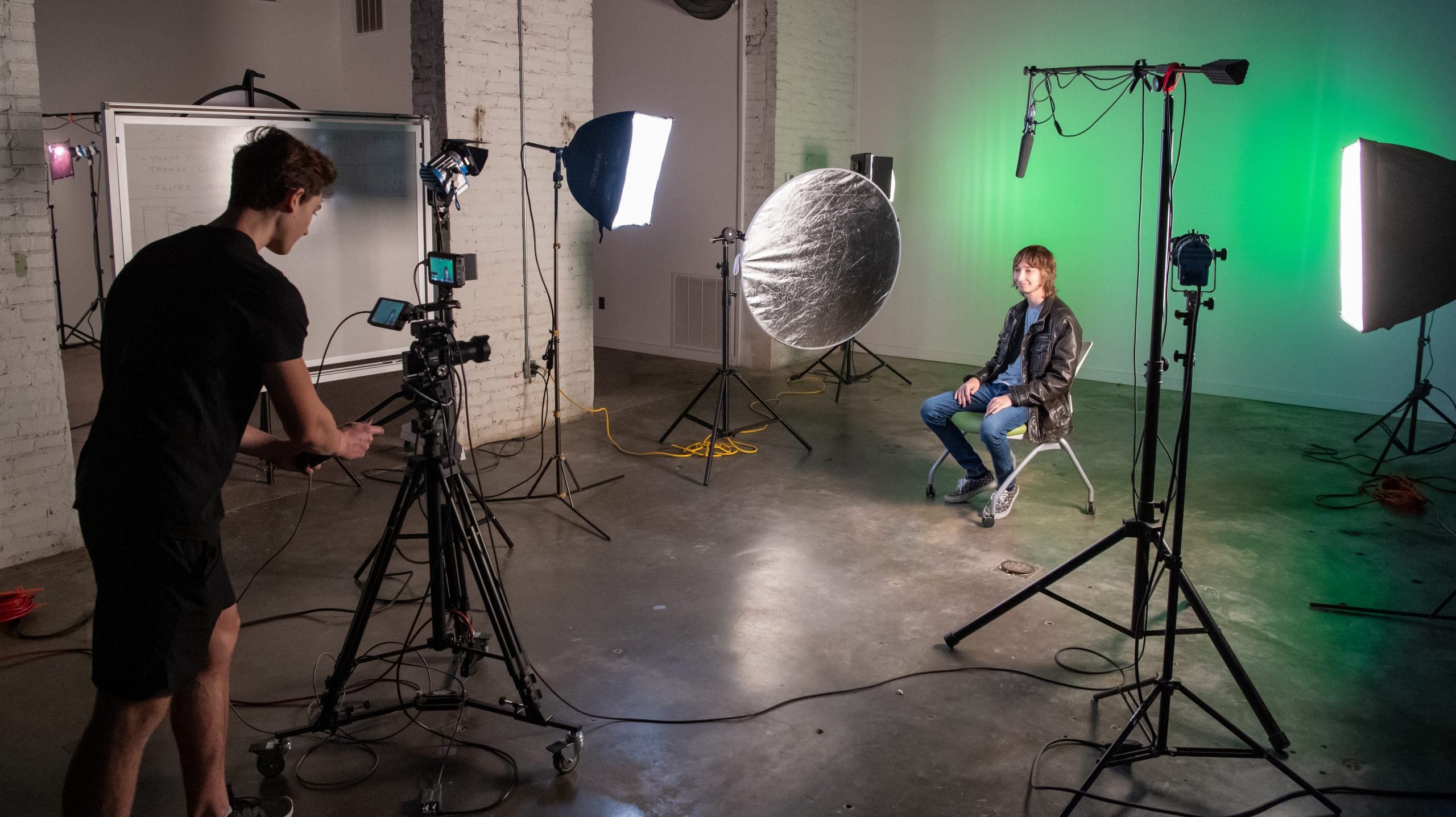 Digital Media Arts majors at Delta State University develop a skill set that includes the theory and practice of video editing, the pragmatic and aesthetic basics of cinematography, a strong conceptual and practical knowledge of audio, and the storytelling essentials required for both narrative and documentary filmmaking. Since the program is part of the art department, students expand their essential training in digital media production with familiarity with art video, music video, and live-streamed or broadcast program.
Applications accepted year round
Flexible and part-time course scheduling
Online and in-person student advisement
Student-led clubs and organizations
Access to a video post-production suite
A hands-on learning experience
Real-world video recording/editing opportunities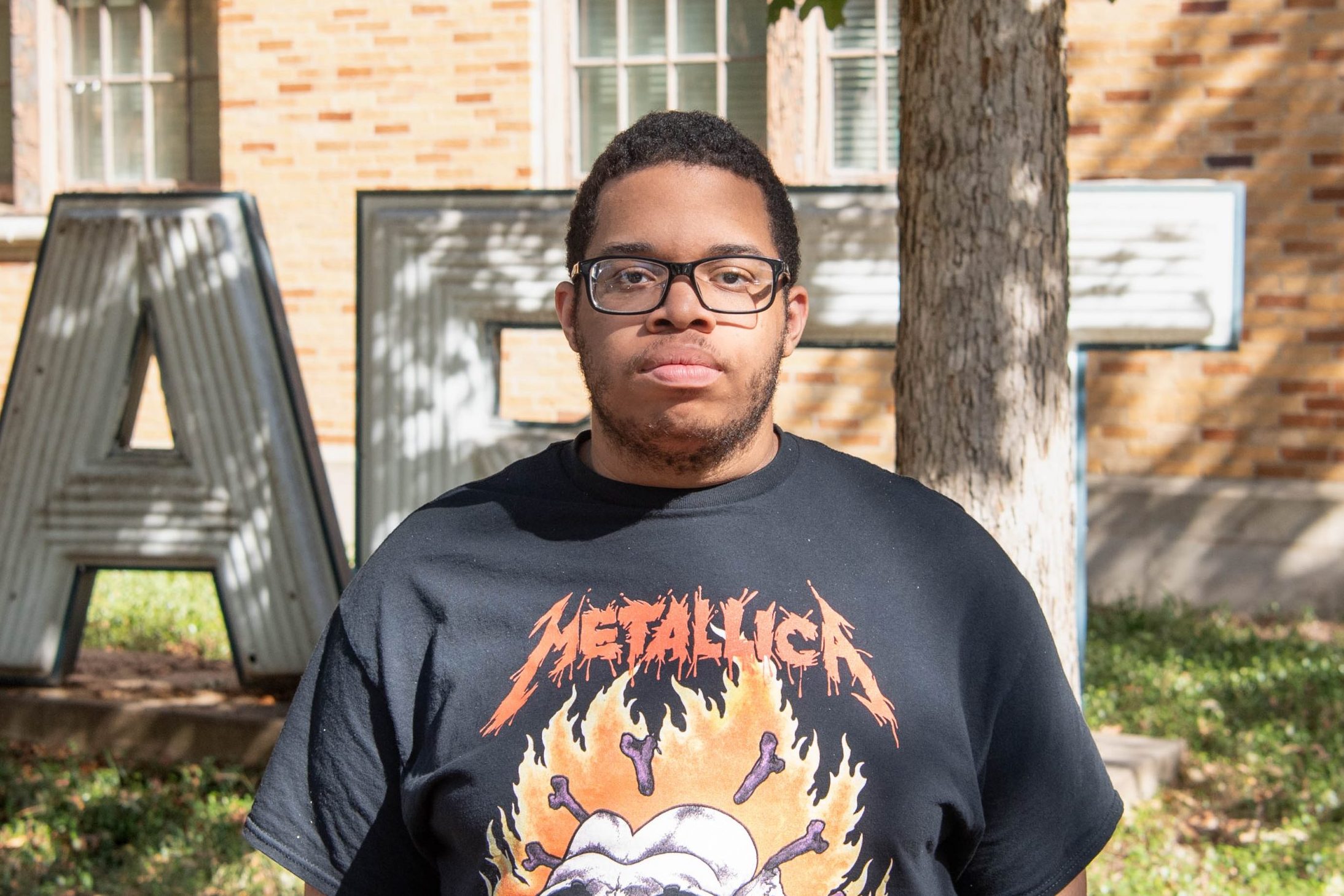 "The coursework within the Digital Media Arts degree program is straightforward with plenty of knowledgeable professors who provide thorough explanations of various video and art processes.

Kyle Shead, Digital Media Arts major

Class of 2026
Concentrations in Digital Media Arts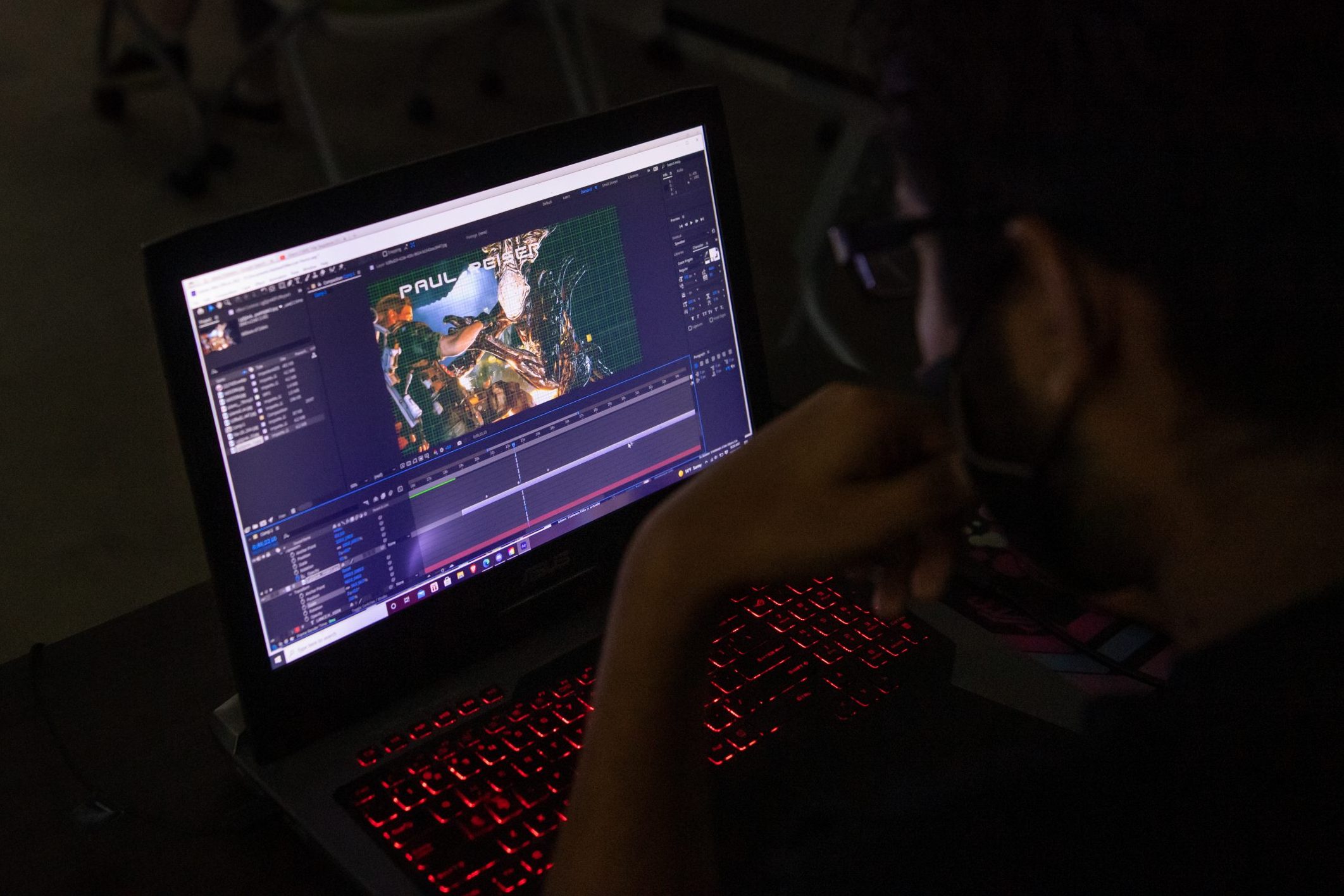 In the Animation concentration, our students learn the basics of storyboarding by using camera movements, angles, lenses, composition, lighting, and other cinematography elements. They practice storyboarding with traditional tools and digital software. Our students learn how to animate using the techniques in 2D, 3D, stop motion, and motion graphics. They learn and understand every step of an animation production; character design, modelling, rigging, story development, and directing. With this education and a sizable portfolio, they can be a team member of major animation or gaming studios, work in the advertisement, TV, or production industry. Opening title sequences on animated and feature film, commercials, infographics are some of the main uses of motion design and graphics.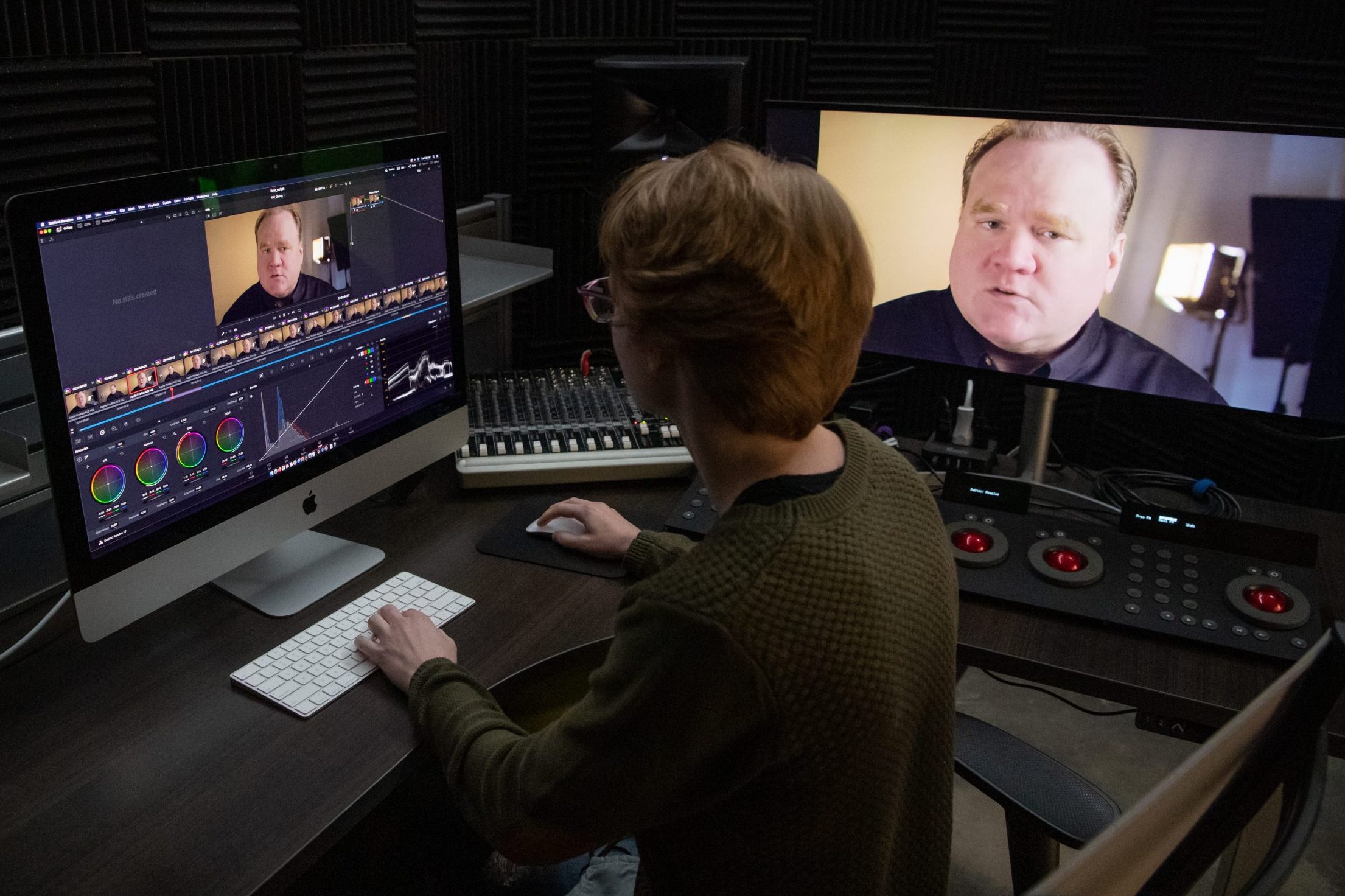 In the Video concentration, students will learn how to color correct video, how to work with new video formats that provide greater dynamic range and expanded color, and how aesthetics and technology have merged to allow colorists to create beautiful cinematic looks in post-production. For students who finds inspiration in the visuals of great films, these skills can lead to a position as a Colorist.
This concentration is also an excellent choice for students who love to work hands-on with lenses and cameras. They will develop valuable cinematography skills that can open doors to a range of video production jobs. From a camera operator to a broadcast television crew to a corporate video producer, a great cameraperson is always in demand.
What Can I Do With a B.F.A. in Digital Media Arts?
With grounding in both theory and technique, our graduates are prepared for a wide range of jobs in the film and video industry and in animation.
Videographer
Video editor
Sound designer
Motion graphics designer
Video colorist
Camera operator
Assistant editor
Producer
Character animator
Effect animator
3D modeler
Background artist
Game designer
Delta State's Digital Media Arts program is more affordable than many of its contemporaries offering similar opportunities. At DSU, we're going to automatically consider you for scholarships. The Art Department distributes over $40,000 annually to its students in the form of scholarships and awards. Awards and scholarships are distributed according to the students' qualifications and the recommendations of the art faculty. Students may also be eligible for non-program specific scholarship opportunities.
Students in the Bachelor's program in Digital Media Arts learn to edit both nonfiction (documentary) and narrative material using various software (including Adobe Premiere and DaVinci Resolve). They begin working with color correction techniques in their very first video class, then expand to working with DaVinci Resolve on calibrated monitors in our post-production suite. Students also begin with the basics of exposure and depth of field. In our advanced classes (like Cinema Studio) students learn how to create beautiful, professional motion pictures that apply the ideas of art. Our program also prepares students to enter a highly competitive industry by leading them on developing a strong portfolio and animation skill set.
Applicants of this program must meet Delta State University's admission requirements.
There are no additional program admission requirements.
The following courses are required to complete a major/concentration in Digital Media Arts.
Animation (Concentration)
Course Number
Course Title
Credits
ART 221
Computer Graphics
3
ART 236
Stop Motion Animation
3
ART 329
Motion Graphics
3
ART 372
Animation I
3
ART 373
Animation II
3
ART 472
Animation III
3
ART 473
Animation IV
3
ART 490
Professional Studio Practices
3
ART 499
Senior Thesis
3
ART Studio Electives (Must be 300/400 level courses)
9
TOTAL
36
Video (Concentration)
Course Number
Course Title
Credits
ART 123
Introduction to Digital Art
3
ART 236
Stop Motion Animation
3
ART 329
Motion Graphics
3
ART 334
Intermediate Digital Video Production
3
ART 381
Cinema Studio I
3
ART 455
Advanced Digital Video
3
ART 490
Professional Studio Practices
3
ART 499
Senior Thesis
3
ART Studio Electives (Must be 300/400 level courses)
9
DMI 435
Sound Design for Film and Visual Media
3
ENG 202
Introduction to Creative Writing
3
TOTAL
39
To earn this degree, you must successfully complete at least 120 credits, including your general education requirements and the major requirements below. Art majors must earn a grade of C or better in all courses in their respective discipline or required by their major.
| | |
| --- | --- |
| General Education | 38 |
| University Requirement | 1 |
| Art Core | 30-45 |
| Concentration | 36-39 |
| Electives | 12 |
| TOTAL DEGREE REQUIREMENTS | 120 |
For more information on degree requirements and specifics on courses needed to complete the degree, consult the Undergraduate Academic Catalog. For a semester-by-semester breakdown on how you can complete this degree in 4-years, visit academic maps.
Tuition at DSU covers the cost of classes.
There is a $25 lab fee per credit hour.
Please refer to the undergraduate academic catalog for details on course-related fees.