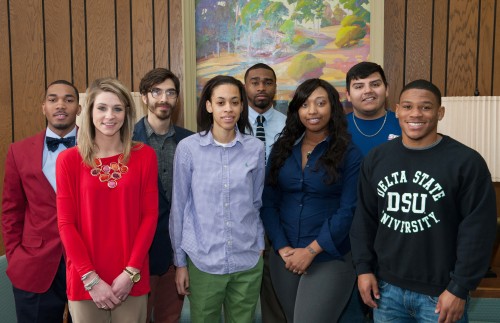 Since his first day in office, Delta State University President William N. LaForge has promised to put the student body first, understanding the student experience is of utmost significance.
LaForge had this in mind even as he and the administration planned the traditional celebrations that go hand-in-hand during a president's inauguration at Delta State. From the beginning, LaForge stressed funding for events should not come at a cost to the university, but through private gifts from outside the institution.
"Thanks to the generosity of many donors who contributed to the Inauguration Fund that paid for our wonderful week of activities back in the fall, we found ourselves with a surplus in the Inauguration Fund and we decided to devote the entire surplus — nearly $30,000 — to immediate scholarships to students," said LaForge.
Through this money, 15 students with special financial needs were granted a scholarship, ranging in value from $600-$3,200.
"These were important scholarships because they could be given now to needy students to help them stay in school," said LaForge. "We have received wonderful words of gratitude from nearly all of them, and it is refreshing for all of us as administrators and faculty to be able to help students, even for smaller dollar amounts, to let them stay on course of their academic pursuits."
Madison Simpson, a Greenville native and full time social work major, said the scholarship made all the difference for her being able to finish school this academic year.
"When I received the Inauguration Scholarship I was thrilled. It's allowed me to concentrate on what's important to me — my education," said Simpson. "I'm a full time student doing my internship. Since I received this scholarship, I don't have to get a second job, which is very stress relieving for me.
"I couldn't thank everyone who made this possible enough. It's a wonderful opportunity for students like me who can receive financial assistance for whatever reason. It's been a dream of mine since I was a little girl — to goes as far as I can with my education. With this help and support, now I can. It means the world to me."
Junior computer information systems major Quann Redmond echoed Simpson's gratitude.
"It impacts me a lot. Before the scholarship I couldn't quite finish the payments on the balance of my account," said Redmond. "I feel blessed to stay on track and be able to finish on time. I'd like to thank the president and the donors for making this possible for me."
Dr. Wayne Blansett, vice president for Student Affairs; Dr. Charles McAdams, provost and vice president for Academic Affairs; and Ann Margaret Mullins, director of Student Financial Assistance, were tasked with sorting through the scholarship applicants and selecting worthy recipients.
"The president made very clear that any funds from inauguration would be put into student scholarships, and really this is about retention efforts," said Blansett. "We wanted to help students with special financial needs so the could stay here and continue their education.
"Most of the recipients are getting close to graduation, and this should help expedite the process. We believe the scholarships helped make a difference to people who definitely had a crucial financial need."
While the leftover funding from inauguration has been distributed through the scholarships, Blansett said the university would continue to look for unique financial assistance opportunities for deserving students.
"Of course we want to help those in need turn the corner on their educational careers," said Blansett. "We hope that future scholarships similar to this will become available for retention efforts."