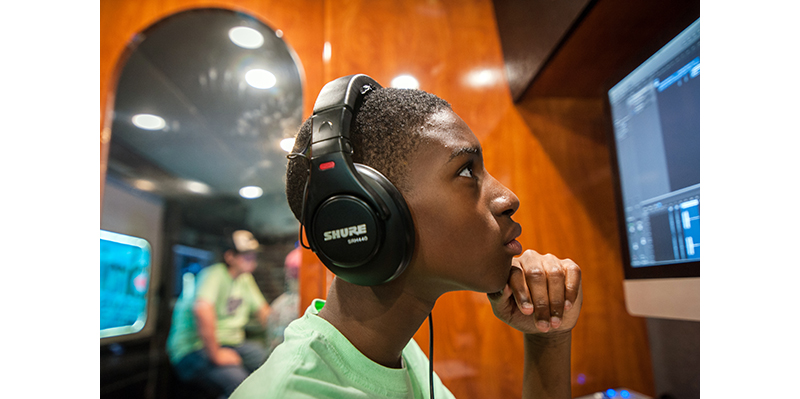 Story and photos by Rory Doyle
With the majority of Delta State students gone for the summer, local youth were given exclusive access to the state-of-the-art Delta Music Institute facilities for the Fast Track Summer Music Camp this week.
Presented by GRAMMY Museum® Mississippi and Delta Music Institute's Mobile Music Lab, and support from the Mississippi Delta National Heritage Area, the camp offers junior high musicians insight into the creative and technological processes of recording and performing music.
Campers explored exhibits at the museum and learned about the influence of Mississippians on American music and cultural heritage. Studying the works by Mississippi artists featured in the museum, the students were inspired by their Mississippi predecessors for a closing performance at the museum on June 23.
Throughout the week, guest artists and DMI faculty and students led instruction on recording techniques, mic technique, signal flow, and sonic shaping both in studio and live applications. Aspiring songwriters sharpened the skills of their craft while exploring song structure, harmony, melody, lyric writing and vocal technique. The students also took a special visit to the B.B. King Museum in Indiana to learn about the legend's roots in the Delta, and had a special visit from Shardé Thomas, a unique fife player in the vanishing blues tradition. She is the granddaughter of Othar Turner, who founded the Rising Star Fife and Drum Band.
See the full story and photos at: http://www.deltastate.edu/photostories/2017/06/28/rockin-dmi-fast-track/