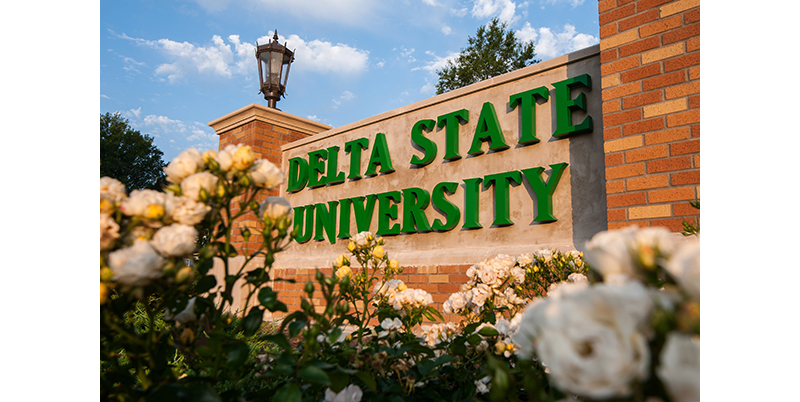 Happy Birthday to the Ol' School We Love Best!  It's Delta State's 92nd anniversary!  On September 15, 1925, Delta State Teachers College opened for business.  So, here's to another great year as we march toward our centennial celebration in 2025!
With a month already under our belt into the new academic year, it is my pleasure to report that we have started the fall semester with a high-spirited campus climate and several points of great news.  There is a distinct "buzz" of excitement on campus as we begin what promises to be a super year.  From the hustle and bustle around the Union due to the temporary relocation of the dining hall, to new and exciting student activities, to the major construction projects underway on campus, to two season-opening football victories, Delta State is teeming with excitement.  New students are choosing Delta State because they see our momentum, our quality programs, and our fun and welcoming environment.  And, we have the stats and some terrific news to back it up.
Delta State's fall 2017 enrollment is up 201 students over last year's numbers, bringing our fall total to 3,789 students.  That represents a 5.66% increase in one year, and our fourth consecutive year of increased enrollment.  It is also the highest percentage increase in enrollment of all eight public universities in the state this year.  In the area of retention, we experienced a 6% increase in the retention of freshmen students over the last year, and a 14.8% increase over the last three years.  Credit and thanks are due to many DSU family members and campus enterprises — our faculty and staff; our Enrollment Management Office and recruiters; our Student Success and First Year Seminar programs; our "growth areas" on campus, including Delta Music Institute, Aviation, Nursing, and Health, Physical Education, and Recreation; our international student program; and, our student life programming that is creating a welcoming and engaging campus environment for our students.
As it turns out, we are great conservationists in addition to being smart budgeteers.  I am pleased to report that we saved a total of $163,724 for the months of May – August, 2017, as a result of the university's summer utility savings program.  We had budgeted conservatively and expected savings of $96,000.  We exceeded that goal by $67,724.  These savings, realized mostly from reduced HVAC/electricity costs, helped us offset the state budget cuts, so that we could avoid laying off any employees or closing any campus programs.  The summer utility savings program was successful because of campus-wide support from faculty, staff, administrators, and students alike, and I extend my thanks to all.  This project was led by our CFO, Mr. Jamie Rutledge, with great advice and assistance by our Facilities Management Director, Mr. Jeff Barkman, and his outstanding staff. The program included the closure of some buildings and prudent temperature control in all others, plus the move to a four-day, ten hour per day workweek from mid-May through early August, with key university units remaining open on Fridays.  We intend to continue this energy-saving and cost-saving program next year.  Once again, I thank the Delta State family for helping us conserve and be frugal in these challenging budget times.
This year's Delta State University Colloquia Distinguished Speakers Program will feature Dr. Rod Paige, former United States Secretary of Education, on Tuesday, October 10thin Jobe Auditorium, and Mr. Fred Smith, founder and CEO of FedEx, on Wednesday, March 21st.  Please plan to attend these lectures, and encourage students to do so as well.
Dr. Temika Simmons has been selected to head the university's new Local Government Leadership Institute that will help provide guidance to Delta municipal and county leaders on effective methods of governance.  This community outreach program, funded by grants from private foundations, will be headquartered in the Center for Community and Economic Development complex on College Avenue, and will begin operation this fall.  Special thanks to the Hearin Foundation and Casey Family Foundation for their partnership and support.
Senior Finance major, Juwan Burney, a star member of Delta State's baseball team, and Chair of the Delta State Student- Athlete Advisory Committee, has been appointedby the NCAA as a member of the Division II National Student-Athlete Advisory Committee representing the Gulf South Conference.  He joins other student-athlete leaders from around the country in providing student representation and perspectives in NCAA decision-making.
I am very grateful to our campus team — faculty, staff, and administrators — for your commitment to Delta State, and for making this the best year ever!  Onward and upward!
Very best regards,
Bill LaForge
President