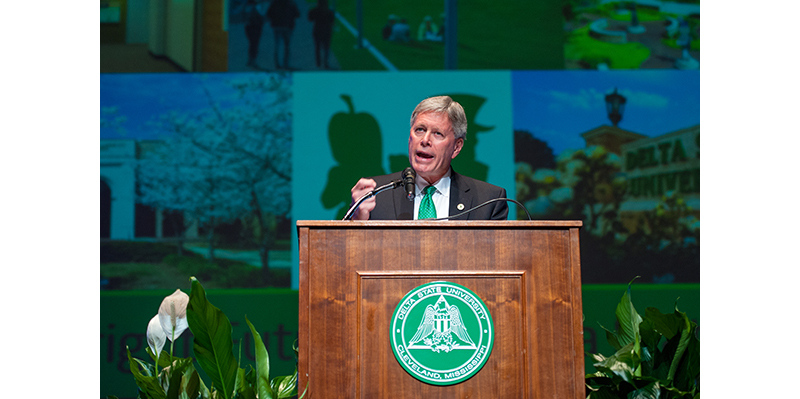 Delta State University President William N. LaForge delivered his State of the University address Thursday during opening convocation ceremonies at the Bologna Performing Arts Center.
The address was titled "With Gratitude" and began with a thank you to faculty and staff for their continued efforts at the start of Delta State's 93rd academic year.
"I am pleased to report that the current state of the university is positive, stable and advancing, and I am optimistic about a bright future," said LaForge.
President LaForge said the university remains positive thanks to Delta State's stellar people and programs.
"We embrace and promote core values such as individual worth, a healthy life style, hospitality, a strong work ethic, cultural enrichment, civility and respect for all, loyalty, ethical conduct, and accountability in all we do — for which I am profoundly grateful," he said.
"We certainly have serious challenges, especially budget related, but we can rightfully commence our new academic year with the confidence that the ship is upright and moving in the right direction — combined with a dose of caution about the budget situation."
LaForge was referencing major state budget cuts that have trimmed institutional funds by approximately $2.2 million in the last fiscal year. Despite these cuts, the president said the university is stable thanks to a recent recovery from years of eroding enrollment and financial woes.
According to LaForge, Delta State is advancing in response to a slate of new and bigger opportunities available on campus. Among those, he cited the remodeled Wiley Planetarium, the creation of the Dave Heflin Outdoor Recreation Lab, a major increase in the international student body, a long list of athletic achievements, a number of facility remodeling and renovation projects, major campus conferences, and a boost to recruitment and marketing efforts.
Despite the optimism, the president asked faculty and staff to remain extra cautious of the state budget cuts.
"A sad and disappointing statistic to report is that, for the first time in history, state funding is no longer Delta State's largest source of operating revenue," said LaForge. "This year, we will derive less revenue from the state than from tuition. Arguably, we have crossed over from being a state-supported university to a state-assisted university."
"I am truly grateful to everyone on campus for joining our efforts to manage our way through this challenging budget time," he added. "We will hope for, and work toward, a better budget climate for next year — but, that outcome is largely dependent on the fiscal health of the state."
The president and his cabinet have enacted a responsible budget process, one that remains visionary and transparent, and guides the university according to strict business and ethical principles.
Like the university community as a whole, LaForge's optimism will guide the institutional vision in the face of challenges. Delta State will remain committed to its 10 visioning principles, which LaForge outlined at last year's convocation.
"Why shouldn't we engage in a sense of idealism about who and what we are at Delta State?" asked LaForge. "After all, our ideas and actions make this university what it is every day. There's no reason why we cannot apply even better ideas and actions to remaking the reality and condition of Delta State. But we must be intentional about it. It won't just happen. I firmly believe that there is no limit to the creativity of the human mind."
Visit www.deltastate.edu to stay updated on university news and event coverage.