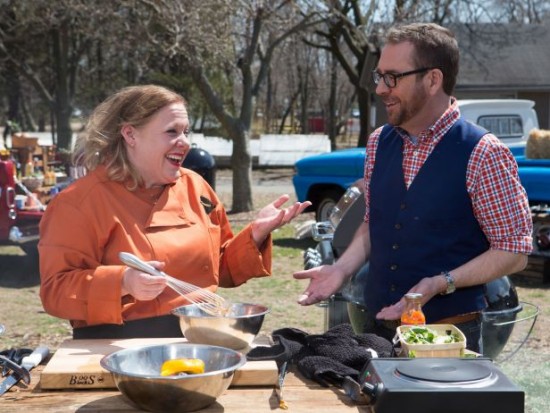 The Delta State University Alumni Association will host its annual Gulf Coast Alumni Event Aug. 27 at the home of Dr. Johnny Mallett in D'Iberville. The event begins at 6:30 p.m. with a social featuring the BBQ princess, Leslie Roark Scott '95.
Scott was featured on the Food Network's Chopped Grill Masters and made it to the finals where contestants prepared rattlesnake. In honor of her run on the show, Scott will do a reenactment of the competition and prepare rattlesnake for the crowd. Scott's BBQ restaurant, Ubon's, will cater the event.
"I'm thrilled to be sharing my Chopped experience with our DSU family on the coast," said Scott. "We'll be tasting some Ubon's prize winning pork, and I'm giving my nemesis rattlesnake another shot on the grill. Our hearts may be in Cleveland, but the spirit of DSU will hit the coast soon."
Delta State President William N. LaForge is the featured speaker for the program, which will begin after the social hour. Tickets for the event are $15 and can be purchased online or at the door. There will also be a silent auction and proceeds will benefit the Delta State Gulf Coast Scholarship.
For more information, contact the Alumni Association at 662-846-4660 or visit www.deltastategiving.org/alumniassociation/gulfcoastevent. To stay up to date on the Alumni Association's activities, follow these social media sites: Facebook (Statesmen Graduates), Twitter (@DSU_Alumni), Tumblr (www.dsualumni.tumblr.com), LinkedIn (DSU alumni), Instagram (dsualumni) and You Tube (dsualumni1). Save the dates for Pig Pickin' (Sept. 19) and Homecoming (Nov. 7). Thank you to our National Alumni Association Corporate Sponsors: Air Evac Lifeteam, Bolivar Medical Center, Patrick Davis State Farm, and Polk's Meats.