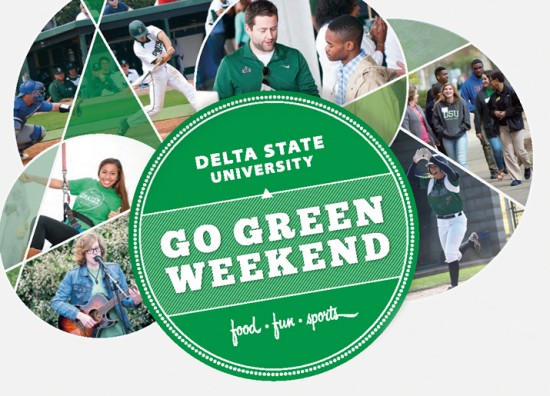 The Delta State family is gearing up for the third annual Go Green Weekend, scheduled on campus March 31 through April 3. Events include live entertainment, tailgating, a cooking competition, sporting events and a spring visit day.
The weekend will kick off on Thursday with performances by the Delta Music Institute bands at 5:30 p.m. in Statesmen Park. A jambalaya cook-off, sponsored by the Alumni Association, will kick off at 6 p.m. on Friday, along with tailgating in Statesmen Park and a women's soccer showcase at Parker Field-McCool Stadium. At 7:30 p.m., a men's soccer showcase will take place followed by live entertainment at 9 p.m. on the main stage in Statesmen Park.
The student community is excited about the entertainment and weekend events. Mykel Syles, president of the Student Government Association, said students are looking forward to the event.
"Go Green Weekend is a time for students to come together in what is our first big event of the calendar year," he said. "It's a time for students to relax, enjoy the spring season and show our DSU pride. G'okra."
Saturday's events begin with a Statesmen football scrimmage at 10 a.m. at Parker Field-McCool Stadium. Statesmen Park will open for tailgating, and the cooking competition will continue. Vendors that will be on site include Domino's Pizza, Shorlone's Southern Snow and more. The Delta Allstars Cheerleaders will perform at 11 a.m., followed by a women's soccer alumni game at noon. The cooking competition awards will take place at 1 p.m., and both baseball and softball teams will begin a doubleheader match against Christian Brothers at 2 p.m., along with a men's soccer alumni game.
Visitors for Spring Preview Day will also be welcomed to campus on Saturday. High school juniors and sophomores have been invited to participate in Go Green Weekend activities including an information session, academic and student organization fairs, campus tour, lunch and athletic events. Caitlyn Thompson, director of recruiting, said the goal of the day is to showcase campus and life as a Statesmen while providing information on academics and the admission process.
"The staff in the Office of Admissions is working hard to reach potential students at a younger age," said Thompson. "We want these juniors and sophomores to start considering Delta State as their college option at an earlier time in their high school career. We hope to provide an opportunity for them to get the full Delta State experience by tailoring the day to meet their interests."
Students interested in attending Spring Preview Day are asked to register online at www.deltastate.edu/gogreenweekend.
Applications for the cooking competition sponsored by the National Alumni Association are available on the event website www.deltastate.edu/gogreenweekend. Jeffrey Farris, director of the Alumni Association, is looking forward to the family atmosphere.
"The weekend is designed to roll out the 'green carpet' for alumni, friends of the university, current student body and prospective students to enjoy Delta State University," said Farris. "Go Green Weekend will focus on a family friendly environment that will appeal to all. Be sure to visit the National Alumni Association Tailgate Tent to register and pick up your official baseball or softball clapper."
Sunday concludes Go Green Weekend with a Lady Statesmen softball game at 1 p.m. at University Field and a Statesmen baseball game at 2 p.m. at Harvey Stadium-Ferriss Field. A drawing for the winner of the "Saturdays at the Levee" raffle will take place during the baseball game. For more information or to purchase raffle tickets, call 662-846-4300. Events to benefit the Make-a-Wish foundation will also be held.
Go Green Weekend activities are open to the public, but tickets are required for entry into the baseball and softball games. Tickets can be purchased online at www.gostatesmen.com or at the gate if available.
Go Green Weekend is coordinated by Delta State's Office of Admissions, Alumni and Foundation, Department of Athletics and Office of Student Life.
For more information on Go Green Weekend and Spring Visit day, visit www.deltastate.edu/gogreenweekend or search media outlets for #DSUGGW.