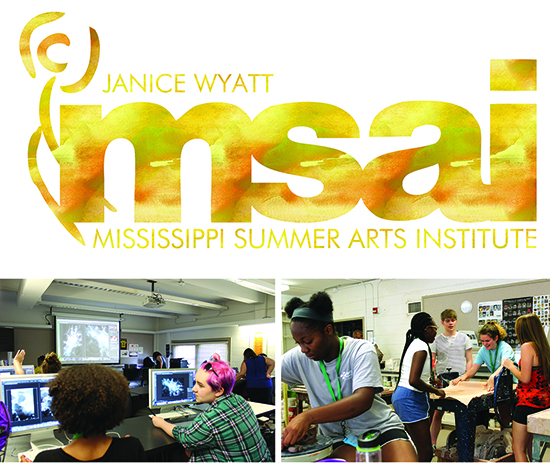 The second week of the Janice Wyatt Mississippi Summer Arts Institute Core Arts program is well underway at the Bologna Performing Arts Center.
Forty-eight middle and high school campers from Mississippi and beyond are taking part in their choice of 20 visual and performing arts classes on the campus of Delta State.
For the last 19 summers, MSAI Arts Camp has provided diverse, unique and challenging arts classes. This year, students have the opportunity to explore topics such as sculpture, ballet, poetry, photography, theatre and more in the state-of-the-art facilities at the BPAC and Delta State.
Campers spent the weekend of the June 11 in Memphis as they played at Sky Zone and saw Theatre Memphis' performance of "Oliver!" Students returned to Cleveland discussing the techniques of stage combat they are learning in class and witnessed in the show.
New York-based theatre teacher Christian Vernon is serving as a Core Arts faculty member for a third year. His students are taking part in improvisation, theatre combat and puzzle design for escape room classes. While Vernon is teaching his theatre classes in the BPAC Recital Hall, Bethany Philipp, a member of the Front Porch Dance Company out of Jackson, is busy engaging her students in dance improvisation, modern dance and ballet in the Delta and Pine Land Theater. As a member of the Mississippi Arts Commission teaching artist roster, Philipp is engaging students in new ways of using their bodies while thinking about movement.
Photographer Will Jacks is teaching a multimedia class in which students are creating their own documentary of camp life at Core Arts. Campers are lugging around recording equipment and conducting interviews with campers, faculty and staff.
Students are looking forward to showcasing their work at the Closing Reception on June 17 at 7 p.m. in the BPAC. The public is invited to join the visual and creative writing classes as they present their works at the reception, which is free and open to the public. The following morning, June 18, the performing arts classes will appear in the Final Performance at 10 a.m. in the BPAC's Delta and Pine Land Theater.
"We are pleased with the high caliber faculty we are able to employ this summer and the incredible talent these young artists have shown at Core Arts," said Joannah Taylor, Core Arts director and Arts Education coordinator at the BPAC. "This program attracts such talent and nurtures these artists in a safe and encouraging atmosphere. You won't believe the things these young people have been able to accomplish in two weeks."
The 2016 Core Arts program is made possible through support from the Mississippi Arts Commission, The American Legion, AT&T, Entergy, the Community Foundation of Northwest Mississippi, the King's Daughters and Sons Circle Number Two, the Crosstie Arts Council and Delta Dairy. For more information on the Janice Wyatt Mississippi Summer Arts Institute, call 662-846-4844, or visit www.bolognapac.com.