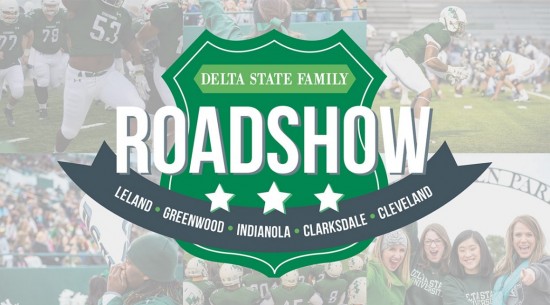 The Delta State University Family Roadshow is coming to a Mississippi Delta town near you this summer, just in time to get ready for another exciting fall semester.
Over a three-week period, President William N. LaForge, head football coach Todd Cooley and representatives from campus will be traveling to five counties in the Delta to give updates and connect with Statesmen and Lady Statesmen alumni, fans and supporters. The event is made possible by a partnership between the National Alumni Association, Department of Athletics and Delta State University.
"The surrounding communities are an important part of the Delta State family," said LaForge. "We are excited to reach out to our friends, fans, alumni and supporters in their hometowns and in such a unique way. I invite all supporters of the Green and White to come out to show the flag."
There are six scheduled stops on the Delta State Family Roadshow, with Vince's Restaurant in Leland being the first on July 13 at 6 p.m.
"This is an exciting time at Delta State and we want to involve every corner of the Mississippi Delta," said Cooley. "We are the Delta's university, and we want everyone to join the family."
Greenwood, the second scheduled stop on the Roadshow, is set for July 16 at the Elk's Lodge. Larry's Fish House will provide the meal.
On July 20, the show makes a stop at the B.B. King Museum in Indianola for an event in Sunflower County. Dinner will be catered by local favorite The Blue Biscuit.
Clarksdale will host the following event on Aug. 3 at the Coahoma County Higher Education Center. Legendary Abe's Barbecue will provide the meal.
Cleveland will be the final stop as the Cleveland Country Club hosts the third annual DSU Family Bash on Aug. 6. The event begins at 6 p.m. with a social followed by a family style dinner at 7 p.m.
Detailed information and the opportunity to RSVP for any one of the stops on the Delta State Family Roadshow is available at www.DeltaStateGiving.Org/alumniassociation/roadshow or by contacting the DSU Alumni Association at 662-846-4660.