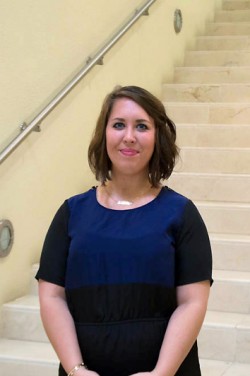 The Delta State University Staff Council recently honored Fawn Ussery as the August 2015 Employee of the Month. Ussery is the library assistant at the Roberts-LaForge Library.
The Delta State alumna and Rolling Fork, Miss. native began working for the university in July of 2012. In her role, she provides services and assistance to students and patrons of the library, and assists in the serials and circulation departments.
Ussery is a two-time graduate of Delta State, receiving her Bachelor's of Arts in History in May of 2012 and her Master's of Arts in Liberal Studies with an emphasis in Delta Studies in December of 2014. She is currently working on her Master's of Library and Information Sciences from the University of Southern Mississippi.
During her time as a student, Ussery worked in the Career Services office, history department, and as a resident assistant for the Kappa Delta Sorority hall. She also met her husband, Hunter, while attending Delta State, which only added to their love for everything green and white.
Employee of the Month distinction is given to a staff member who has provided service at Delta State that is considered over and beyond those duties outlined in his or her job description. Nominations are submitted by colleagues on campus.
 Each winner receives a plaque, monetary award, WalMart gift card from the Student Government Association, an engraved insulated coffee mug, a free parking decal courtesy of the Campus Police Department, a box of treats from The Sweetery, a parking spot of their choice, marquee announcement and website recognition.