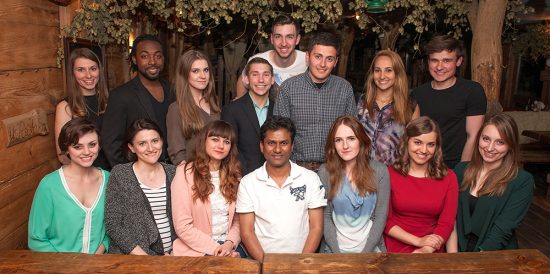 A Delta State University delegation recently returned from a successful cultural exchange with a partner institution, John Paul II Catholic University of Lublin (KUL) in Lublin, Poland.
A select group of four Delta State students, one faculty member and one staff member spent two weeks aboard for the intensive exchange.
KUL is one of several international universities with which Delta State has signed a memorandum of understanding to further develop international exchanges. Delta State hosted a group of KUL faculty and students in October 2015.
The trip, coordinated by DSU International Student Services, marked the first opportunity for Delta State students to visit KUL's campus, observe classes, learn about college life in Poland, and gain hands-on knowledge of Polish culture.
Students attending the trip included: Scottie Willis, a senior from Byram, Mississippi; Katherine Jackson, a junior from Cleveland, Mississippi; Maria Clara Belisário, a junior from Belo Horizonte, Brazil; and Paxton Stratton, a freshman from Fort Worth, Texas.
"As soon as we flew out of the U.S. for Poland, everything was new to everybody —and that is something that we wanted to offer our students," said Dr. A.H.M. Ali Reza, assistant professor of biology at Delta State, who also led the group as the university's international partnership liaison. "Several of our students had never traveled outside the country, and this cultural exchange trip offered them a significant amount of experiences they can utilize throughout their entire life.
"The education system, culture, environment, food, interaction with fellow students — everything that the students experienced during this trip was priceless. You can only get it through an opportunity like this."
Paulina Liszka, teaching assistant in the Faculty of Law, Canon Law and Administration at KUL, was one of the leading figurse during Delta State's visit. Liszka was also part of the group that visited Delta State in 2015.
"Delta State's visit to Lublin was a fantastic way to get an understanding of Polish history and culture, as well as the university environment," said Liszka. "This was definitely a life-changing, mind-broadening experience for both sides, and we hope to continue developing cooperation between our universities. Thanks to such international cooperation, we can gain a much greater understanding of other cultures, as well as global issues."
The trip featured a number of academic highlights, including an international seminar, during which DSU and KUL students presented speeches about systems of education, law and culture in both the U.S. and Poland. Reza also provided a formal lecture on American environmental law.
The students were also able to observe and participate in a KUL course taught in English, providing them a first-hand glance at the Polish university setting.
"The best part about this trip was getting to spend time with the students and see what university life is like in Poland," said Jackson. "We attended their classes, hung out in the places they usually hang out in, and did the things they do everyday. That made me feel like less of an outsider and realize that college life is universal. On top of that, this trip made me appreciate the little things I take for granted everyday in America."
Additionally, Reza met with KUL officials and faculty members to discuss future exchanges that would be open to students, faculty and staff at both universities. Among the leaders he met with were: Dean Piotr Stanisz; Tomasz Kostecki, director of International Exchange; professor Sławomir Łukasiewicz; professor Katarzyna Maćkowska, and professor Anna Haladyj.
Rory Doyle, photographer and news writer at Delta State, documented the trip.
"I was thoroughly impressed with the quality education at KUL and the quality of its students," said Doyle. "We had a number of KUL students help coordinate our visit, and we couldn't have done it without them. It was a unique exchange for our Delta State group, and I know that we feel privileged and grateful to be given so much access to KUL, their faculty and students — and the special aspects of Polish culture."
The group also had the opportunity to visit Poland's capital, Warsaw, and the second largest city, Kraków. Not far from Kraków is Auschwitz-Birkenau Memorial and Museum, a former Nazi concentration camp. The visit greatly impacted the entire group.
"In life, there are so many things you never forget — your first kiss, your favorite teacher, your first car, and even your first true friend," said Willis. "I added another to my list of unforgettable events. I visited the historic Auschwitz Concentration Camp. To say that it was a humbling experience would be an inadequate description. It was life-changing. For years, we learned about the Holocaust, but to physically walk where they walked definitely invoked feelings of pain and sorrow
for those who were forced to endure such things. I'll never forget the day I walked to the gates of Auschwitz."
Dr. Christy Riddle, executive director of International Student Services and the Student Success Center at Delta State, added that the university will continue to strengthen ties with KUL and other international institutions.
"These trips offer our students the opportunity for first-hand insights into the global world by putting what they learn in the classroom into perspective," said Riddle. "The KUL trip was an exciting way to expand DSU's international opportunities, and it has opened the door for future exchange opportunities with KUL, both for DSU students traveling there and KUL students traveling here. We are already in discussions for a spring 2017 class with a trip planned for next summer."
Follow all international partnership developments at www.deltastate.edu.