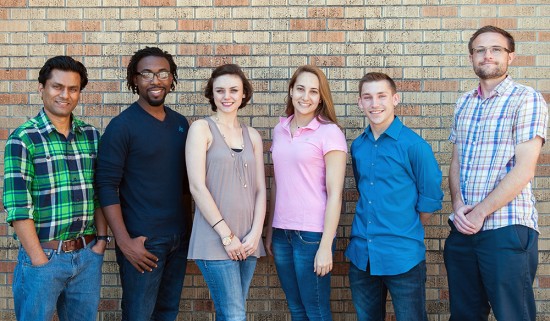 A select group of Delta State students are gearing up for an exciting cultural exchange with one of the university's international partners, John Paul II Catholic University of Lublin (KUL) in Lublin, Poland.
Leaving May 9, the group will travel for two weeks under the direction KUL faculty. The trip, coordinated by DSU International Student Services, will mark the first opportunity for Delta State students to visit KUL's campus, observe classes, learn about college life in Poland, and gain hands-on knowledge of Polish culture.
Delta State President William N. LaForge continues to strengthen the university's ties with international institutions, an effort he has made a priority since taking office in 2013.
In 2014, LaForge returned to KUL for the fourth time as a visiting professor, each time focusing on various aspects of law and public policy advocacy in America. KUL's law school is well known for its quality programming.
"Delta State's exchange partnership with KUL is a wonderful opportunity for our students to become acquainted with another educational system, with programs at another university and with the people of Poland," said LaForge. "International partnerships like this afford our students an opportunity to broaden their horizons, see the world, and be better prepared for the global economy, which will greet them upon graduation."
KUL is one of several universities abroad with which Delta State has signed a memorandum of understanding to further develop international exchanges. Delta State hosted a group of KUL faculty and students in October 2015.
Students attending the trip include: Scottie Willis, a senior from Byram, Mississippi; Katherine Jackson, a junior from Cleveland, Mississippi; Maria Clara Belisário, a junior from Belo Horizonte, Brazil; and Paxton Stratton, a freshman from Fort Worth, Texas. The students recently had the opportunity to meet with President LaForge to discuss expectations for the exchange.
Willis is looking forward to his first experience abroad — a trip he knows will be full of opportunities.
"I'm entering my last semester at DSU this fall, and as President LaForge put it to me recently, 'You've had a good run here.' But my run isn't quite over yet," said Willis. "I plan to go into education after graduation, and I know that going to Europe will definitely give me a 'real life' perspective when teaching about it. I hope that my participation in this cultural exchange will encourage current and future students to see that there are life-changing opportunities here at Delta State, and they just have to take advantage of them."
Belisário, an international student at Delta State, is also looking forward to experiencing Polish education and culture.
"I will be in contact with different students and teachers who are in the same area as me, and I'll be expanding my knowledge and vision," said Belisário. "I will be able to interact and learn in some of their classes, and see perspectives and ideas about different issues that can help me in my major. I will use and share all of that when I return to DSU. Contact with another part of the world is one of the best opportunities as an international business major. I am really proud to have this opportunity."
Dr. A.H.M. Ali Reza, assistant professor of biology at Delta State, will lead the group as the university's international partnership liaison.
"I'm thrilled that we are bringing such a strong group of students to KUL," said Reza. "This will be a great opportunity for us to get an understanding of Polish culture and KUL's university environment. KUL faculty members have gone above and beyond to help us plan this trip."
Dr. Christy Riddle, executive director of International Student Services and the Student Success Center at Delta State, added that the university will continue to strengthen ties with its partner schools.
"We are very excited to offer the Poland trip," said Riddle. "These international partnerships offer the opportunity for our Delta State faculty and students and their faculty and students to travel, teach and study abroad through various exchange programs. It's is a win-win for Delta State because the students traveling abroad gain a greater understanding of global issues, and it also exposes our on-campus students to other cultures."
Along with KUL, Delta State has been developing exchange programs with Perm State University in Perm, Russia and The University of National World Economy in Sofia, Bulgaria, both schools at which LaForge has taught. Delta State is also in the process of developing partnerships with two additional international universities.
Follow all trip updates at www.deltastate.edu.