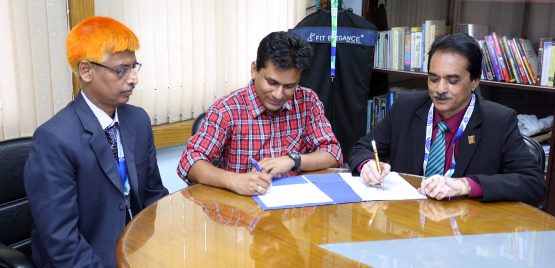 Delta State University has worked hard to develop international partnerships in recent years, and these developments have grown once again thanks to a new relationship with Daffodil International University in Dhaka, Bangladesh.
 The partnership formed thanks to efforts from Dr. A.H.M. Ali Reza, assistant professor of biology at Delta State, and the university's international partnership liaison.
Reza, a native of Bangladesh, had been communicating with former colleagues and peers at Daffodil, and during a research trip Reza took to Bangladesh in July, both institutions signed a formal memorandum of understanding to begin developing international exchanges at the schools.
"I have several very good connections at Daffodil International University who worked hard to make this partnership happen with Delta State," said Reza. "Being one of the leading private universities in Bangladesh, DIU has a good reputation for offering high-quality higher education to the students. They have been working hard to grow their connections in the international market, and forming this connection between DIU and DSU is a great opportunity for both universities."
The main goal of this partnership is to send students and faculty abroad for academic and cultural exchanges. Reza is hopeful that these formal exchanges will soon become available for both faculty members and upper level students.
Dr. Md. Fokhray Hossain, director of International Affairs at DIU, is also thrilled to move forward with the exchanges.

"It is important to bridge the international partnership for student exchange, academic exchange, research and sharing resources between both of the institutions," said Hossain. "Initially, we look forward to start a short-term student and academic staff exchange program, such as a summer program to develop cross-cultural activities."

Dr. Christy Riddle, executive director of International Student Services and the Student Success Center at Delta State, is excited to see Delta State's international connections building.
"As we continue to expand our international partnerships, we increase the opportunities for DSU faculty to teach abroad," said Riddle. "This partnership will also allow our students the opportunity to participate in international study abroad opportunities."

DIU is recognized in independent government assessments as one of top graded universities in Bangladesh. The university combines impressive modern facilities and a dynamic approach to teaching and research with its proud heritage of service and achievement. Learn more at http://www.daffodilvarsity.edu.bd.
Follow all news at www.deltastate.edu as advancements will continue with DIU and other international partner institutions.