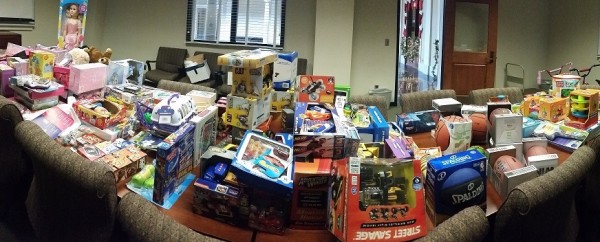 The Administrative Staff Council at Delta State University continues to work hard at helping others this holiday season. Each year, the Staff Council Projects Committee sponsors the Delta State Toy Drive to benefit children in Bolivar County.
This year's toy drive was another great success. A total of 276 gifts were collected, including bicycles, a scooter, puzzles, books, games and other boys' and girls' toys.
Rhonda Loper, staff council projects committee chair, said this is a fitting way to spread holiday cheer.
"There are children in Cleveland who will receive a present this year, who otherwise wouldn't have if it hadn't been for the generosity of the Delta State University Staff. As the Projects Committee chair, I couldn't be more pleased by the response to our annual Toy Drive this year. I want to extend a special thanks to each individual who gave."
Each department on campus was asked to provide unwrapped gifts appropriate for newborn children up to 12 years old. The toys will be provided to the Bolivar County Family and Children's Services for distribution.
Staff Council is also sponsoring a holiday breakfast for all Delta State staff members Dec.17. Employee volunteers are providing and serving food with the coffee and juice being provided by the President's Office.
Delta State's Staff Council serves as a liaison between the administration and the staff to provide a formal process for staff to discuss issues involving university policies and procedures and to forward ideas, recommendations and opinions to the president.