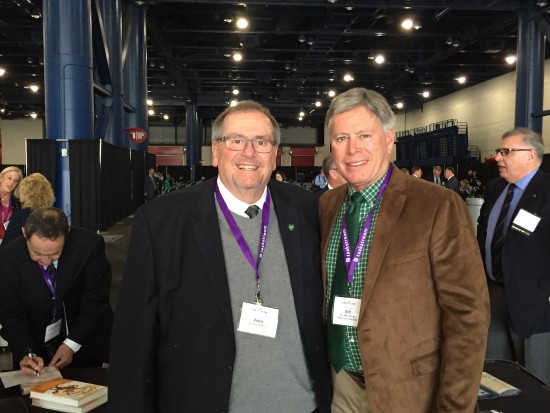 CLEVELAND – Dr. John M. Hilpert, president emeritus of Delta State University, was honored Monday as the 2015 recipient of the James T. Rogers Distinguished Leadership Award given by the Southern Association of Colleges and Schools Commission on Colleges (SACSCOC), the regional accrediting body for more than 800 colleges and universities.
Hilpert, who served as president at Delta State from 2003 until his retirement in 2013, worked more than 30 years in higher education administration, including serving as president of Northern State University in Aberdeen, South Dakota, executive vice president and acting president of the University of South Dakota, and vice president at Thiel College in Pennsylvania.
Delta State President William N. LaForge said Hilpert's distinction as a leader is one of the primary reasons he nominated Hilpert for the award.
"During Dr. Hilpert's tenure at Delta State, he exemplified all the characteristics of a distinguished leader involved with, and supporting, the activities, mission and spirit of SACSCOC," LaForge said. "Not only was he an actively involved member president, but he served the SACSCOC in various roles throughout his presidency at Delta State.
"Respected by his peers throughout the higher education community for his depth of knowledge and exceptional leadership ability, Dr. Hilpert was elected to serve on the 2008 Executive Council of the Commission and chair of the State Delegation Executive Council of the Commission, and the following year he was elected vice chair of the SACSCOC," he added. "At the December 2009 annual meeting, he was elected for the first of three one-year terms as chairman of the SACSCOC and served as chair in 2010, 2011 and 2012. I am pleased that the committee supported my nomination of Dr. Hilpert for this prestigious award."
In addition to his leadership roles with SACSCOC, Hilpert served as chairman of the Mississippi Delta National Heritage Area board; board president for the Delta Health Alliance, a regional non-profit corporation with a $40 million annual budget; and, president of the Mississippi Association of Colleges and Universities, an organization of all public and private, two-year and four-year postsecondary institutions in the state.
In October of this year, Hilpert published a book on Theodore Roosevelt and his "Whistle Stop Campaign" which is available through Amazon. Having lived for many years in states visited by Roosevelt prior to the election of 1900, Hilpert sought to fill in a gap in historical biographical information about Roosevelt. He has also authored pieces for scholarly journals, newspapers and periodicals.
Named for a Delta State alumnus who served as executive director of the Commission on Colleges for more than 20 years, the James T. Rogers Distinguished Leadership Award is the highest public recognition given by the commission and is reserved for extraordinarily distinctive and effective leadership. Rogers was a 1955 Delta State graduate who served as president of Brenau College in Georgia for 15 years before taking the position as the executive director for the Commission of Colleges of SACS.
During his tenure, Rogers worked with the membership and the commission's leadership and staff to institute comprehensive changes in accreditation standards which placed a renewed and deep emphasis on student learning. Rogers was named Delta State's Outstanding Alumnus of the Year in 1995, is a member of the Delta State Alumni Hall of Fame, and received an honorary doctorate from Delta State in 2007.
Jeffrey Farris, Delta State Alumni Affairs Director, said the association is pleased that the award is named after the distinguished alumnus and that it is fitting that Hilpert be honored as a recipient.
"The award being presented to our former university president, Dr. John Hilpert, is a testimony to the leadership qualities that are exhibited by our students, alumni and employees," Farris said. "I congratulate Dr. Hilpert and Dr. Rogers on behalf of the National Alumni Association for their exemplary leadership of the Southern Association of Colleges and Schools."
The Southern Association of Colleges and Schools Commission on Colleges is the regional body for the accreditation of degree-granting higher education institutions in the Southern states. It serves as the common denominator of shared values and practices among the diverse institutions in Alabama, Florida, Georgia, Kentucky, Louisiana, Mississippi, North Carolina, South Carolina, Tennessee, Texas, Virginia and Latin America and other international sites approved by the Commission that award associate, baccalaureate, masters or doctoral degrees.