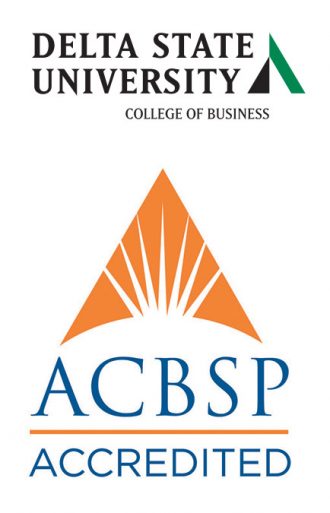 The Accreditation Council for Business Schools and Programs (ACBSP) Baccalaureate/Graduate Degree Board of Commissioners has reaffirmed accreditation of the business programs within Delta State University's College of Business.
Established in 1988, ACBSP is the only organization offering specialized business accreditation for all degree levels, from associate to baccalaureate to doctoral degree programs. ACBSP accreditation certifies that the teaching and learning processes within the College of Business at Delta State University meet the rigorous educational standards established by ACBSP.
Delta State was first accredited by ACBSP in 1995. The college is required to go through the reaffirmation process every 10 years to maintain the accreditation.
"Delta State University has shown their commitment to teaching excellence and to the process of quality improvement by participating in the accreditation process," said Dr. Steve Parscale, ACBSP chief accreditation officer, who will present the Certificate of Reaffirmation of Accreditation at ACBSP Conference 2016 in Atlanta, Georgia on June 19.
"This reaffirmation of accreditation is evidence that Delta State University is committed to maintaining the highest quality business education for their students for the next 10 years, just as they have done since 1995," added Parscale.
Dr. Billy Moore, dean of Delta State's College of Business, was thrilled with the reaffirmation and praise from ACBSP.
"Accreditation is a method of self-regulation and quality assurance in higher education. Reaffirmation of our ACBSP accreditation signifies that DSU's College of Business programs continue to meet certain quality and integrity standards of management education," said Moore. "Current and potential students, their parents, the business community, and other relevant constituents, can be assured that our college is offering current and relevant academic programs, has faculty that are highly qualified and experts in their disciplines, continues to hold itself to the highest standards of educational accountability, and are fully committed to continuous improvement. Our accreditation is good through 2026."
"Congratulations to the faculty, staff and student body of the College of Business on accomplishing this significant milestone," Moore added. "This reaffirmation is the result of their teamwork and commitment to providing a high-quality educational experience for our students."
Delta State's Dr. Charles McAdams, provost and vice president of Academic Affairs, was also pleased with the reaffirmation.
"I thank the College of Business faculty and staff for their ongoing commitment to excellence and the concept of continuous improvement," said McAdams. "Reaccreditation by the ACBSP provides an external validation of the quality of the programs in that college. The process used to obtain this reaffirmation is arduous, and I congratulate Dean Moore and his faculty for their work on this significant accomplishment."
The mission of the College of Business is to prepare students for the marketplace by providing challenging educational opportunities. Service to the community, the profession and the university is a vital aspect of the college's mission. By nurturing cooperative relationships with business and industry, service organizations, and other institutions, the college will remain dynamic and its activities relevant.
ACBSP's mission is to promote continuous improvement and recognize excellence in the accreditation of business education programs around the world. ACBSP, www.acbsp.org, is recognized by the Council for Higher Education Accreditation as a specialized accreditation agency for business education. ACBSP currently has 1,215 member campuses, 235 of which are located outside of the U.S. Of those campuses, 951 have achieved accreditation and 167 are in candidacy for accreditation. Individual members on these campuses now exceed 13,000.
For more information about Delta State University's College of Business, visit http://www.deltastate.edu/college-of-business/.