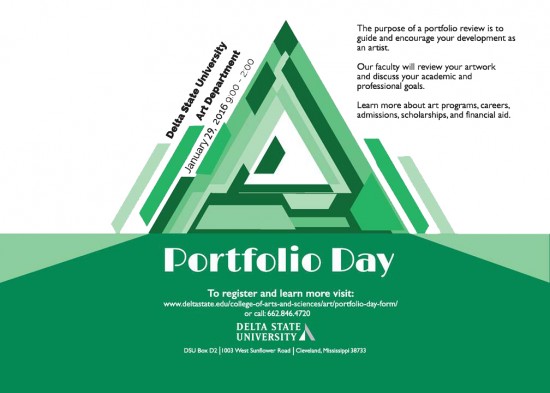 The Delta State University Department of Art will host its annual Portfolio Day on Jan. 29 from 9 a.m. to 2 p.m.
Interested high school juniors and seniors are encouraged to bring a portfolio of six to eight original art pieces for review. The purpose of the review is to guide and encourage the development of promising area artists in their pursuit of an art career.

Works should display the artist's interests, artistic abilities, and reflect strong, creative conceptual skills. Works should be matted, and neat in appearance. Top mounting is acceptable. Three dimensional work may also be submitted. Photographs of pieces too large to bring may be included in the portfolio.
Submissions should be labeled with name, title and media. Applicants are asked to include a transcript with ACT or SAT score.
Art faculty will review the artwork, discuss educational and professional goals and share information on art programs, careers, admissions, financial aid and scholarships.
Up to $9,500 will be awarded in scholarships.
The schedule of events includes a campus tour and a cookout. Pre-register online at www.deltastate.edu/coll-of-arts-and-sciences/art/portfolio-day-form/, or call 662-846-4720.