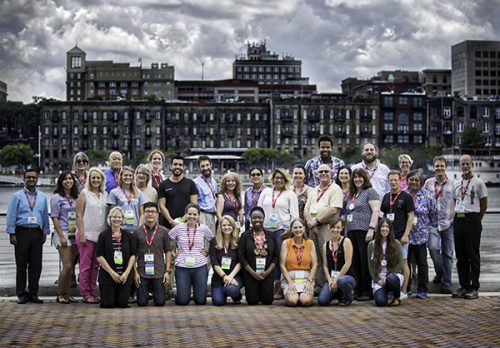 Delta State University students recently presented at the annual Botanical Society of America Conference held in Savannah, Georgia from July 30 to Aug. 3.
The Botanical Society of America is one of the world's largest scientific societies dedicated to the study of plants and serves as an umbrella organization that covers all plant specialties including conservation and ecology, historical botany, microbiological interactions, paleobotany, physiology, teaching plant science and more.
This year, more than 1,100 scientists and educators attended the event. Dr. Nina L. Baghai-Riding, professor of biology and environmental science at Delta State, represented the university by  presenting three posters that were given at different sections. Two of the posters emphasized research accomplished by students majoring in environmental science at Delta State.
One poster, given at the paleobotany section, was titled "Paleoclimate and Taphonomic Implications of a Palynological Sample from the Bucatunna Formation." The poster focused on palynomorphs (fossil pollen, spores and algae) from a geological unit that extends from southeastern Mississippi into Florida. The presentation was co-authored by Dr. Brian Axsmith at the University of Southern Alabama in Mobile, Alabama and Kendal Davis, a 2015 Delta State graduate in environmental science.
The second poster, given at the teaching section, was titled "Comparing tree diversity of the main campus to the golf course at Delta State University, Cleveland, Mississippi." Seven environmental and biology students were involved in the research, including Emily Bodin, Steven Moreton, Rebekah Napier-Jameson, Megan Clark, Michael Manley, Joseph Cummins and Amanda Bishop. Most of the project was completed in Baghai-Riding's 2014 conservation biology course.
The third poster was entitled "Digitization of Mississippi herbarium specimens aids in understanding plant diversity in the Southeast and improves K-12 education." The poster explained how herbarium curators in the state of Mississippi are photographing and inventorying all of the plant specimens in their collections. Delta State is one of six Mississippi herbaria involved in the project and has contributed over 14,500 specimens that are available through the SERNEC Symbiota project (www.sernecportal.org).
Abstract submission for all three posters can be viewed at to the Botanical Society of America website: http://2016.botanyconference.org/engine/search/index.php?func=summary.
Baghai-Riding also served as a PLANTS Grant mentor at this year's conference. She was recognized as the longest serving mentor, having participated in the role for the past seven years. The PLANTS Grant program is sponsored by the National Science Foundation and Botanical Society of America and brings talented and diverse undergraduates and recently admitted graduate students to the conference.