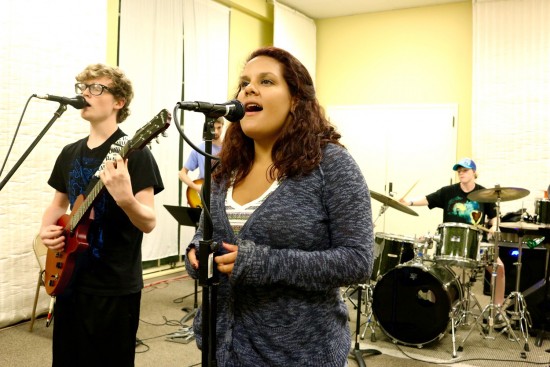 Students attending the ninth annual Delta Music Institute Summer Camp will present a showcase of original songs and commercial music on July 18 at 6 p.m. in the Bologna Performing Arts Center on the campus of Delta State University. The concert, free and open to the public, will include material from various commercial music genres, along with several original songs created by the camp's songwriting students.
Eighteen students ages 15-18 from Mississippi, Alabama, Minnesota, Pennsylvania and California are participating in the 2015 DMI Summer Camp. The intensive six-day residential camp experience explores three music industry tracks, including audio engineering, band performance, and songwriting that are integrated together, culminating in a recording session at the DMI studios and a showcase performance at the BPAC.
Instructors for the camp are DMI faculty members along with entertainment industry professionals.
"It's always amazing to see these talented young people put together such a great show in only a week's time," said DMI Director Tricia Walker. "It's also fun to watch them form friendships with other like-minded campers from all over the state."
Supporters of these talented young musicians are encouraged to attend and enjoy Saturday's show.
The Delta Music Institute offers a Bachelor of Science degree in Entertainment Industry Studies at Delta State University. The focus of the DMI is to provide students with a broad and thorough education in the technological, business and creative areas of the entertainment industry. For more information, call the DMI office at 662-846-4579 or visit www.deltastate.edu/dmi.