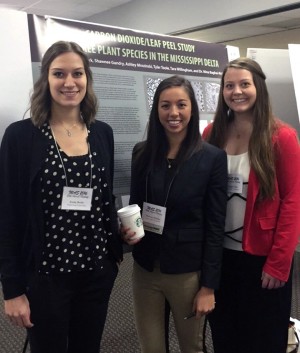 Delta State University environmental science students and professors recently presented five scientific posters at the 80th annual Mississippi Academy of Sciences meeting held in Hattiesburg, Mississippi.
The yearly meeting is comprised of addresses, symposia, workshops, scientific papers and exhibits grouped by division. Delta State's posters highlighted research the students had conducted over the past academic year. Four of the posters were presented in the ecology and evolutionary section, and the fifth was presented in the cellular, molecular and developmental section.
Participating students included Emily Bodin, Megan Clark, Shawnee Gundry, Brittany Husley and Christine Beck. Delta State professors included Dr. Nina L. Baghai-Riding and Dr. AHM Ali Reza.
Presentation titles included "Habitat use and food habits of coyote in Dahomey Wildlife Refuge, Mississippi;" "Storm drain study on Delta State University Campus, Cleveland, Mississippi;" "Carbon dioxide/leaf peel study for three plant species in the Mississippi Delta;" "Analysis of a palynological sample from the Bucatunna Formation, southwestern Alabama;" and "Molecular function of selenoproteins in Rickettsia parkeri survival within the tick host."
Abstracts for the presentations can be found in the Mississippi Academy of Sciences journal of abstracts at http://msacad.org/mas-journal/current-abstract.
Also announced at the conference, Reza was selected as the 2016-17 chair of the division of ecology and evolutionary biology.
"Being elected as the chair of one MAS's major divisions, ecology and evolutionary biology, is an extreme honor and recognition of our contribution to science in the state," said Reza. "I am privileged to represent the Department of Biological Sciences and Delta State University in general. I strongly believe this position will help us work closely with other scientists in the state. This will also help our students connect with other scientists and possibly build a meaningful professional career in the future."
According to Reza, there were more than 750 participants this year, which is the largest gathering of any scientific community in the state.
"Overall, all of the presentations were very well received and the students had a positive experience," said Baghai-Riding. "The students also attended professional talks, networked with other professionals and were engaged in scientific workshops."
For more information concerning the environmental science program at Delta State University, contact Baghai-Riding at nbaghai@deltastate.edu.