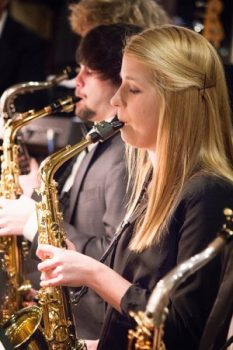 The Delta State Department of Music presents an evening of chamber music featuring the DSU Woodwind Quintet, DSU Flute Quartet and the DSU Saxophone Duo in the Bologna Performing Arts Center Recital Hall on Nov. 16 at 7:30 p.m.
The concert is free and open to the public.
The chamber ensembles have just returned from a tour of northern Mississippi, where they delighted high school audiences with their performances.
Delta State's newly-formed Woodwind Quintet is comprised of leading members of the DSU Wind Ensemble, including flute player Amanda Lutz of Horn Lake, oboe player Mollie Searcy of Grenada, clarinet player Emily Hercules of Ripley, bassoon player Tristan Crockett of Grenada, and horn player Jacob Jackson of Southaven. The quintet is coached by Dr. Shelley Collins and Dr. Bret Pimentel. The quintet will play works by Haydn and Persichetti.
The DSU Saxophone Duo, under the direction of Pimentel, will perform works by W. F. Bach, Arthur Mayeur, and Paul Hindemith. Members of the ensemble ainclude Sara Crider of Purvis and Dakota Young of Grenada.
The DSU Flute Quartet, under the direction of Collins, will perform Cathleen McMichael's "Legends from the Greenwood," a showpiece inspired by the poetry of Longfellow, and "Concerto in A Minor," by French Baroque composer Boismortier. Members of the quartet include Savannah Cavalier of Brookhaven, Barbara Doorenbos of Meridian, Amanda Lutz of Horn Lake, and Caitelan Shelton of Ripley.
For more information, contact the Department of Music at 662-846-4615.