The Delta State University National Alumni Association recently announced its annual Alumni Service Awards recipients. Each year, the association presents four service awards: the Hugh Ellis Walker Alumni Service Award; the Kent Wyatt Young Alumnus Service Award; the Gladys Castle Friend of Delta State Award; and the Legacy Award. A new award was introduced this year, the Dr. Henry Outlaw Award.
The Hugh Ellis Walker Alumni Service Award was established to recognize outstanding service and contributions to Delta State University by an alumnus. This year's recipient is Charles McGuffee.
McGuffee graduated with a B.S. in business administration in '67. While at Delta State, he played baseball for three years. He was a member of M Club, and was also a founding member of Zeta Beta chapter of Pi Kappa Alpha. McGuffee took off from college and worked for the Mississippi Army National Guard from 1963-1965, achieving the rank of SFC E-7. He then returned to complete his degree.
Upon graduation, McGuffee, was employed at Comptroller of the Currency, Dept. of the Treasury as an assistant National Bank examiner in Montgomery, Ala. He later transferred to Jackson, Miss, in November of 1967. He was then promoted as a commissioned National Bank examiner in 1971 and opened an office in Mobile, Ala. as an examiner-in-charge in 1972. McGuffee was responsible for 22 National Banks along the Alabama and Mississippi Gulf Coast.
He then started a new company called NOW COMMUNICATIONS which was a re-seller of landline phone service. At its peak, the company generated in excess of $25 million. He then took over Delta Regional Foundation in 2004 as president and executive director. Over the past four years, DRF has contributed over $1 million to charities in the Delta and Northwest Mississippi, with the majority going to Delta State University.
He is married to Faye Roberts McGuffee. They have two sons, Mark (Kathy) and Kevin (Kelly) and three granddaughters.
***
The Kent Wyatt Young Alumnus Service Award is given each year to an alumnus who is 36 or younger and has given outstanding service and contributions to Delta State. This year's recipient is Hays Collins.
Collins, of Pearl, Miss., graduated in 2004 with a degree in business administration through the College of Business. During his time at the university, he was an active member on campus, having served as the student director of the Union. He was elected into the Student Hall of Fame in 2004 prior to his graduation. Collins is now an active member of the Greater Jackson Area Alumni Chapter.
Today, Collins serves as vice-president of Perimeter Foods and his duties include the operation of 10 Jackson-Metro Area Wendy's restaurants. An accomplished photographer as well, Collins' dynamic sports photography earned him a Sports Illustrated cover in 2013. His photography was also featured in The Wall Street Journal and he is a frequent contributor to Mississippi Magazine.
In 2011, he launched TwentyEleven Media, a full service media firm. The company has gone on to work with the Mississippi Sports Hall of Fame, The Hazel & Jimmy Sanders Sculpture Garden at Delta State and Delta Streets Academy in Greenwood.
Collins believes in the spirit of volunteerism and serves as board president for Mississippi Families for Kids and spearheaded a successful midnight bicycle race through the popular Fondren district. He is an elder at Lakeland Presbyterian Church and is married to the former Brooke Rutledge '04 of Memphis, Tenn. The couple has two children, Olivia, 5, and Ford, 3.  
***
The Gladys Castle Friend of Delta State Service Award is presented to a non-alumnus who has made outstanding service and contributions to Delta State. This year's recipient is Bolivar Medical Center. CEO Rob Marshall will accept the award on behalf of Bolivar Medical Center.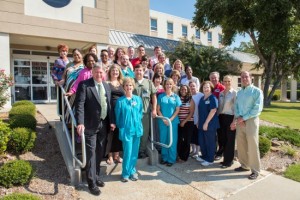 Bolivar Medical Center has been a partner with Delta State University for decades, sponsoring numerous sporting events and performances. The hospital is one of the corporate sponsors of the Delta State Alumni Association, a champion for the annual Pig Pickin', host of the Welcome Back party for Delta State staff and also sponsors a performance at the Bologna Performing Arts Center annually, as well as showing support throughout the year.
It is also a major supporter and recruiter for the Robert E. Smith School of Nursing at Delta State.
BMC is the only acute-care hospital in Bolivar County and is licensed for 165 beds. It houses a 35-bed longterm care facility, and both inpatient and outpatient services are provided. Patients have access to a broad range of quality healthcare services including a 24-hour physician-staffed emergency department, surgery specialists including general surgery, OB/GYN, urology, and pediatric dental. Family medicine, internal medicine, radiology, pathology, pediatrics, cardiology, pathology, radiology, and podiatry are other specialties in medicine.
Imaging services are comprehensive and now include MRI, 64-slice CT and Digital Mammography, which help the physician make the diagnosis and determine the treatment of a problem. BMC has an outpatient rehab facility that includes physical therapists, occupational therapists and speech therapists that work with adults and children.
***
The Legacy Award was established to honor an alumnus who has made an institutional impact on the university. This year's recipient is the Hill Demonstration School. John Lewis '67 of Cleveland will accept the award on behalf of the school.
 In 1926, HDS opened for grades one through six. Laurie Doolittle became the head of the school and remained in charge for 12 years. At that time, 25 students attended the school. The school had a two-fold purpose. The first was to provide the highest physical, mental, spiritual and social development for children. The second was to give prospective teachers the opportunity to test their educational theories and to make those practical adjustments that were necessary for the purposeful and successful teacher.
By 1927-28, there were 50 children in attendance. The kindergarten classes were not added until 1929. In the Delta State Teachers College Bulletin, it was noted, "This year (1930), the Demonstration School will be housed in the old administration building and will consist of the kindergarten and the first five grades of the elementary school."
The school was more than likely renamed the Hill Demonstration School because the old administration building was "Hill Hall." The new administration building for Delta State Teachers College was being planned and constructed.
During the 1957-58 school-year, HDS was discontinued as a unit of the college.
***
The Dr. Henry Outlaw Faculty/Staff Service Award, established in 2014, is given to a former Delta State faculty or staff member who has had a significant influence in the life of the university and/or alumni association.
Outlaw was a beloved science professor and chair of physical sciences. This year's recipient of the award, which was established by the National Alumni Association and inspired by the Dedicated Statesman Association, is Vicki Bassie Fioranelli.
Fioranelli grew up in Gunnison, Miss., the daughter of Lewis and Betty Bassie. She is the oldest of nine children. She attended Siena Women's college in Memphis and graduated from Delta State in 1968. She was a teacher, owner of Vicki's Chocolate Store for seven years, and joined the DSU Alumni-Foundation staff in 1987.
She served alumni all over the state and beyond. For seven years, she served as director of Career Services. Additionally, she served on the building committees for the Hugh Ellis Walker Alumni House, the Capps Archives Building, and the Bologna Performing Arts Center.
In her career, Fioranelli served as president of: Staff Council, Catholic Ladies Sodality, Junior Auxiliary, and Cleveland Exchange Club, where she was the first female in the state invited to join the all-male civic club in 1986. She served as vice president of the Cleveland-Bolivar County Chamber of Commerce for Community Affairs and membership chair of Crosstie Arts Council. She was is also a charter member of Octoberfest and Dedicated Statesman Association.
Her awards included: H.L. Nowell Staff Council Award; Business Woman of the Year by the Mississippi Business Journal and Delta Business Journal; Career Services of the Year award, and honorary membership into Tri Delta Sorority. Emeritus status was granted upon her retirement from Delta State.
Fioranelli retired to Memphis with her husband of 42 years, Charles, a retired farmer. They have a daughter in Nashville, Monica Wright (Chase), a nurse practitioner, with grandchildren, Austin and Stella; and a daughter, Mia, a speech therapist, in Memphis. Fioranelli is an active member of the Memphis Delta State Alumni Chapter.
She joined the Greater Memphis Exchange Club and received the Exchangite of the Year Award as well as served two years as district director. She and Charles are dedicated St. Jude Volunteers.
The award recipients will be recognized during Homecoming on Nov. 6 at the Alumni Awards Gala at 7 p.m. in the Bologna Performing Arts Center. The event is open to the public.
To purchase tickets, visit www.deltastategiving.org/alumniassociation/homecoming2015.