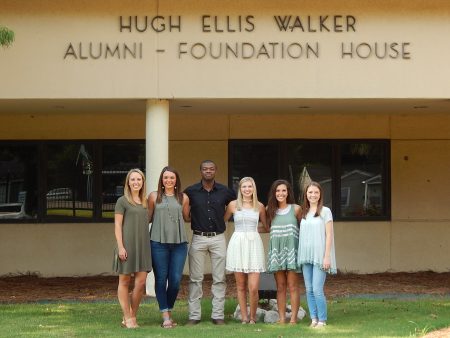 The Delta State University Student Alumni Association is in the process of making plans for the 2016-17 school year.
Officers for this year include:
*Hannah Goudy — president
Southaven, Mississippi
senior
nursing
*Brittany Earls — vice president
Cleveland, Mississippi
junior
nursing
*Dana Rico — secretary
Batesville, Mississippi
junior
biology — pre-occupational therapy
*Rebecca Hudson — treasurer
Flowood, Mississippi
junior
mathematics education
*Artis Love — historian
Cleveland, Mississippi
junior
business
*Leah Green — projects chairman
Hernando, Mississippi
sophomore
biology
The SAA also awards scholarships each year. This year's recipients are: Goudy, Green, Hudson, Rico and Earls.
The Alumni Association recently awarded Meredith Brown with the H.L. Nowell Student Alumni Association Service Award at the annual Student Hall of Fame Banquet in May 2016. The award is named for Henry Lee "H.L." Nowell Jr., who worked at Delta State from 19481-987. During his 40-year tenure, Nowell served in numerous capacities including dean of men, dean of students, director of student activities, director of public relations, Delta State's first director of the Student Union, and he was the first paid alumni secretary. The award is given each year to the Student Alumni Association member that has given tireless effort and generosity throughout the academic school year. Brown recently finished her junior year at Delta State and has been an SAA member since her freshman year.
The SAA is a bridge between the Delta State student body and the Delta State University Alumni Association. Goudy will serve on the National Alumni Association Board of Directors as the SAA representative. The organization helps the Alumni Association with projects such as Pig Pickin' and Homecoming, and is also very active in community service.
To view SAA photos from 2007 to present, visit https://www.flickr.com/photos/dsualumni/albums/72157672291991031.
For more information, contact the Alumni Association at 662-846-4660.  To stay up to date on the Alumni Association's activities, follow these social media sites: Facebook (Statesmen Graduates), Twitter (@DSU_Alumni), Tumblr (http://www.dsualumni.tumblr.com), LinkedIn (DSU alumni), Instagram (dsualumni) and You Tube (dsualumni1). Save the date for this year's Pig Pickin' (Sept. 24) and Homecoming (Oct. 15).