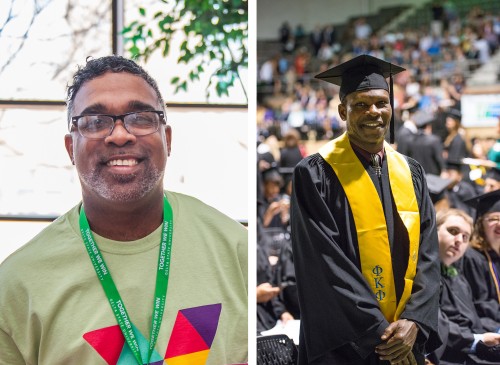 Columba Ferdinand '15 of Willmar, Minn., and Marc A. Leggett of Gautier, Miss., recently attended the Student Vice President Leadership Summit hosted by The Honor Society of Phi Kappa Phi — the nation's oldest and most selective collegiate honor society for all academic disciplines — in Salt Lake City, Utah, July 31–Aug. 1.
Ferdinand and Leggett joined more than 65 student vice presidents from across the nation and the Philippines at the Summit. Ferdinand currently serves as a member of the society's 10-person Council of Students national advisory board, and Leggett serves as student vice president of the Delta State University chapter of Phi Kappa Phi.
The two-day event was developed to engage the society's student vice presidents in personal and organizational development. Participants learned about strategies for operating and maintaining active chapters of Phi Kappa Phi and participated in a one-day training program of Collegiate EmPowerment seminars, which explored and enhanced individual strengths, interpersonal styles and the capacity to lead.
Founded in 1897 at the University of Maine and headquartered in Baton Rouge, La., Phi Kappa Phi is the nation's oldest and most selective all-discipline honor society. The society has chapters on more than 300 college and university campuses in North America and the Philippines. Its mission is to recognize and promote academic excellence in all fields of higher education and to engage the community of scholars in service to others.
More About Phi Kappa Phi
Since its founding, more than 1.25 million members have been initiated into Phi Kappa Phi. Some of the organization's more notable members include former President Jimmy Carter, NASA astronaut Wendy Lawrence, novelist David Baldacci and YouTube cofounder Chad Hurley. The society has awarded approximately $15 million since the inception of its awards program in 1932. Today, more than $1 million is awarded each biennium to qualifying students and members through graduate fellowships, undergraduate study abroad grants, member and chapter awards and grants for local and national literacy initiatives. For more information, visit www.PhiKappaPhi.org.