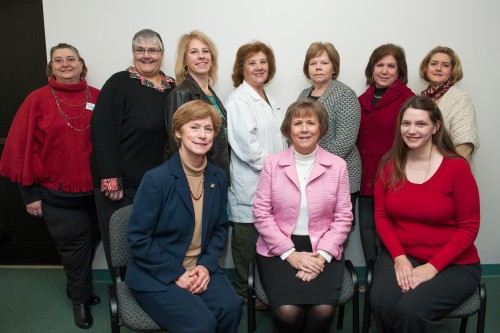 Karen Wakeford, technical assistant for Georgia Health Policy Center, visited the campus of Delta State University Dec. 5-6 to assist with strategic planning for the three-year Health Resources and Services Administration Delta State Rural Development Network Grant Program (DELTA) awarded to the Robert E. Smith School of Nursing (RESSON) on Aug. 1, 2013 in the amount of $1,574,546.
The RESSON Grant Leadership Team met with Wakeford on Thursday to begin developing the strategic plan for the Delta Healthy Families Project. The vision, mission, goals and objectives of the project were developed during the meeting. The leadership team and staff will begin implementing the programs, services and resources affiliated with the project throughout the Mississippi Delta in the near future.
Partners, collaborators and key stakeholders attended a session Friday morning to learn more about the programs and services to be offered by the Delta Healthy Families Project. The roles and responsibilities for each facility/organization were discussed during this time.
"In moving forward with the programs and services we will soon begin offering, we hope to change behaviors that promote healthy lifestyles using the information provided to us by Karen during her visit," said Dr. Shelby Polk, grant project director and RESSON professor. "Karen mentioned that to change behaviors we must provide consistent information over an extended period of time in a variety of settings. We aim to do this."
For more information on the Robert E. Smith School of Nursing, visit http://www.deltastate.edu/school-of-nursing/.