Division of Languages & Literature
Master of Education in Secondary Education – English (Online)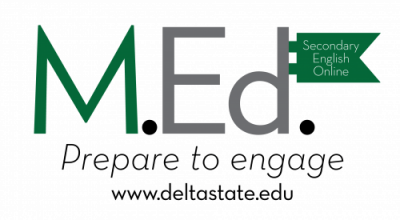 The Master of Education degree is designed for students who wish to pursue professional study in education as classroom teachers, counselors, supervisors, administrators, or in specialized areas. In the College of Arts and Sciences, Delta State awards the Master of Education degree in English, History, Social Sciences, and Visual Arts.
The Master of Education degree in Secondary Education English is designed to prepare quality teachers who possess the knowledge, skills, and dispositions that enable them to deliver effective, research-based instruction in secondary English Language Arts classrooms.
Requirements for admission to the Master of Education in Secondary Education English program are:
1. A baccalaureate degree from an accredited institution with an undergraduate major suited to the discipline in which the applicant wishes to study. The BFA and the BA in Art Education are considered appropriate degrees for applicants wishing to pursue the Art concentration.
2. All admission requirements must be met within the first (9) hours of graduate course work.
Concentration Specific Admission Requirements.
1. A grade point average of 3.0 on all undergraduate coursework in the field OR a related field (English Education), and a minimum GPA of 3.25 on all undergraduate English coursework.
2. A score in the 50th percentile or higher for the analytical writing section of the GRE test to be submitted within the first semester of graduate study.
3. For Licensure track: A Mississippi Class A teaching license, or its equivalent
| | |
| --- | --- |
| Master of Education in Secondary Education English | 33hrs |
| 1. Core Education Courses | 9hrs |
| CUR 608, ELR 605, EPY 601 | |
| 2. Required Courses | 24hrs |
| ENG 601, ENG 610, ENG 680, ENG 681, ENG 682, ENG 683, ENG 684, ENG 691 | |
A candidate for the Master of Education in Secondary Education English is required to meet the following:
Fulfill the general requirements for a graduate degree at Delta State University.
Complete graduate work consisting of core courses, major field hours, and elective hours as specified.
Earn a grade point average of at least 3.0 in the major field and overall.
Earn a grade of B or higher on each of the education core courses (ELR 605, EPY 601, and CUR 608).
Write and defend a cumulative thesis in cooperation with the departmental thesis committee.
| | |
| --- | --- |
| Fall 2019 Schedule of Classes | Spring 2020 Schedule of Classes |
| ENG 681     August 16 – September 20 | ENG 684     January 13 – February 17 |
| ENG 682    September 23 – October 30 | ENG 680     February 18 – March 30 |
| ENG 683     October 31 – December 11 | ENG 610     March 31 – May 7 |
ENG 601
ENG 681
Norton Anthology of English Literature. vol. B. 10th edition. ISBN: 978-0393603033
ENG 682
Romanticism: An Anthology, 4th edition, edited by Duncan Wu, Wiley-Blackwell. ISBN: 978-1405190756
ENG 683
Gloria Naylor, Mama Day.  ISBN: 978-0679721819
Randall Kenan, A Visitation of Spirits.  ISBN: 978-0375703973
Octavia E. Butler, Kindred.  ISBN: 978-0807083697
Victor LaValle, The Ballad of Black Tom.  ISBN: 978-0765387868
ENG 684
Diane Glancy, 

Pushing the Bear

 (ISBN: 978-0156005449)

Ron Rash, The Cove (ISBN: 978-0061804205)
Monique Truong, Bitter in the Mouth (ISBN: 978-0812981322)
Jesmyn Ward, Sing, Unburied, Sing (ISBN: 978-1501126079
ENG 680
ENG 610
Essex, Nathan L. A Teacher's Pocket Guide to School Law (3rdedition) ISBN: 978-0133351910
Gay, Geneva. Culturally Responsive Teaching: Theory, Research, and Practice (3rdedition) ISBN 978-0807758762
Address and Mailing
Division of Languages & Literature
College of Arts & Sciences
Kethley 203
DSU Box 3215
Cleveland, MS 38733