Planetarium Re-Opening Event – Violent Universe
January 25, 2020 @ 4:00 pm

-

5:00 pm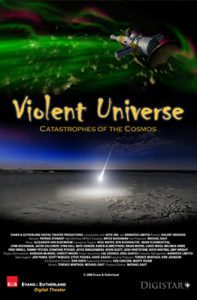 Join us for the 2020 re-opening of Wiley Planetarium. This event will include a double feature: the 'Violent Universe' planetarium show followed by 'Astronomy Update', a live discussion of the top astronomy discoveries for 2019. Arrive at 3:15pm if you would like to join us for a pre-show reception.
Violent Universe: Comets, asteroids, and meteors hurtling through space. Stars collapsing under their own gravity. Infernos of nuclear energy releasing their deadly radiation across the universe. Witness the raw power of the cosmos in this thrilling show that gives you a front-row seat to watch as worlds collide! Narrated by Sir Patrick Stewart of Star Trek: The Next Generation, Star Trek: Picard, and the X-Men films. Telly Award Finalist.
Ticket Pricing
Adults: $5.00
Children: $3.00 (under the age of 12 who require a seat)
Okra Card: $3.00 (Students, faculty and staff with valid DSU ID)
Tickets sold at the door. Cash or check only. Make check payable to Delta State University.
If you would like to reserve a seat in advance, please send us a message through our 'Contact Us' form. No admittance will be available after the show's scheduled start time.