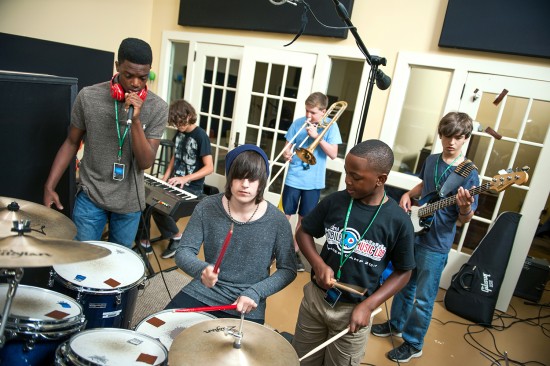 Students attending the third annual DMI Mobile Lab Summer Camp, sponsored in part by Entergy Mississippi, will present a musical showcase on Friday, June 19 at 5:30 p.m. in Studio A of the Delta Music Institute on the campus of Delta State University.
The showcase will include cover songs along with original songs written by the camp's songwriting students.
Participants include 28 students ages 12-14, including a group from the Young LITES of the Mississippi Delta Chapter of the Links, Inc.
The intensive five-day camp experience explores two music career tracks, including band performance and songwriting, culminating in a recording session at the DMI studios and showcase performance.
Mobile Lab project coordinators, Vickie Jackson and Travis Calvin, are able to assist the campers in crafting their unique voice into original songs by listening intently to their thoughts and ideas.
Instructors for the DMI ML camp include DMI Mobile Lab staff members, DMI faculty members, Delta State students and visiting music industry professionals Steve Azar and Southern Halo. One of the original songs created during the camp was written with award-winning artist-in-residence Azar, while sister trio Southern Halo performed songs from their newest CD release and also participated in a Q&A session with the campers.
"The DMI Mobile Lab Camp offers such a great opportunity for young aspiring musicians and songwriters to develop and showcase their talents by empowering them to each find their own 'voice,'" said Tricia Walker, director of the DMI. "I can report that there is no shortage of talent in the Mississippi Delta.
The 5:30 p.m. concert on Friday is free and open to the public. Supporters of these talented young musicians are encouraged to attend and enjoy the show.
Using mobile music audio/visual technology, the goal of the DMI Mobile Lab is to nurture and encourage creativity, complement curriculum, and empower students with a knowledge and appreciation of the rich musical heritage of Mississippi. For more information, visit http://dmimobilelab.org.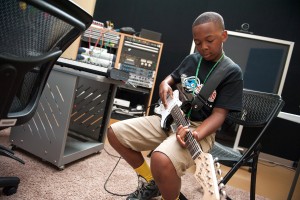 The Delta Music Institute is a first step towards a broad program in Entertainment Industry Studies. The focus of the DMI is to provide students with a broad and thorough education in the technological, business and creative areas of the music industry. For more information, call the DMI office at 662-846-4579 or visit http://deltastate.edu/dmi.