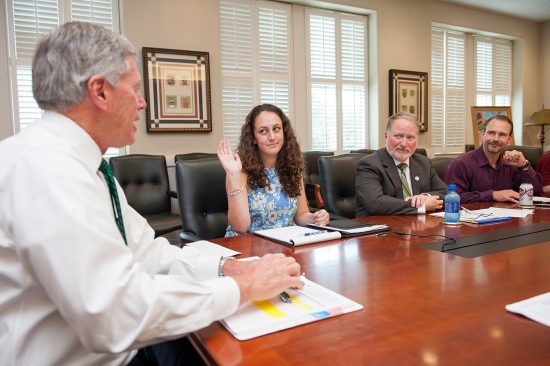 For the first time in Delta State University's storied history, a student has earned an active voting role in the President's Cabinet.
On Aug. 22, Allie Rose Parker, president of the Student Government Association, casted her first vote at President William N. LaForge's weekly cabinet meeting.
"It's a huge honor for me, and I'm very thankful to be part of a university that places so much responsibility with the student body. I know that's not something you see every day," said Parker. "It's very humbling to have this opportunity, and I'm extremely thankful it's happening during my years."
LaForge, who has sworn to an all-inclusive approach during his presidency, said it was a no-brainer to include the SGA president as a voting member of his cabinet. During his inaugural State of the University address in 2013, LaForge announced the first addition of the SGA president on his cabinet as a non-voting member.
"We decided that the student voice should become a student vote as well," said LaForge. "I think it's the right thing to do to make sure our students are fully engaged to share in decision making on campus. It's also the result of a great track record of the SGA presidents who have served during my time at Delta State.
"We are proud to have Allie Rose on board, and we are excited to have her as a voting member," said LaForge. "I think this will be a more complete way to share the authentic shared governance on campus. I encourage full student participation, and I think we'll be better off for it."
Parker first started attending cabinet meetings in June after her election as SGA president.
"It's really interesting to be part of the meetings and hear ideas bounce off all the important people on campus," said Rose. "I'm the youngest in the room, so I was a little intimated when I first started attending — but they absolutely include me in everything. They really make sure the students are represented well on the cabinet."
Parker said having the voting right is a big plus for the student population.
"The cabinet really does try and make the best decisions for the student body, but it's also really helpful for them to be able to turn to an active student and ask if the student body will like a particular decision," she said. "I think it's really helpful for me to provide an opinion reflective of the student body.
"I'm very thankful to the SGA presidents before me who paved the way and gave me this opportunity to vote."
Delta State now joins Mississippi Valley State University and the University of Southern Mississippi to include student body presidents as voting members of the president's cabinet.
Follow all Delta State University news at www.deltastate.edu.