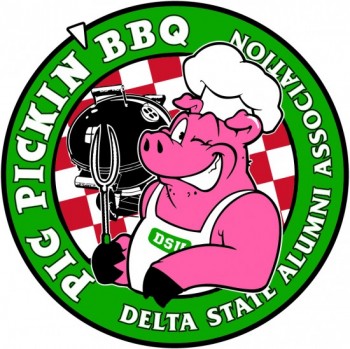 The Delta State University National Alumni Association recently unveiled the schedule of events for the 29th annual Pig Pickin'. The schedule is full of activities for Delta State alumni and friends of any age.
Activities kick off Friday, Sept. 26 with the annual Polk's Sponsors' Dinner at the Hugh Ellis Walker Alumni-Foundation House at 6 p.m. At 8 p.m., the Alumni Association will host a Young Alumni Tailgate Party with live entertainment featuring Southern Halo beginning at 9:15 p.m. in the park.
Saturday's events begin with the 23rd annual Delta State Triathlon at 8 a.m. at the Aquatics Center. From 10 a.m.-1 p.m., Phi Mu will host a Bunko Tournament for Children's Miracle Network in the Jacob Conference Center of Ewing Hall.
Registration for the second annual Delta Down and Dirty Youth Obstacle and Challenge Run is from 9-10 a.m. with the race beginning shortly after. The Delta State softball team is hosting an Alumni Gathering at 10 a.m. at University Field, and the BBQ cooking competition begins at 10:30 a.m.
At 11 a.m., the Statesmen baseball team will play a squad game at Ferriss Field, and the softball team will host the annual DSU Softball Alumni Game at University Field. DSU Day for high school students is from 11:30 a.m.-3 p.m., and DSU Band Day for alumni, students and future students is from noon to 6 p.m.
The first 500 attendees to register at the Alumni Association tent will receive a free Pig Pickin' souvenir cup. Activities at Statesmen Park begin at 1 p.m. with the Kids Zone, tailgating and live entertainment provided by the DMI student bands Ol' Skool Revue and Delta RoX. Jim Gregory will also host a live radio broadcast from the park. The Okra and Statesmen mascots will be at the Alumni Association tent from 1-3 p.m. for pictures. There will also be a Legacy Tent for members of the Delta State Alumni Association Legacy Program.
The Pig Pickin' serving lines are open from 3-5 p.m. The Delta State pep rally, featuring cheerleaders and the football team, is at 3 p.m. At 5 p.m., the BBQ competition winners will be announced. The football game between Delta State and Central State University kicks off at 6 p.m.
BBQ tickets are $6 and can be purchased at the Alumni House or www.deltastategiving.org/alumniassociation/pigpickin. Patrons who pre-purchase tickets by Sept. 24 will be entered in a drawing to win either a Yeti cooler or a free night's stay at The Alluvian.
Pig Pickin' is made possible each year through generous sponsorships. This year's sponsors include: National Alumni Association Corporate Sponsors: Polk's Meats, Bolivar Medical Center, Air Evac Lifeteam, and Patrick Davis State Farm; Title Sponsors: Polk's Meat and Wal-Mart; Founders Level Sponsors: Aramark, Delta Regional Foundation, H.L. and Judy Dilworth, and Pafford EMS; Statesmen Level Sponsors: Delta State Foundation, Majic 107.5, Delta Radio; Okra Level Sponsors: Roy Collins Construction, Nehi Bottling Company, Boyle Lumber Company, Feaurecia Automotive Seating, Needle Specialty Products, Lampards Wholesale Meats, Vowell's Market Place, Baxter Healthcare, Regions, Cleveland Tropy, Delta Risk Solutions, Patrick Davis State Farm; Green Level Sponsors: Barnes & Noble – Delta State Bookstore, Servepro of Cleveland, Sonic Drive In of Cleveland, Belcan Services Group, Automark of Cleveland, Advanced Mosquito Control, Cecil's Package Store; Eley Barkley Engineering, Belflex Staffing Network, Bolivar Urology Clinic PA Derek Miles, Image Specialists, Guaranty Bank & Trust Company, Renasant Bank; White Level Sponsors: Patterson Chiropractic Clinic, Simply Southern, Backdraft, Tallahatchie County Correctional Facility, Denton Dairy Products, Delta OB/GYN, Cleveland State Bank, Abraham's, Robinson Electric Company, Planters Bank, Meador & Crump, Merle LaMastus – Giger; Civil Solutions Services, Rogers Entomological Service, Bolivar Commercial, Shorlone Green, Locals, The Cleveland Current, Flatlanders Screen Printing, The Sweetery Bake Shop, Mosquito Burrito and Byrd Service Station.
For more information, contact the Alumni Association at (662) 846-4660. To stay up to date on the Alumni Association's activities, follow these social media sites: Facebook (Statesmen Graduates), Twitter (@DSU_Alumni), Tumblr (http://www.dsualumni.tumblr.com), LinkedIn (DSU alumni), Instagram (dsualumni) and You Tube (dsualumni1).