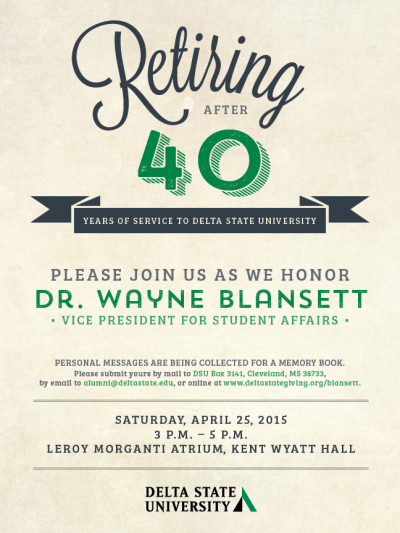 Join the Delta State community for a retirement celebration in honor of Dr. Wayne Blansett, vice president for Student Affairs, on April 25 from 3-5 p.m. in the Leroy Morganti Atrium in Kent Wyatt Hall. Members of the campus and community are invited to attend.

Blansett has served Delta State for 40 years in various capacities. In addition to his current vice presidency, Blansett has served as dean of students (1975-1980), director of Student Activities (1980-1984), associate dean of Student Affairs (1984-1990) and dean of Student Affairs (1990-1993).
Leslie Griffin, dean of the College of Education and Human Sciences, values the legendary contributions Blansett has made to the institution over a lengthy career.
"Dr. Blansett's professional preparation in the College of Education, culminating in the Doctor of Professional Studies degree, had exponential effects on the DSU community," said Griffin. "It is ideal when an individual's educational career intersects with his life's work — in this case, positively impacting the lives of literally thousands of students."
Blansett has been a role model and mentor for countless students in Delta State's storied history. As he puts it, his job is to improve the total development of students at the university. He announced retirement plans in October of 2014 with mixed emotions.
"I started working at Delta State when I was 23-years-old. I've had a long and rewarding career, and I will certainly miss the interactions with students, staff and the entire Delta State family." said Blansett. "Delta State has been my life, and there will be some sad moments when I step away.
"There's nothing that could replace the interactions I've had with the students. This has been a lifelong journey. There's something very special about this place, and I've been fortunate to be a part of it."
Having worked for Blansett for seven years, Administrative Coordinator Reagan Dilmore considers it a privilege to have learned from the true leader.
"During this time I have learned so much about higher education," said Dilmore. "There is no question that Dr. Blansett has been a voice for the student body throughout his years as the vice president for Student Affairs.
"It didn't matter how busy he was — he would drop what he was doing to talk to a student. After one conversation, students knew they could trust him and had found their advocate. Even when discipline was a factor, students always came back to see Dr. Blansett with a smile on their face. That is a special characteristic that is hard to find."
Saturday's retirement celebration will be presided by Jeffrey Farris, director of Alumni Affairs. Remarks will be provided by Ronnie Mayers, director of Athletics, President Emeritus Dr. Kent Wyatt and President William N. LaForge. Blansett will provide a response before a special announcement and closing.
Personal messages are being collected for a memory book. Please submit yours by mail to DSU Box 3141, Cleveland, MS 38733, or by email to alumni@deltastate.edu or online at www.deltastategiving.org/blansett.