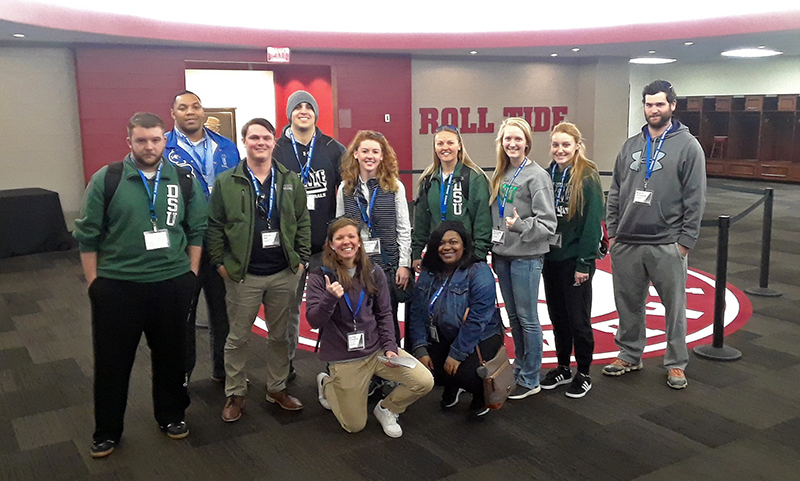 The Division of Health, Physical Education and Recreation at Delta state presented three professional lectures at the University of Alabama in Tuscaloosa, Alabama, at the National Intramural-Recreational Sports Association Co-State (MS/AL) Workshop on January 25-26.
The workshop was comprised of professional lectures and seminars on recreation and wellness aspects concerning the campus recreation field.
Todd Davis, director and instructor of recreation administration and outdoor education; Katie Gennarelli, graduate assistant for outdoor recreation; and Heather Wilson, senior, recreation leadership major, presented on a variety of topics. In addition to the presenters, 10 HPER majors from exercise science, sport management, physical education teacher prep, and recreation administration participated in the two-day workshop.
Davis presented "Perceived Benefits and Barriers Among African American Students' Participation in Outdoor Recreation as Leisure-Time Physical Activity at Selected Universities in Mississippi: A Mixed Methods Study."
Gennarelli presented "Gender Equality in the Outdoor Adventure & Recreation Industry."
Davis, Gennarelli and Heather Wilson presented, "Transferring Classroom Curriculum to Outdoor Recreation Leadership Fundamentals: Notes from the Field"
"It's a privilege and honor to be selected to speak at association conferences," said Davis. "These local workshops are associated with our national organization, however, they provide an amazing platform to network, expose students to the campus recreation profession, and allow students to see new and different sport and recreation landscapes. The University of Alabama and the University Recreation Services team were amazing hosts, and our students walked away from this event with a new vision for their future."
"This particular conference was extremely enlightening and educational," said Gennarelli. "I was impressed with the scope of recreation and wellness services that the University of Alabama provides for their students. The amount of energy and dollars spent to provide state-of-the-art recreation outlets is amazing. Being able to speak on my research was also a highlight. I was honored to be chosen for this presentation opportunity."
The Division of Health, Physical Education, and Recreation is housed in the College of Education and Human Sciences. The division offers majors in K-12 physical education teacher preparation, sport management, exercise science and recreation administration.