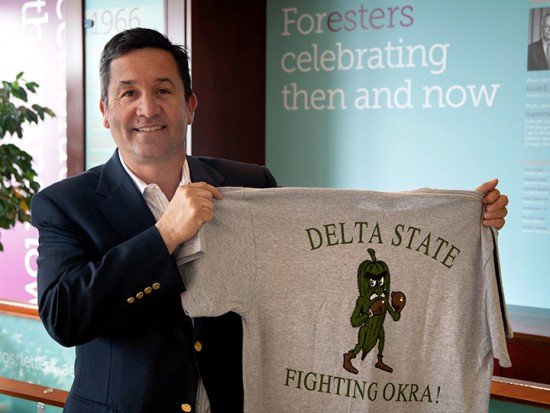 Tony Garcia leads a 140-year-old international financial services company that manages more than $25 billion in assets and employs nearly 2,000 people on two continents.
But for the seasoned executive, many of the values that shape his leadership style today can be traced back to a specific period in his youth —his experience on the campus of Delta State University in the 1980s.
"It was the perfect size university for me," said Garcia, who received his Bachelor's of Business Administration degree at Delta State in 1986. Currently, he is the president and CEO of Foresters in Toronto, Canada.
"A lot of what I learned in that kind of college experience that stayed with me was about working together as a team," he said. "Whether it was with my fraternity brothers, on the tennis team or in study groups that would meet outside of class — the experience taught me a lot about sharing and responsibility, and about what it means to work with each other."
Garcia, a native of Florida, went on to earn an MBA from Northwestern University's Kellogg School of Management. He has led a successful career that has included executive positions in leading insurance and financial-services companies across the United States.
Garcia began reconnecting with his alma mater several years ago. He was both surprised and humbled to learn he would be honored as DSU Alumnus of the Year.
"There was no way, back in 1983 when I made that trek from Panama City to Cleveland to pursue my degree, that I would have imagined I would ever be acknowledged like this," Garcia said. "I feel incredibly humbled."
He came to Delta State when he was recruited for the men's tennis team. Gina George, a childhood friend who had played on the women's tennis team, made the connection for him.
On campus, Garcia joined Pi Kappa Alpha fraternity and soon found his niche.
"I met a lot of great people," he said. Chief among them — his wife, the former Donna Ashby, who was born in Clarksdale and had graduated from Washington School in Greenville.
"For us as students, there was always something going on," he said. "Cleveland's a small town, but it was a terrific place to get an education."
Tony and Donna wed soon after he finished college. Today, they have five children: Kristen, 28; Anthony, 24; Alex, 13; Ayden, 7; and Adam, 5. The chance to raise their three younger kids in a different culture was part of Garcia's decision to take the reins at Foresters in May of 2014.
"In Toronto, we've experienced a very warm welcome," he said. "Since I grew up in Florida, I have a bit of a Southern accent — not as much as my wife — but the Canadian community here has welcomed my family with such a warm embrace. We've found them to be very open, and to be the kind of people who welcome diversity — not only of race and religion, but also diversity of thought. It's been a terrific move for us."
Garcia and his family most recently lived in Cincinnati, where he was president of Western and Southern Agency Group. His previous posts include president and CEO of TIAA-CREF Life Insurance Company, senior vice president of HealthMarkets Inc., and senior vice president of Household International/HSBC. He also spent 11 years early in his career with Allstate Insurance Company.
According to Garcia, his success would not be possible without his wife Donna.
"Donna's support, through all the moves and new roles, has been critical," he said. "I could not have done this without her."
In making the move to Foresters, Garcia was attracted by the company's service-oriented focus.
"As a fraternal benefits society, we give back to the communities where we live and work in a significant way," he said. "Since I've joined, we've marked the completion of the 100th playground we've built in North America. It's exciting to see the fulfillment of our company's mission to enhance family well-being for our members and their communities."
Within the company, Garcia has spent the past few months getting to know the people who comprise Foresters across its three markets — Canada, the United States and the United Kingdom. He's also been focused on working to understand the challenges and opportunities of the business, in order to better pursue a long-term strategy for its next generation of growth.
Garcia has brought to the post a transparent, authentic leadership style that has aided him in his previous positions. It's a gift that works to rally others around his vision for a business.
"I have high expectations for myself and for others, but it's been important to communicate those expectations in a way that's grounded in trust," he said. "One of the most important lessons I've learned is how to be a good listener. And if you listen long enough, people will tell you how they want to be led."
At the same time, he said, embracing a culture of ethics in business has helped him build trust among those he leads. The approach is so central to his leadership style, he was elected as a board member for the Cary M. Maguire Center for Ethics in Financial Services at The American College.
He has served as a keynote speaker on the topic of business ethics, and also shares his perspective with the junior executives he mentors.
"No matter what stage you areat in your career, the most important thing you can do is to judge organizations by their culture — how they make decisions and how they view ethics," he said. "The goal is to align with an organization that shares your value system — that aligns around not just your professional goals but your personal goals as well."
For Garcia, leading a service-oriented business like Foresters has brought those two aspects together perfectly. Yet, as he dives into this new season of his career, he is able to reflect upon the way his skills and values took root on a small campus in the Mississippi Delta.
"In the '80s and '90s, the culture of the business world was focused on individual performance," he said. "But what I learned at Delta State was the power of working in teams and helping each other out.
"I feel like that experience of teamwork and collaboration has helped shape the sense of personal responsibility I've carried with me since then."