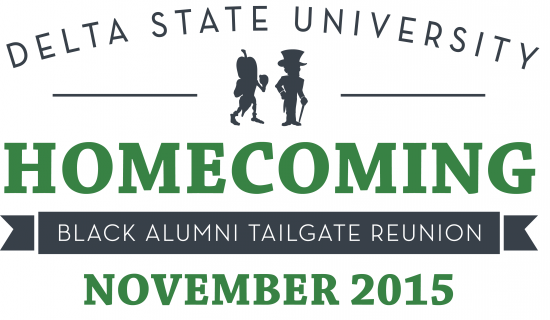 The National Alumni Association is proud to announce the Black Alumni Tailgate Reunion to be held at Statesmen Park on Saturday (Nov. 7) from noon to 4 p.m.
"Homecoming is about reconnecting with classmates to keep the history of our experiences alive. Delta State today isn't the same as it was 10, 20 or even 40 years ago. Imagine reuniting with fellow alumni to share those experiences with each other and current students," said Kelly Hunter, Black Alumni representative to the National Alumni Association Board. "Homecoming is also about making new connections. Together we are a valuable resource to each other. As the representative for the Black Alumni constituent group, I'm looking forward to this year's Black Alumni Tailgate Reunion and with anticipation, the success of many future events."
Jeffrey Farris, director of Alumni Affairs, is looking forward to the organization's first event.
"The Alumni Office has been overwhelmed with positive interest concerning the first Black Alumni Tailgate Reunion," said Farris. "Every black alumnus we have a good mailing address for, which totals over 5,000 recipients, received a letter inviting them back to campus for this Homecoming reunion. Thanks to our National Alumni Association board member Kelly Hunter for her hard work and dedication for continuing to grow and engage this constituency group."
Hotdogs and hamburgers will be provided thanks to Patrick Davis State Farm Agency in Cleveland. T-shirts will be for sale for $12. To RSVP or purchase a t-shirt, visit www.deltastategiving.org/alumniassociation/blackalumni. Active Alumni members who attend the event will entered in a drawing to win a Yeti Hopper Cooler.
The official hashtag for the 2015 Homecoming is #DSUHC15. For more information, contact the Alumni Association at 662-846-4660. To stay up to date on the Alumni Association's activities, follow these social media sites: Facebook (Statesmen Graduates), Twitter (@DSU_Alumni), Tumblr (www.dsualumni.tumblr.com), LinkedIn (DSU alumni), Instagram (dsualumni) and You Tube (dsualumni1).