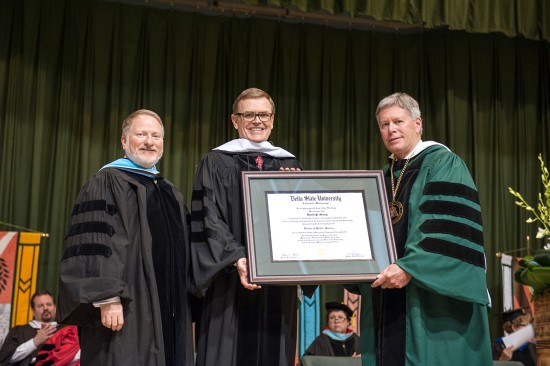 Delta State University celebrated its 89th Commencement in grand fashion today with a traditional graduation ceremony and a presentation of an honorary doctoral degree.
The institution, friends and family united to recognize the accomplishments of over 400 graduates.
While his list of accomplishments is already lengthy, alumnus David Abney '76, CEO of UPS, added another milestone to his résumé after being granted an honorary doctoral degree as part of Delta State's long-running tradition of recognizing green and white greatness.
Delta State confers the honorary degree to individuals who have made significant and meritorious contributions to the university, higher education generally or other areas of society.
Achievements can include, but are not limited to, outstanding creative and scholarly work, distinguished leadership or service, significant accomplishments or exceptional philanthropic support.
Abney, who became UPS's CEO in 2014, is also the creator of Delta State's annual International Business Symposium in the College of Business. The IBS provides a unique look at current trends in the business world. The symposium celebrated its 10-year anniversary this April. Abney and his wife Sherry, both Delta natives, have sponsored the IBS since its inception.
Abney studied marketing at Delta State and was named the 2007 Outstanding Alumnus of the Year. He currently serves on the Delta State University Foundation Board of Directors.
The esteemed alumnus offered these words of wisdom in relation to time during his keynote address.
"Take time to fail, take time to believe in yourself, take time to shine a spotlight on others, take time to listen and at the end, of course, take time to dream," said Abney. "I think you'll find this will be time well spent."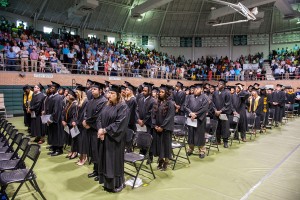 Delta State President William N. LaForge provided introductions at the ceremony, while presentations of candidates and degrees were led by Provost and Vice President for Academic Affairs, Dr. Charles McAdams.
"This spring, we are graduating more than 400 students, and we are happy to have them and their loved ones on campus to celebrate this momentous occasion," said LaForge. "Thank you to our faculty and staff who have helped make this semester another successful one for Delta State. I also extend congratulations to Dr. David Abney on receiving a honorary doctoral degree. He delivered a powerful and meaningful commencement address, and we thank him for sharing his experiences and advice with all of us."
Follow all news at Delta State University at http://www.deltastate.edu.