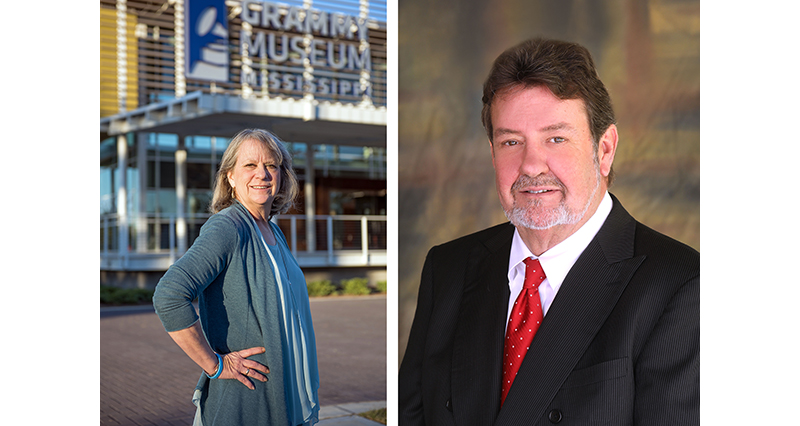 Delta State University will continue its tradition of recognizing green and white greatness by conferring honorary doctoral degrees to the powerhouse alumni couple of Lucy and Paul Janoush.
The Janoushes will be recognized during spring commencement ceremonies May 6 at the Bologna Performing Arts Center.
Delta State confers the honorary degree to individuals who have made significant and meritorious contributions to the university, higher education generally or other areas of society. Achievements can include, but are not limited to, outstanding creative and scholarly work, distinguished leadership or service, significant accomplishments or exceptional philanthropic support.
Lucy, who was named Delta State's Alumnus of the Year in 2015, has been a dedicated supporter of the institution for years.
Take a look at what used to be the southeast corner of the Delta State golf course, and you'll notice the latest of Lucy's many civic contributions. Since 2011, she has served as president of the Cleveland Music Foundation Board of Directors, the group responsible for planning, funding, constructing and operating GRAMMY® Museum Mississippi. The $19 million-dollar facility opened in March of 2016.
This latest project represents just one of many ways Lucy has given back to the school and community that gave her an academic foundation. She started at Delta State in 1974 and graduated Magna Cum Laude in 1978 with a Bachelor of Arts degree in English.
Lucy's memberships and volunteer service in the community runs incredibly deep. To name just a few — executive vice president of the Cleveland-Bolivar County Chamber of Commerce; Hayes Cooper Booster Club, president; Wildcat Booster Club and CHS PTSA, president; Crosstie Arts Council, president; DSU Alumni Association and Booster Club; Cleveland Community Theater; Friends of the Bolivar County Library; and the Cleveland Park Commission, volunteer coach for baseball, soccer and softball.
Lucy's husband, Paul, also a Delta State alumnus, will be recognized for his decades of contributions to both Delta State and the Bolivar County community. He has served as the Chief Financial Officer at Jantran, Inc., since its founding in 1977.
The Boy Scouts of America and Cleveland scouts have benefited greatly from the many hours of dedicated volunteer work he has provided, including having served as a member of the Executive Board of the Chickasaw Council Boy Scouts of America, past chairman of the Tallaha District and Cub Scout pack leader.
The importance of youth activities within the community has always been one of Paul's passions. His commitment has been evident in the many years he has volunteered his time and talents to Hayes Cooper Center Booster Club, Cleveland's Booster Club, and Margaret Green Junior High's and Cleveland High School's Parent, Teacher, and Student Association.
His love for Delta State is also evident in his past and present commitments in serving on the Delta State University Foundation Board, the DSU Booster Club and Delta State Alumni Association.
Keynoting the commencement ceremonies is former state Supreme Court Justice Ann Lamar, who was recently appointed to the Board of Trustees for the Mississippi Institutions of Higher Learning.
Lamar served as a Mississippi Supreme Court justice from 2007-2016, the third woman to serve on the high court at the time of her appointment.
Lamar earned a Bachelor of Science degree in education from Delta State University in 1974, before completing her law degree at the University of Mississippi School of Law in 1982.
To follow all Delta State news, visit www.deltastate.edu.