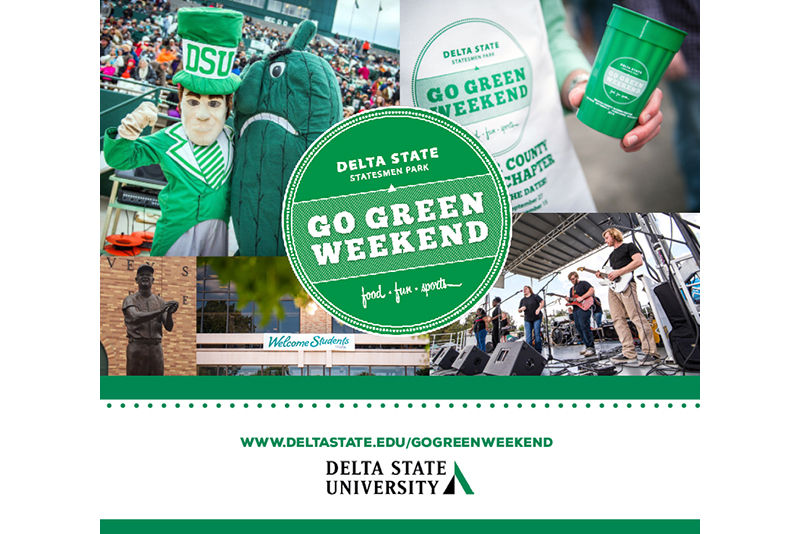 Delta State University is gearing up for its fifth annual Go Green Weekend on campus April 27-29.
Each spring, students, faculty, staff, alumni and Delta State supporters gather for a full schedule of live entertainment, tailgating, sporting events and a Spring Preview Day on April 27 from the Office of Admissions.
The family-friendly affair is a way for the Delta State community to celebrate all things green and white. The schedule of events is coordinated by a number of Delta State departments.
View the full schedule at www.deltastate.edu/gogreenweekend.
Spring Preview Day continues to grow each Go Green Weekend, as potential students have the opportunity to hear from campus leaders, meet faculty and staff to learn about campus departments, interact with current students and student organizations, enjoy campus tours, and be a first-hand fan at Delta State athletic events. This year's preview day begins April 27 at 9:30 a.m. in the H.L. Nowell Student Union.
Junior and seniors are asked to register for Spring Preview Day at http://www.deltastate.edu/admissions/go-green-weekend.
"Spring Preview Day is an opportunity for high school juniors and seniors who are still trying to decide where to attend college," said Rebekah Arant, Admissions recruiter. "It's also an opportunity to meet with academic departments and student groups to see what being a Statesmen is all about. Students will have the opportunity to hear from campus leaders, enjoy a campus tour, and interact with current students."
High school students participating in Spring Preview Day will also receive free tickets for themselves and up to two guests to attend the baseball and softball games on April 28.
The Alumni Office also encourages Delta State alumni, current students and community supporters to come out and support Delta State on the baseball and softball fields. The office will support tailgating festivities outside Harvey Stadium at 1 p.m. on April 28.
"Go Green Weekend is a great opportunity for alumni to see the new and exciting things happening on campus, visit with faculty, staff and other alumni, while enjoying some wonderful Delta State University sporting events," said Amanda Robinson, assistant director of Alumni Affairs. "The Alumni Association office looks forward to seeing all of our alumni return to campus for Go Green Weekend."
The Lady Statesmen softball team hosts a doubleheader against Mississippi College on April 28. Games begin at 4 p.m. and 6 p.m. They close the series April 29 with a 1 p.m. showdown.
The Statesmen baseball team also hosts Mississippi College for a doubleheader, with games starting at 2 p.m. and 6 p.m. The men close their series April 29 with a 2 p.m. game.
The Office of Student Affairs, Student Government Association, and Delta Music Institute will also get in on the fun with a few events.
Weather permitting on April 27, the SGA and DMI will host a joint party on the quad. Starting at 6 p.m., DMI students will perform on stage and the SGA Student Crawfish Boil will kick off. At 6:45 p.m., a pep rally will take place for the softball and baseball teams. At 7 p.m., the DMI's 2018 feature artist, Mic Hargrove, will be performing on stage for an EP release party.
"This event is a culmination of a great year for Student Government Association," said Layla Young, SGA chief of staff and event coordinator. "We are looking forward to a fun-filled night of good food and good music that showcases the quality of talent here at DSU with our family and friends.
On April 28, Greek Life will host the annual Multicultural Step Show at 8 p.m. in the Bologna Performing Arts Center. This year's show is a partnership with Make-A-Wish Mississippi. Admission is $5 and 100 percent of the proceeds will be donated to Make-A-Wish.
Also on April 28, Athletics will host a special recognition at 9 a.m. at the Derrall Foreman Golf Course to honor former Delta State golf coach Derrall Forman.
Go Green Weekend activities are open to the public, but tickets are required for entry into the baseball and softball games. Students, faculty, staff, alumni, potential students and Delta State supporters are encouraged to tailgate prior the games.