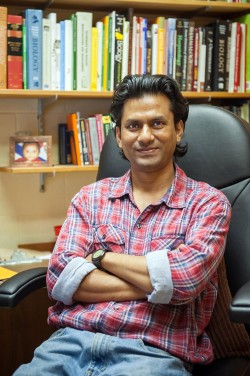 Dr. A.H.M. Ali Reza, assistant professor of biology at Delta State, was recently elected as an executive board member of the Mississippi Chapter of the Wildlife Society.
Chartered in 1973, the MCWS is comprised of wildlife professionals and students. The organization's goal is to promote excellence in wildlife stewardship through science and education. Hunters, private corporations, landowners and wildlife enthusiasts are among the many who support the wildlife conservation efforts across the state.
The election happened during the society's annual conference in Jackson, Miss. on Sept. 24-25. As an elected board member, Reza will serve on the board for the 2015-16 session.
Reza said he was honored to be elected and will continue to boost wildlife education at Delta State.
"Our state and federal agencies, universities, and wildlife biologists are all determined to keep Mississippi beautiful and our wildlife bountiful," he said. "Having our students involved in such a professional group helps them become better prepared and motived to be a dedicated steward of wildlife."
The MCWS has over 100 professional members, most of whom are employed through state, federal or non-government agencies, as well as academic institutions. In addition to the professional members, the organization has several active student chapters.
Reza coordinates the Wildlife Management program at Delta State under the realm of environmental sciences.
A native of Bangladesh, Reza came to Delta State with a distinguished résumé. For his master's degree he studied Bengal tigers in his homeland, where the tigers are commonly known as 'man-eaters.' He also coordinated the Bengal tiger conservation project working with the International Union for Conservation of Nature and wrote a book on tiger ecology.
Reza and his wife, Selina, moved to the United States so he could obtain his doctorate at Texas Tech University, where he graduated in 2010 with a degree in wildlife science. He received his postdoctoral training with USGS Texas Cooperative Fish and Wildlife Research unit working on a climate change project.
Additionally, he has extensive experience in leading study abroad programs with wildlife research projects in multiple counties abroad.
For more information about Wildlife Management at Delta State, contact Reza at 662-846-4242 or areza@deltastate.edu.