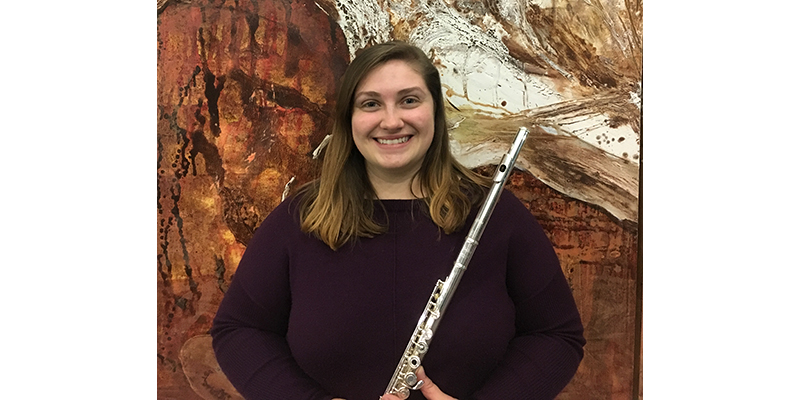 The Department of Music is pleased to announce that senior music education major and flute student Amanda Lutz has been selected to participate in the National Flute Association's 2018 Convention Intern Program.
Participating interns have the opportunity to learn about the NFA during the four-day annual convention, which will be held in Orlando, Florida in August. Interns work hands-on with the convention director, marketing and development associate, equipment chair and membership manager. In addition, they receive behind-the-scenes experience while at the convention. Interns will also get to network with the greatest flutists, composers and pedagogues from across the globe.
"Amanda is a natural for this highly-selective internship program," said Dr. Shelley Collins, associate professor of music at Delta State and former NFA board member. "She is a natural problem solver who has worked countless hours in the Department of Music as the assistant director of DSU Flute Day and as the DSU Band Librarian. Amanda will gain valuable experience and knowledge from the NFA convention that will help her in her career as a music teacher, but she needs assistance getting to Orlando. Interns receive paid convention registration and housing, but they are responsible for their own travel expenses and meals."
To aid in sponsoring Amanda in this educational experience, a tax-deductible donation to the MuSE Fund may be made to the Delta State Foundation by check or online by credit/debit card. Please visit www.deltastategiving.org/fund/give/710 to donate today, and designate your gift for the NFA flute internship.
Lutz, from Horn Lake, Mississippi, is a graduate of Lake Cormorant High School. She is a music education major who plans to teach band and work in the field of music therapy with cancer patients. Lutz is principal flute of the DSU Wind Ensemble, is president-elect of the Mu Phi Epsilon music fraternity, and teaches flute lessons in the community.
The NFA annual convention is attended by more than 3,000 flute performers, composers, scholars, makers and publishers, and features concerts, workshops, and recitals. Founded in 1972, it is the largest flute organization in the world with more than 5,000 members worldwide. Past presidents and board members have included principal flutists of leading American orchestras, top-tier soloists, chamber musicians, and professors at the foremost conservatories and universities.
Follow all Delta State news at www.deltastate.edu.