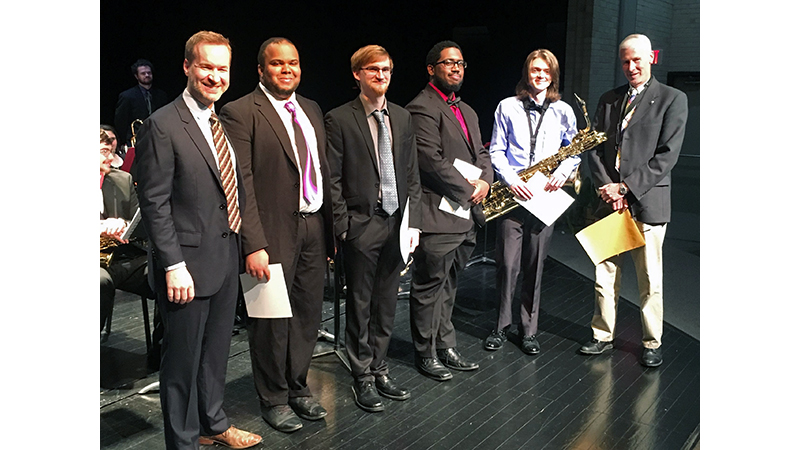 Pictured, left to right: Dr. Bret Pimentel, Chris Samuels, Dylan Swain, Kevin Wilson, Jordan Holland and Rogers Varner.
Four members of the Delta State Jazz Ensemble recently received scholarships for their musical contributions, academic achievements, and service to the ensemble.
The recipients were: Jordan Holland (baritone saxophonist and junior computer information systems major from Grenada), Chris Samuels (drummer and sophomore entertainment industry studies major from New Orleans, Louisiana), Dylan Swain (lead trumpet player and junior music major from Crystal Springs), and Kevin Wilson (tuba player and senior entertainment industry studies major from Clinton).
The annual scholarships are made possible by funds raised at the Jazz Ensemble's Big Band Bash, an evening of classic big band swing music, dining and dancing held at the Cleveland Country Club.
The Big Band Bash was created by Rogers Varner, a community participant in the ensemble's saxophone section. In 2011, Varner received the Department of Music's Philanthropy Award for his ongoing work organizing the event.
The scholarships were announced at the ensemble's spring concert on April 17, and certificates were awarded by Varner and ensemble director Dr. Bret Pimentel, associate professor of music.
Interested parties may contribute to the scholarship fund through the university foundation: https://www.deltastategiving.org/Fund/give/353.