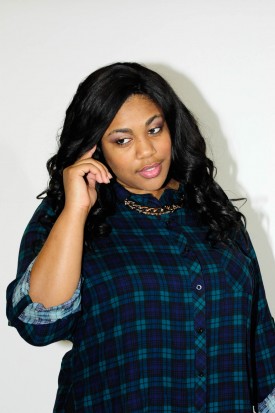 Fighting Okra Records, the Delta Music Institute's student-run record label at Delta State University, recently signed junior Audrianna Johnson, a native of Grenada as the 2015-16 label artist.
After a three-step audition process that included an interview and live performance audition, the label chose Johnson as this year's featured artist. Johson is a Delta State student majoring in entertainment industry studies at the DMI. Her music ranges from R&B to rap and includes lyrics that tell stories about her life.
"A lot of situations with church have impacted me," said Johnson, referencing her musical influences. "Especially when I got out of high school and started to be more open-minded about things, going away from religious stuff. Still being godly, but not religious."
Since signing to the label, she has worked with the staff to plan her upcoming recordings, completed a photo session, and has been performing throughout the region. Her debut CD will be released in late spring of 2016.
Fighting Okra Records is the driving component of the DMI's Record Label Practicum course. The mission of FOR is to provide a practical, real-world music industry experience to the students, and to provide a variety of independent artists with professional quality music industry services in an effort to expose their name in recordings to the broadest possible audience.
The Delta Music Institute is an independent center of study under the College of Arts & Sciences of Delta State University. The focus of the DMI is to provide students with a broad and thorough education in the technological, creative and business areas of the music and entertainment industry. For more information, contact Fighting Okra Records at 662-846-4579 or dmi.deltastate.edu.