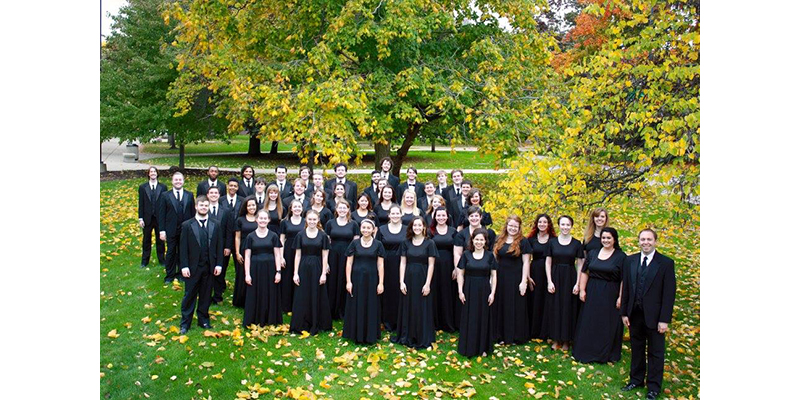 On Friday (Feb. 24), the Delta State University's Delta Chorale, directed by Dr. Adam Potter, will host a joint concert with Eastern Michigan University's premier choral ensemble, the EMU Concert Choir, directed by Dr. Brandon Johnson.
The EMU group, from Ypsilanti, Michigan, has been touring the South for the past week. Their performance in Cleveland will take place in the sanctuary of Covenant Presbyterian Church at 7:30 p.m.
For Potter, the collaboration has special meaning.
"This concert brings together so many people I know and love," said Potter. "Obviously, it is a unique opportunity for my students to get to perform with a collegiate choir from over 800 miles away. It is also an honor to partner on this project with my church family, the kind folks at Covenant Church. The director of the EMU Concert Choir, Brandon Johnson, was my undergraduate and master's degree conductor and teacher. A 2016 Delta State music alumna, Monica Ely, is a soprano in the EMU choir. Amazingly, a former student of mine from when I was a high school music teacher in New York is also an EMU singer, now a graduate student in vocal performance. My worlds intersect here in Cleveland."
Prior to the concert, the choirs will share a joint rehearsal and clinic with Johnson, as well as share a meal together. Johnson is the director of Choral Activities at EMU and the artistic director and conductor of the Detroit Concert Choir. Previously, he founded and was the artistic director of the emerging professional vocal ensemble Vox Lumine based in New York.
Johnson has conducted professional musicians across the United States while maintaining his extensive work with students of all ages. He has performed in venues across the country including Lincoln Center's Alice Tully Hall, the Kennedy Center, and made his conducting debut at the renowned Carnegie Hall with the National Sacred Honor Choir. He holds degrees from Concordia College and The University of Arizona and was previously a faculty member at Houghton College.
The Delta Chorale is the premier touring vocal ensemble at Delta State. Comprised of approximately 40 mixed voices, it performs frequently both on and off campus. Its repertoire features high-quality choral music from diverse styles, musical eras, languages and cultures. The choir has performed by invitation at state and regional conferences of the Mississippi Music Educators Association and American Choral Directors Association.
Dr. Vernell Bennett, Delta State's vice president for Student Affairs, will provide opening remarks at Friday evening's concert. Coincidentally, Bennett is a graduate of the music program at EMU.
This concert is free of charge and open to the public. Donations will be accepted to help cover the expense of EMU's trip to Cleveland.