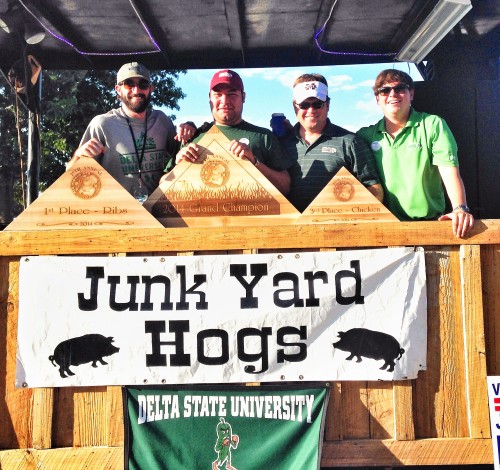 The Delta State University Alumni Association held the 29th annual Pig Pickin' last weekend at Statesmen Park. With a record-breaking number of participants, the event was another big success.
Over 1,100 people came through the barbecue serving lines and enjoyed a plate of pulled pork, corn, baked beans, slaw, a moon pie and RC drink. The BBQ was prepared by the Left Field Crew, a group of volunteers including Tom Janoush, Jay Burchfield, Jamie van Vulpen, Eddie Vaughn, David Griffith, Milan Killebrew, Mike Ainsworth, Edward Kossman, Craig Verhage and many others.
The Alumni Association started a new tradition this year with the Legacy Tent. One of the perks of joining the recently established Legacy Program was receiving a free BBQ ticket for those who requested one. The tent gave members a place to enjoy the BBQ, park atmosphere and meet with other Delta State legacies.
The event would not have been possible without the help of all the volunteers and event sponsors, including Polk's Meat, which has sponsored the event for the past nine years. Sponsors were treated to a gumbo dinner at the Polk's Sponsors' Social Friday before Pig Pickin'.
This year's sponsors include: Air Evac Lifeteam, Bolivar Medical Center, Patrick Davis State Farm, Polk's Meat, WalMart, Aramark, Delta Regional Foundation, H.L. and Judy Dilworth, Pafford EMS, Delta Radio, Delta State University Foundation, Majic 107.5, Barnes & Noble, Baxter Healthcare, Boyle Lumber, Cleveland Trophy, Delta Risk Solutions, Faurecia Automotive Seating, Lampards Wholesale Meats, Needle Specialty Products, Nehi Bottling Company, Regions, Roy Collins Construction, Vowell's Market Place, Advanced Mosquito Control, Automark of Cleveland, Belcan Services Group, Belflex Staffing Network, Bolivar Urology Clinic, Cecil's Package Store, Eley Barkley, Guaranty Bank & Trust Company, Image Specialist, Renasant Bank, Sonci Drive-In of Cleveland, Abraham's, Backdraft, Bolivar Commercial, Civil Solutions Services, Cleveland State Bank, Coopwood Communications, Delta OB/GYN, Denton Dairy Products, Flatlanders Screen Printing, Locals, Meador & Crump, Merle LaMastus, Mosquito Burrito, Patterson Chiropractic, Planters Bank, Robinson Electric Company, Rogers Entomological Services, Servpro of Cleveland, Shorlone Green, Simply Southern Grill and Cafe, The Sweetery Bake Shop, Tallahatchie County Correctional Facility and Byrd Service Station.
A group of 26 cook teams competed in this year's Cook Team Competition. This year's winners were:
*Best Sauce
1st place: Sweets BBQ Kitchen
2nd place: Fat Side Up #1
3rd place: Swine Before Pearls
*Best Beans
1st place: Barn Rub BBQ #3
2nd place: Rolling Bones
3rd place: Big Dog Smokers
*Best Sausage
1st place: Big Dog Smokers
2nd place: Smokehouse Posse
3rd place: Some Pig
*Best Chicken
1st place: Barn Rub Smokers
2nd place: Deliverance Smokers
3rd place: Junk Yard Hogs
*Best Ribs
1st place: Junk Yard Hogs
2nd place: Big Daddy Woo Woo's BBQ
3rd place: Vowell's Smokers
*Best Pork
1st place: Smokehouse Posse
2nd place: Bottoms Up Smokers
3rd place: Fine Swine
Junk Yard Hogs took home the Grand Champion prize with the highest cumulative score for the championship categories.
While the BBQ is the forefront of Pig Pickin', there were many other events taking place Saturday, including DSU Day, hosted by the Office of Admissions. Over 250 prospective students and parents participated in affair. The DSU Band also hosted a day for prospective band students. Over 40 students participated and they performed with the Delta State band at halftime.
The Delta Down and Dirty Youth Obstacle and Challenge Run celebrated its second year with over 600 children participating. Delta State Athletics also hosted the 23rd annual DSU Triathlon and had over 40 athletes participate.
Live entertainment was provided at Statesmen Park Friday night by local Cleveland trio Southern Halo and Saturday by Delta RoX, Ol Skool Revue, a DJ and a live radio broadcast by Jim Gregory.
The various events led up to the showdown between Delta State and Central State University, which resulted in a 72-8 win for the Statesmen.
For more information, contact the Alumni Association at 662-846-4660.
To stay up to date on the Alumni Association's activities, follow these social media sites: Facebook (Statesmen Graduates), Twitter (@DSU_Alumni), Tumblr (http://www.dsualumni.tumblr.com), LinkedIn (DSU alumni), Instagram (dsualumni) and You Tube (dsualumni1).