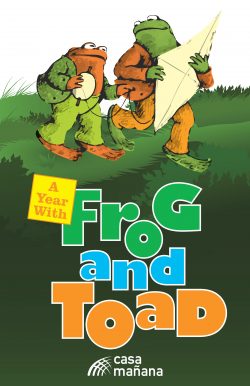 Watch the seasons unfold with the lovable Frog and Toad, two beloved characters from Arnold Lobel's wildly-popular children's book series, one of the Honor Book finalists for the prestigious Newbery Medal in children's literature.
Produced by Casa Mañana Theatre, "A Year With Frog and Toad" hops onto the stage at the Bologna Performing Arts Center on Oct. 25. Come see the amphibious dynamic duo participate in activities for all seasons — leaf raking, snow sledding, garden planting and summer swimming —during the BPAC's School-Time Matinee Series opening show.
Boasting a jazzy score with a host of entertaining and amiable forest creature friends, this three-time Tony Award nominated musical follows Frog and Toad as the seasons progress, relaying a tale of enduring friendship sure to excite and educate.
Tickets are still available for the 11:30 a.m. performance. The suggested grade levels for this performance are pre-K through fifth grade. Teachers are encouraged to download the free study guide compiled by Casa Mañana Performing Arts Conservatory from the BPAC's website, www.bolognapac.com.
Tickets are $6 for adults and students, and are available for purchase by stopping by the BPAC or calling 662-846-4844.
"A Year With Frog and Toad" is sponsored locally by Monsanto.