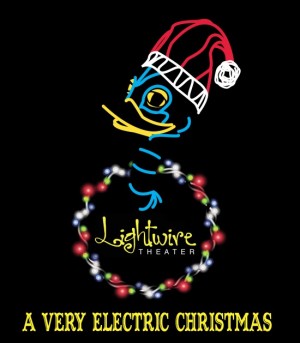 Lightwire Theater's "A Very Electric Christmas" is coming to the Bologna Performing Arts Center Nov. 19 at 7 p.m.
Follow the story of a young bird named Max and his family as they begin their journey south for the winter. When Max gets blown off course and ends up at the North Pole, his adventure begins.
Dancing toy soldiers, caroling worms and performing poinsettias light up the stage in this holiday special. Audiences of all ages will treasure this magical and captivating tale of family, friendship and hope set to timeless holiday hits, including Nat King Cole, Mariah Carey and Tchaikovsky.
Based in New Orleans, Lightwire Theater is internationally recognized for their electroluminescent artistry, poignant story telling and performances in complete darkness.
"We first brought Lightwire Theater's 'The Ugly Duckling' and 'The Tortoise and The Hare' to the BPAC in 2012 as part of our Matinee Series," said Laura Howell, BPAC executive director. "Our audience loved them so much, our programming committee knew we wanted to bring the group back to our Main Stage Series. We also appreciate being able to present performances that the whole family can attend together and enjoy, especially during the holidays."
Prior to the performance, beginning at 5:45 p.m., enjoy hot cocoa and cookies in the BPAC lobby. Patrons are encourage to bring their cameras, as once again Santa will be stopping by the BPAC to pay the children a visit.
"'A Very Electric Christmas is a wonderful opportunity to bring families together and start a new holiday tradition," Howell added. "Children must be at least two-years-old to attend, have their own ticket and be able to sit in their own seat. The performance is approximately 80 minutes long, plus a 15-minute intermission."
Tickets are now on sale at the BPAC Ticket Office, open Monday-Friday 10 a.m. to 5 p.m. Call 662-846-4626, or go online at www.bolognapac.com. Tickets are $25-35 and discounts are available for groups of 10 or more.