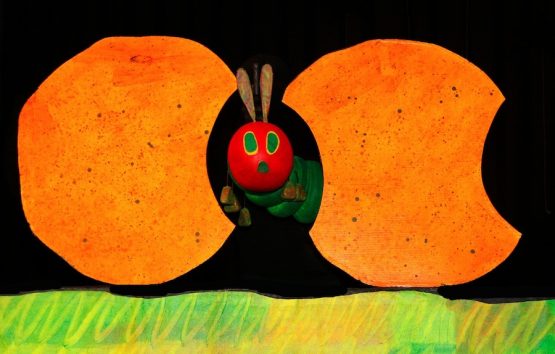 Storybook favorites will come to life when "Brown Bear, Brown Bear and Other Treasured Stories by Eric Carle" takes the Bologna Performing Arts stage Nov. 6 at 3 p.m.
The show is locally sponsored by Heidi's, and is part of the BPAC's new Family Series, featuring performances appropriate for all ages.
This production will bring together old favorites and new friends. "The Very Hungry Caterpillar" is joined by a whimsical cast of adventurous animals drawn from the pages of "Brown Bear, Brown Bear, What Do You See?" and the poignant story of a young girl's unusual quest, "Papa Please Get the Moon for Me."
First published in 1967, "Brown Bear, Brown Bear, What Do You see?" was written by Bill Martin Jr. and illustrated by Carle. The book has served to help hundreds of thousands of toddlers to associate colors and meanings to objects. Capturing the rhythmic text and beautiful tissue paper collage illustrations of the classic picture book, Mermaid Theatre's adaptation generates fresh appreciation of the endearing cast of characters.
Another favorite, "Pappa, Please Get the Moon For Me," has been delighting young audiences since its publication in 1986. Rounding out the three-story performance, "The Very Hungry Caterpillar," eats his way through the week on his path to becoming a beautiful butterfly.
The Mermaid Theatre of Novia Scotia creates an experience like no other as they introduce youngsters to the magic of live theatre. Featuring evocative music, stunning visual effects and innovative puppetry, the triple-bill highlights three of Carle's most beloved tales. The use of black light for some aspects of the show will enable puppets and props to make their appearances as if they are animated on their own. Children and adults alike will giggle with delight at this spectacular visual production.
The performance lasts approximately 60 minutes. Immediately following, in partnership with the Delta Arts Alliance, children will be able to participate in free, hands-on arts activities related to the performance.
Tickets are $15-$20 and are available at the BPAC Ticket Office, open Monday-Friday from 9:30 a.m. to 4:30 p.m., by phone at 662-846-4626, or online www.bolognapac.com. Children must be at least one to attend the performance, and every person must have their own ticket.