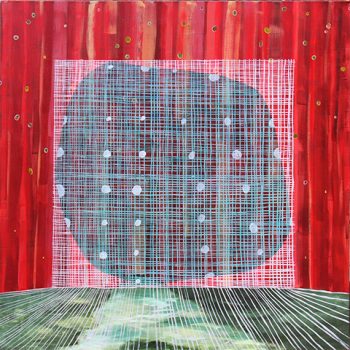 Delta State University's Fielding Wright Art Center opens its 2016-17 season on Aug. 25 from 5-7 p.m. with an exhibition of Julia Morrisroe's work "I'm Sorry You Were Saying?"
Morrisroe is an artist and associate professor in painting and drawing at the University of Florida. Her work explores the question of what it means to paint in an age in which digital technology has led to the proliferation and instant availability of images. She is interested in how the flood of images streaming in front of our eyes has affected the way we perceive images.
"Images can be replicated, expanded, enhanced or associated with other images — relevant or not — instantaneously," said Morrisroe. "The simultaneity of image and experience has led to images becoming hyper-contextualized. The image can no longer exist as a single painting, but belongs to a network."
Morrisroe creates series of abstract paintings that invite the viewer to explore this hyper-contextualized condition. In her work, patterns are repeated, inverted, rescaled, disrupted or reappear in different media. The artist's intention is to "subvert the viewers' desire to look at one painting, compelling a rambling, hyper-linked experience of viewing."
She received her BFA from Northern Illinois University and her MFA from the University of Washington, and has exhibited nationally and internationally. Morrisroe has received numerous awards, grants and fellowship grants for her work. Last year, she spent time at Anadolu University in Turkey as a Mevlana Faculty Exchange Scholar.
Morrisroe will be on campus to present a public lecture on  Sept. 22 at 4 p.m in the gallery.
The Fielding Wright Art Center Gallery hours are Monday-Thursday from 8 a.m. to 5 p.m., and Fridays from 8 a.m. to 4 p.m. The gallery is closed on weekends, holidays and during semester breaks.
For more information, visit the Department of Art's website at http://www.deltastate.edu/college-of-arts-and-sciences/art/, or contact 662-846-4720. For updates and announcements of upcoming events, follow Delta State Art Department on Facebook, or join the email list.