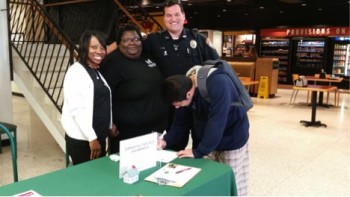 Each year, the American Association of University Women brings representatives from Our House, Inc. to Delta State University to help with domestic violence awareness. October is recognized as Domestic Violence Awareness Month across the nation.
AAUW distributed 500 purple ribbon stickers on Oct. 6 along with information about Our House, the agency that oversees the local domestic shelter.
Shelter relationship advocate Rejenia Bell and volunteer coordinator Patricia Edwards also brought information about the issue to distribute to Delta State students.
"This years' theme for the Cleveland branch of AAUW was 'Men Wear Purple Too,'" said Dr. Glendscene Williams, AAUW president Dr. Glendscene Williams. "We often reached out to women as advocates to find out that the message from male advocates' is just as powerful. They are more than willing to walk a mile in our shoes if it will help stop the violence."
The group also plans to host a self-defense training Oct. 20 at 6:30 p.m. on campus.