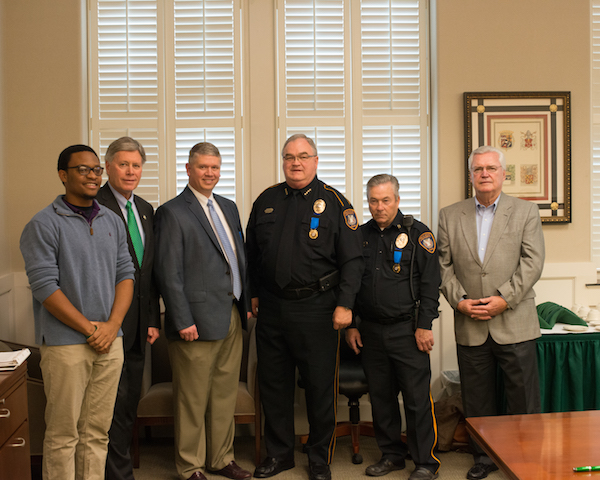 Three Delta State police officers who were the first to respond to the shooting on campus this past September were recently awarded Medals of Valor for their selfless service.
In a ceremony attended by members of the officers' families, members of the President's Cabinet and the officers of the Student Government Association, the three men received formal medals as well as pins to be worn in everyday service. Receiving medals were Delta State Police Chief Lynn Buford, Captain Mark Kimbell and Captain Donald Bradshaw.
"These heroes of Delta State went room-to-room and office-to-office in Jobe Hall – not knowing what they might encounter behind each closed door – in order to secure the building and to safely remove all occupants," said President William N. LaForge. "Your bravery during this most difficult time was the ultimate commitment to the students, faculty and staff, who you protect every day."
Assisting LaForge in the ceremony were Interim Vice President of Student Affairs Butch Caston and Mikel Sykes, president of the Student Government Association.
"On behalf of the students, I want to thank you so much for what you did and what you do every day to keep us safe," Sykes added.
The Medal of Valor, which was presented to each of the three men, is an award for bravery, given for individual acts of extraordinary heroism performed in the line of duty at extreme, life-threatening personal risk. It recognizes offers whose actions are considered as having gone above and beyond the call of duty, and to recognize an officer who has performed an act of bravery – displaying an extreme amount of courage while knowingly facing imminent danger, LaForge explained.