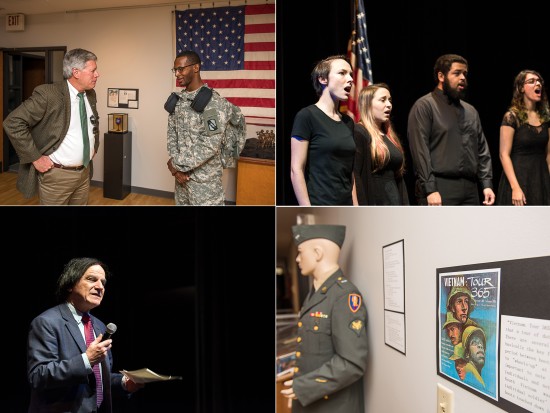 Each year during this time, Mississippi Public Universities honor veterans on campus and in the community through a variety of programs thanking them for their service to our country and all citizens. These programs range from luncheons to mobile health services to recognition ceremonies held during athletic events and homecoming activities.
Honoring veterans has become a tradition each year during Homecoming festivities at Delta State University. This year marks the eighth annual Veterans Recognition Program at DSU. Held in the Veterans Atrium of Jobe Hall, the salute features music by the Delta State University Chamber Singers and Delta State music faculty and students, along with Cleveland community members. Each military branch is recognized and all service songs are performed.
In addition, the Bolivar County Historical Society and the University Archives and Museum will hold a reception and program following the community Veterans Day program on November 11 at noon in the Capps Archives and Museum Building on the Delta State campus in Cleveland.
To read more about how universities around Mississippi are honoring veterans, visit: http://www.ihl.state.ms.us/ihl/newsstory.asp?ID=1205