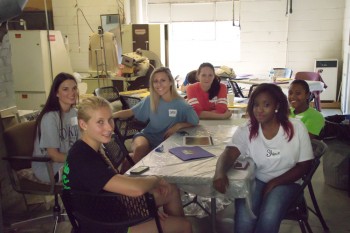 Delta State University's fashion merchandising program recently hosted Delta Cotton, a one-day event provided to over 80 students enrolled in fashion merchandising/marketing programs at Deta State, Mississippi State University and The University of Southern Mississippi.
The day began with an Eco-Dyeing/Up-Cycling workshop taught by Pat Brown, Delta State professor emeritus of fiber, and was facilitated by Dr. Jan Haynes, fashion merchandising professor in the Division of Family and Consumer Sciences.
Activities included dyeing and surface design techniques, promoting the utilization of natural dyes from plants and other natural materials, and sustainable practices.
The group also learned about up-cycling by utilizing household linens containing at least 80 percent cotton, such as sheets, tablecloths and napkins as the base materials for dyeing and printing. Interested students will complete apparel designs by incorporating their textiles into garments, which will be presented at a competition at Mississippi State in November.
The day culminated in a cotton-focused bus tour to the Monsanto Learning Center followed by a tour of the nearby MSU Delta Research and Extension Center Cotton Ginning Research Unit in Stoneville, Miss. Students explored the cotton fields and picked the crop.
The event was made possible by a grant, Mississippi Cotton: Weaving Futures (2015), a joint partnership between the three Mississippi universities which offer fashion merchandising/marketing programs. Funding was provided by the Importer Support Program of the Cotton Board and Cotton Incorporated.
Learn more about fashion merchandising at Delta State at http://www.deltastate.edu/college-of-education/family-and-consumer-sciences/fashion-merchandising-family-and-consumer-sciences/.