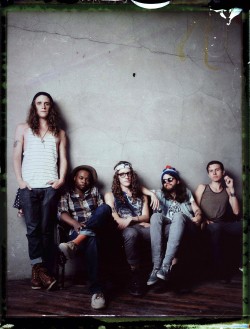 Delta State University and the city of Cleveland will welcome local favorite The Weeks for a free concert in downtown Cleveland Sept. 3 at 10 p.m., following Delta State's first home football game. The show is part of the Levitt AMP Cleveland Music Series, which celebrated its second event Thursday with a packed crowd for Bill & Temperance with Jeff Perkins.
Born and raised in Jackson, Miss., The Weeks (Cyle Barnes – vocals; Sam Williams – guitar; Damien Bone – bass; Cain Barnes – drums; Alex Admiral Collier – keyboards) came together in 2006 and showcased their grunge-powered, high-octane anthems common in Southern rock. Like any great rock 'n' roll outfit worth its salt, The Weeks played as often as they could in clubs across the Southeast. Their extraordinary energy and outsized performances earned them a fervent fan following and ultimately, a deal with the like-minded Serpents and Snakes Records, who reissued the band's second full-length album "Gutter Gaunt Gangster."
With some of the band members once attending Delta State for classes, the group gained a large Cleveland fan base. But as their popularity grew, the band left their old Mississippi home for the bright lights of Nashville, which has continued to propel their name up the Southern rock ranks. 
Thursday's concert will be held in front of the Delta Arts Alliance on Court Street in downtown Cleveland. Concert goers are encouraged to bring lawn chairs, blankets, ice chests and bug repellant. Glass bottles are not allowed.
The Levitt AMP Cleveland Music Series is supported in part by Levitt Pavilions, the national nonprofit behind the largest free outdoor concert series in America. Dedicated to strengthening the social fabric of our communities, Levitt partners with cities to transform neglected public spaces into thriving destinations through the power of free, live music. 
In 2015, free Levitt concerts will take place in 16 cities across 14 states, all featuring a rich array of music genres and high caliber talent. In addition to Levitt AMP, Levitt forms the only national network of nonprofit outdoor music venues, each presenting 50+ free concerts each year. Within this region is the Levitt Shell (www.levittshell.org) in Memphis, Tenn. Learn more about locations and impact at www.levittpavilions.org.
The Levitt AMP Cleveland Music Series is sponsored by Delta State University and its partners: Delta Music Institute, Delta State University Student Government Association, the city of Cleveland, Cleveland-Bolivar County Chamber of Commerce, Team Cleveland, The Grammy Museum Mississippi, Peavey and the Delta Arts Alliance.
For more information about the Cleveland Amp Levitt Concerts Series, visit http://concerts.levittamp.org/cleveland or call 662-846-4579.