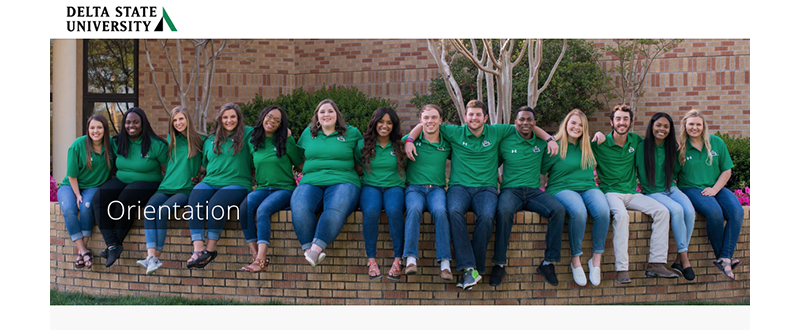 Delta State University is gearing up for another series of Orientation sessions to welcome first-year and transfer students to the green and white family.
Delta State University offers multiple Orientation programs each summer for new students enrolling for the fall semester.
The first program kicks off June 11, followed by sessions on June 28 and July 16.
Orientation check-in begins at 8 a.m. and the session begins promptly at 9 a.m. The program will last until mid-afternoon.
Learn more about the schedule at http://www.deltastate.edu/student-life/student-life-2/orientation/.
"Our dedicated Orientation teams looks forward to welcoming our new Delta State students each summer," said Dr. Vernell Bennett, vice president for Student Affairs. "Delta State truly is a family-oriented campus, and Orientation is the first introduction to this environment. Our number one goal is to show our new Statesmen and Lady Statesmen that we will be here to help them have the greatest college experience possible."
The one-day program is designed to familiarize students with DSU policies and procedures, while also providing introductions to faculty, staff, students and campus life.
Parents and guests are encouraged to attend an Orientation session with their DSU student. If attending, students are required to attend all scheduled events in order to register for fall courses. Parents and guests are limited to two per student.
New this year, freshmen and transfer students will both attend the same one-day sessions.
Following Orientation, new students can look forward to Move-In Day 2018, scheduled for August 19. This fun, welcoming event is a great opportunity for students to make new friends and settle into their new home away from home.
For more information on Orientation, contact the Office of Student Life at 662-846-4666 or orientation@deltastate.edu.