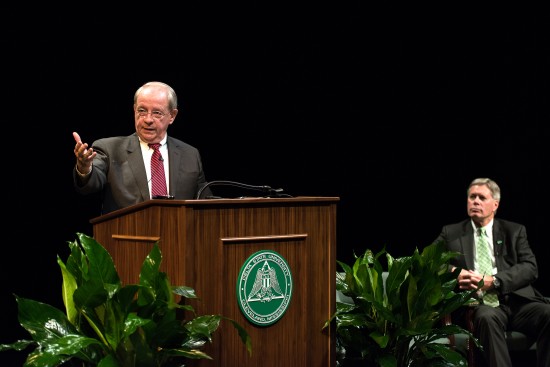 Joseph Jackson Turner Jr., CEO at First Sun Management Corporation, which owns 50 Wendy's franchises in the Southeast, drew a packed house Tuesday as the first speaker of the semester for the Delta State University Colloquia Distinguished Speakers Lecture Series.
Faculty, staff, students and the community filled Jobe Hall Auditorium to capacity to take advice from one of the region's most successful entrepreneurs.
During his speech, titled "Just the Right Amount of Ketchup…Life Lessons from an Entrepreneur," Turner provided life tips he has utilized in becoming the leader of one of the world's largest Wendy's franchise businesses. In addition to serving as the First Sun Management CEO, Turner is co-founder and chairman of the company and has been with the business since its inception in 1985. Prior to that, Turner worked in fundraising for Clemson University and was one of the people behind the still popular IPTAY (I Pay Ten a Year) campaign for Clemson alumni and supporters.
Turner gave Delta State students a number of tips he's learned throughout his career, both in fundraising and as an entrepreneur. One of the most important tips, he said, is to learn how to listen.
"Learn to communicate well, and then learn to listen even better," Turner said. 
In addition, Turner said students must be willing to be aware of themselves, to invest in their communities and to want to help the people around them.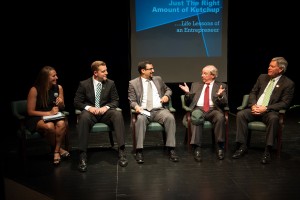 "If you help enough people get what they want, you will have everything you need," he said, cautioning that doesn't necessarily mean money, but does mean fulfillment and purpose.
After his lecture, which drew a standing ovation from those in attendance, Turner took questions from a panel of campus leaders and the audience.
Delta State President William N. LaForge established the colloquia program when taking office in 2013 and said he was thrilled so many students were in attendance for Turner's address.
Join Delta State Oct. 22 for the next distinguished speaker in the series, United States Poet Laureate and Mississippi Poet Laureate Natasha Trethewey. In 2012, Trethewey, born in Gulfport, Miss., became the first Southerner to hold the U.S. Poet Laureate post since Robert Penn Warren of Tennessee and Kentucky in 1986, and the first African American since Rita Dove in 1993.
Learn more about the series at www.deltastate.edu/president/colloquia.