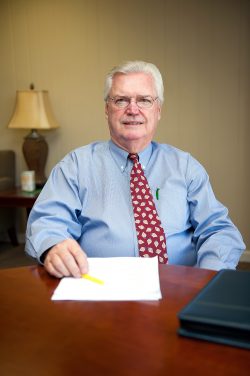 Delta State University is paying tribute to one of its most dedicated retiring employees — Dr. E.E. "Butch" Caston.
Caston, a graduate of Delta State in 1966, retires Friday after serving as interim vice president for Student Affairs since July of 2015. He has come out of retirement multiple times to serve interim roles for the institution.
"I'm looking forward to returning to retirement," said Caston. "I have a good feeling about our accomplishments this year."
Caston first made his professional mark at the university by serving as dean of the College of Education from 1989-2002.
"The one thing that I found coming to Delta State initially as a student, was that it's a close and accepting environment," said Caston. "Many years later, returning as an employee, I found that quality still existed, and it still does today."
Caston said he leaves Delta State with nothing but pride for the university that has been a part of his life for decades.
"I'm a product of the university. I came here as a student. Delta State held me up until I could grow up. I'll always be grateful for that," he said.
He returned to the university in 2013 at the request of President William N. LaForge to serve as interim provost and vice president for Academic Affairs. His return in 2015 followed the retirement of Dr. Wayne Blansett, who served the university for 40 years.
"Butch Caston has evidenced outstanding service to Delta State by coming out of retirement twice, first in 2013 as provost, and in 2015 as vice president for Student Affairs," said LaForge. "He was incredibly successful in both posts. The Delta State family, and I in particular, will be eternally grateful to him for his dedication and loyalty. He was on outstanding member of Delta State leadership for years. I deeply appreciate him for his commitment of time and effort to the university.
"I've joked with him already, but I wish him better luck in his next effort at retiring."
President Emeritus Dr. Kent Wyatt, who worked with Caston when he was dean, echoed LaForge's praise.
"Delta State University was fortunate to attract Dr. Butch Caston back to his alma mater when he accepted administrative roles in the College of Education," said Wyatt. "Through his leadership and innovative ideas, he helped make Delta State University the outstanding regional university it is today. Dr. Caston's love for Delta State has been continuous and an inspiration to all. After retirement, he stepped forward in top administrative roles when his all alma mater needed him. Personally, I want to thank Butch for his loyalty and never failing friendship."
Dr. Michelle Roberts, vice president for University Relations and Chief of Staff, said she will greatly miss Caston's presence on campus.
"I have had the opportunity to watch Dr. Caston excel in many different areas at Delta State, and in every role, he has shined," said Roberts. "But, in my view, his role as vice president of Student Affairs has been his crowning moment. He was a natural when it came to working with students. It's like his personal family grew to include the thousands of Delta State students as his children."
"Dr. Caston did not play the typical interim role," added Roberts. "He did not view this position as simply keeping a seat warm. He rolled up his sleeves, and was determined to leave Delta State a better place than he found it. His love and passion for Delta State, our students, and this community are admirable, and the service he has provided our university has been extraordinary. Dr. Caston exemplifies the spirit of the Delta State family, and he is indeed a true Statesmen."
Mikel Sykes, a senior at Delta State, has worked closely with Dr. Caston, most recently during Sykes's two terms as Student Government Association president.
"I've really enjoyed working with Dr. Caston the past couple of years, especially seeing how much he cares about the student experience," said Sykes. "He's been a leader I've looked up to during my time in the SGA. We all wish him the best in retirement."
Taking over for Caston is Dr. Vernell Bennett. Bennett arrives at Delta State after previously serving in the same role at Kentucky State University in Frankfort, Kentucky. Her extensive experience at KSU enabled her to foster collaborations between Student Affairs and Academic Affairs, faculty, staff, students, the administration and community.
Follow all Delta State University news at www.deltastate.edu.