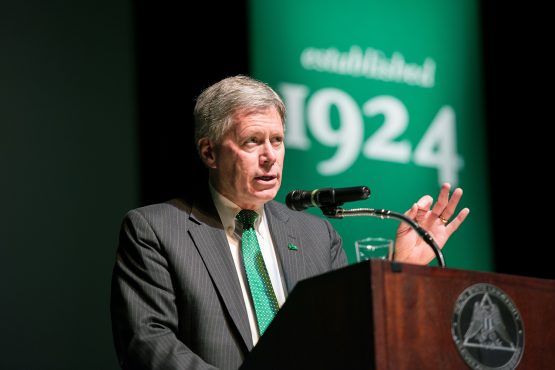 Delta State University President William N. LaForge will deliver his State of the University convocation address on Aug. 19 at 10:30 a.m. in the Bologna Performing Arts Center.
The address will serve as a welcome to faculty, staff and the community at the start of Delta State's academic year. Leading the event with LaForge will be Dr. Charles McAdams, provost and vice president for Academic Affairs.
Heather Robinson, president-elect of the Cleveland-Bolivar County Chamber of Commerce, will provide a community welcome.
Dr. Chris Jurgenson, president of the Faculty Senate, will provide an introduction of new faculty, followed by an introduction of new staff by Christie Rocconi, chair of the Administrative Staff Council.
As is the tradition at each Delta State convocation address, new Student Government Association officers will also be recognized.
LaForge will conclude the ceremony with his address, highlighting university achievements over the last year, along with goals and visions for Delta State's future.
Tune into the address remotely through live stream. The link for the live stream will be available on the Delta State home page and social media platforms Friday.
Visit www.deltastate.edu to stay updated on university news and event coverage.