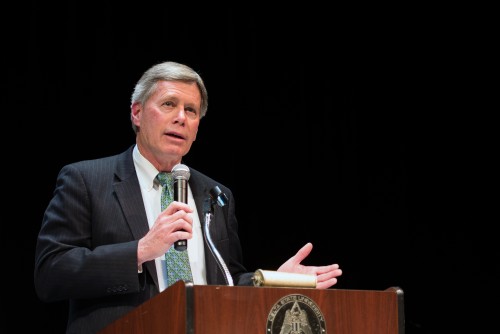 Delta State University President William N. LaForge was recently selected to serve on the NCAA Division II Presidents Council, the highest governing body of Division II responsible for implementing policies adopted by the NCAA Board of Governors.
The position, announced recently by the NCAA, will begin in April 2016 and continue through the 2020 NCAA Convention.
According to the NCAA, "LaForge was elected to the Presidents Council because of his background in the public and private sectors and his commitment to higher education and the Division II philosophy.
"President LaForge will represent those active Division II institutions in Region 2, which includes schools in the states of Alabama, Arkansas, Florida, Georgia, Louisiana, Mississippi, North Carolina, Puerto Rico, South Carolina, and Tennessee."
The council is a 16-member body that is based on a weighted regional representation by institutions and includes one president or chancellor per region for every 22 institutions in that region. In addition to setting policies adopted by the NCAA Board of Governors, the Presidents Council establishes and directs the general policy for Division II, with all other Division II committees reporting either directly or indirectly to it.
"President LaForge's selection to the NCAA Presidents Council exemplifies the long-standing tradition of excellence the Statesmen and Lady Statesmen hold within Division II," said Ronnie Mayers, Delta State athletic director. "For more than 40 years, Delta State University has been a leader within the division. In the 1970s and early 1980s, President Emeritus Kent Wyatt represented DSU on the council during some of the NCAA's greatest expansion periods. As we face an ever-changing athletic arena, President LaForge's vision and leadership ability will serve us, and all of Division II, well at the highest levels of the NCAA."
LaForge said he looks forward to the opportunity to serve both the university and the division.
"I am honored to be selected to serve on the NCAA Division II Presidents Council," he said. "I look forward to serving on behalf of Delta State University and the other Division II universities in the region."