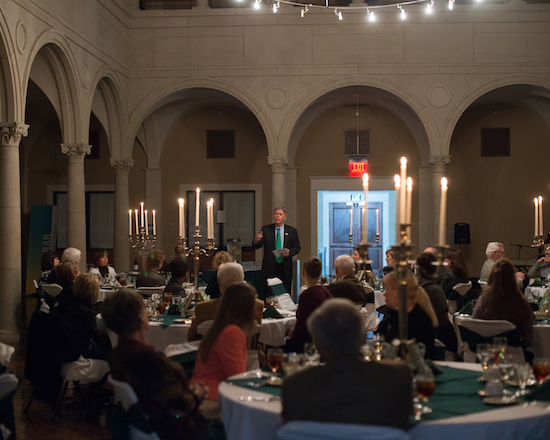 A delegation from Perm State University in Perm, Russia — an international partner university — will be visiting Delta State for the first week of February. The visit marks the third time Perm State has been hosted on campus to develop exchange opportunities.
The group of Perm State faculty and students will spend the week meeting with a variety of department heads to advance international exchange programs between both universities. Visiting students will also attend and observe Delta State classes.
"I'm very pleased that we're continuing our relationship with Perm State," said Delta State President William N. LaForge. "It's a university near and dear to my heart. We're looking forward to hosting the PSU delegation, substantively in terms of coursework and programs on campus, but also socially and culturally.
"Their faculty will meet with our counterparts on campus to explore possibilities for future exchange programs that will be beneficial for both their students and ours," he added. "This is a great next step in our growing relationship with Perm State University."
LaForge has a long history with Perm State, dating back to 2008 as a visiting professor in their Center for International Legal Studies program. He also returned in 2011 and 2015 as a Fulbright Fellow.
In a groundbreaking international trip for Delta State last spring, a group of Delta Music Institute students and faculty visited Perm State and took part in "Rivers of Music — Rivers of Culture," a two-week exchange project that was part of the U.S.-Russia Peer-to-Peer Dialogue Program supported by a grant from the U.S. Department of State.
Learn more about "Rivers of Music — Rivers of Culture" and explore the trip blog at www.deltastate.edu/russia.
Perm State faculty member Svetlana Polyakova, also the "Rivers of Music — Rivers of Culture" program coordinator from Perm State, will once again be leading her group of colleagues and students.
Joining Polyakova will be four Perm State graduate students and seven faculty members from four different departments.
"The main purpose of the visit is to take our partnership to the next level and develop further collaboration between the departments at Perm State University and Delta State University," said Polyakova. "We hope to gain new cross-cultural knowledge and experience, understanding of the Mississippi Delta, and establish solid academic contacts for our colleagues from other departments."
The Perm State delegation will also provide lectures to Delta State students and faculty to discuss the possibilities of mutual research projects in psychology, biology, linguistics, sociology, arts and economics. Grant opportunities for academic exchanges for both students and faculty will also be an area of focus.
"We are very much looking forward to seeing our great DSU friends and meeting new ones," added Polyakova. "We hope to have a look at GRAMMY Museum Mississippi that will open in March."
Dr. A.H.M. Ali Reza, assistant professor of biology at Delta State, will help guide the group on campus as the university's international partnership liaison.
"Delta State and the Mississippi Delta in general are very localized, so hosting the Perm State group will bring us a lot of diversity in terms of cultural and academic exchange," said Reza. "We, especially our students and teachers, will gain a lot of new ideas — as well as local community members."
Follow all news at www.deltastate.edu as developments continue with international partner universities.