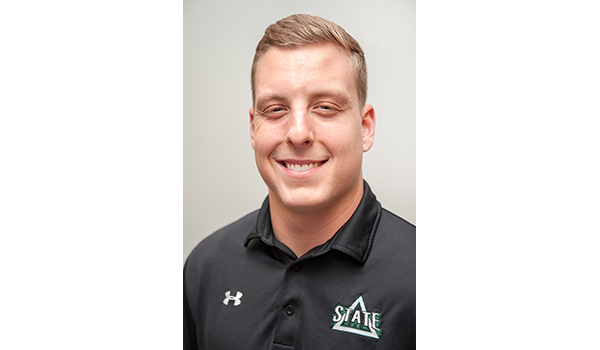 Delta State University Statesmen quarterback Tyler Sullivan was recently selected as a 2017 Congressional Fellow for U.S. Sen. Thad Cochran of Mississippi.
Sullivan, who is a biology premedical science major, will move to Washington D.C. in January and remain there through the spring semester. The program selects one Delta State student each year to serve on Cochran's staff, with the goal of providing a better understanding of the legislative process.
"I am extremely grateful to be selected for the fellowship," said Sullivan, a native of Louisville, Mississippi. "It's hard to actually wrap my mind around the fact that I'll be moving to D.C. in January to work for such a prestigious senator. The fact that Delta State and the Delta Council have chosen and trust me to be their representative for the fellowship is a very high honor."
Sullivan said he was excited to learn how the legislative process works, having never previously delved into politics.
"I'm looking forward to the challenge of seeing what I'm made of," he added. "This is an opportunity to not only get a solid foundation in politics, but also an opportunity that will benefit me no matter what I do in the future. I want to learn what it takes to be a valuable Mississippian like Sen. Cochran is, and how to make tough decisions that will affect many people."
Delta State has a long-running tradition of sending fellows to Washington, and Delta State President William N. LaForge served as Cochran's chief of staff during the 1980s.
"I am thrilled that Tyler Sullivan has been chosen to be our Congressional Fellow," said LaForge. "He is confident, capable and is the perfect candidate for this opportunity. He will be of great value to Sen. Cochran's office while representing Delta State in grand fashion.
"It is professionally and personally gratifying to me that we continue this wonderful relationship with the senator's office in cooperation with Delta Council and Staplcotn because of the affiliation with Sen. Cochran going back to my days as his chief of staff. Tyler will have an excellent experience there, and their office will benefit from his outstanding background at Delta State."
Sullivan, who will graduate in December, is currently applying to medical school. He was recently named a finalist for the 2016 William V. Campbell Trophy, which is presented to the best football scholar-athlete in the country. Sullivan was one of only 12 athletes to make the final list and will travel to New York on Dec. 6 for the awards ceremony.
The fellowship program is funded through Delta State University, the Delta Council and Staplcotn. Additionally, Sullivan will receive a stipend from Cochran's office.
The Delta Council is an area economic development organization representing the 18 Delta and part-Delta counties of Northwest Mississippi. The organization pioneers efforts to solve common problems and promote the development of the local economy. Founded in 1921, Staplcotn (Staple Cotton Cooperative Association) is the oldest and one of the largest cotton marketing cooperatives in the United States.