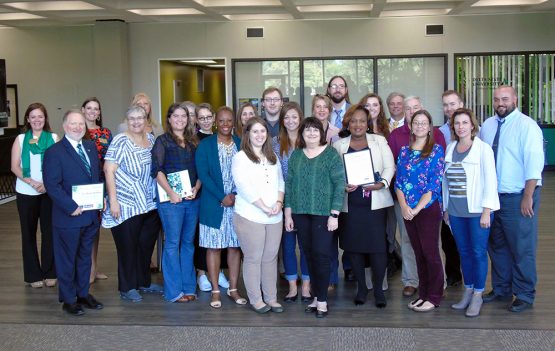 The Office of Information Technology hosted the third annual Connected Educator Luncheon on Oct. 18. The annual event is sponsored by Delta State University and Ellucian.
The event is held in celebration of Connected Educator month each October. The lunch also served to acknowledge the 39 Delta State instructors who students nominated for the annual Connected Educator Awards. Instructors were nominated based on specific criteria for efficiency, support and engagement.
"In line with Connected Educator Month, we wanted to identify actions and strategies that have measurable impact derived from using technology to teach, as well as support students," said Dr. Nicole House, director of instructional technology. "We can harness that information from the nominations to collaborate resources and promote instructional innovation that facilitates holistic student success."
Recipients of the 2016 Connected Educator Awards were Dr. Donna Koestler, assistant professor of nursing, and Todd Davis, instructor in health, physical education and recreation. In addition, Dr. Catherine Putnam, instructor and director of instructional support for the College of Education & Human Sciences, was recognized with a Canvas Choice Award for instructional innovation in Canvas LMS.
"The Connected Educator lunch is also an avenue for us to recognize all of the honorees and acknowledge their many contributions to academic excellence and student success at Delta State," said Edwin Craft, CIO of Information Technology. "We have some very accomplished instructors and we aim to provide ongoing support to enhance and strengthen their instruction with technology in the traditional classroom, as well as online."
This year's honorees included: Amber Hendricks, Betty Sylvest, Bret Pimentel, Bryon Pickens, Carolyn Casale, Catherine Putnam, Chelsea Pugh, Corlis Snow, David Baylis, David Hebert, Dianne Thomas, Donna Koestler, Emily Newman, Glendscene Williams, Gwen Meador, Jacinda Roach, Jacqueline Craven, Janet Parker, Kevin Tharp, Kirk Mansell, Lee Virden, Leslie Green-Pimentel, Liza Cope, Mary Bess Pannel, Matt Jones, Merideth Van Namen, Michael McNeece, Michaela Merryday, Miller Maddox-Mandolini, Neil Conner, Randy Grierson, Sally Paulson, Sharon Hamilton, Stephanie Bell, Tanya McKinney, Thomas Laub, Todd Davis, Tomeka Harbin and Vicki Jean Hartley.
Luncheon special guests included Ellucian general manager Beverly Fratesi and college deans Dr. Billy Moore, Dr. David Breaux, Dr. Leslie Griffin and Dr. Vicki Bingham. Dr. Charles McAdams, provost of Delta State, provided opening remarks and received special recognition for his support of instructional innovation.
Honorees were presented with a certificate or recognition at the lunch and will receive a commendation letter for his/her tenure portfolios.