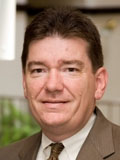 Chief Development Officer Gary Bouse of the Delta State University Foundation was recently selected to take part in Leadership Mississippi, an annual program of the Mississippi Economic Council.
"Selection as a member of the 2015 Class of Leadership Mississippi by members of the MEC's Leadership Mississippi is truly a great professional and personal honor," Bouse said.
Bouse will work with other participants in the training program that combines individual study, group sessions and project experience in using leadership skills.
Leadership Mississippi is conducted by the M.B. Swayze Foundation and is the second oldest statewide leadership program in the nation. Since its inception in 1974, the program has graduated more than 1,000 alumni active in Mississippi business and politics.  Leadership Mississippi is endowed through a generous contribution by the late J.C. and Annie Redd.
Mississippi's top business executives have participated in Leadership Mississippi as a way to expand their networks. Many elected leaders, including a former governor, are graduates and recognize the value of the Leadership Mississippi experience.
"I consider it a tremendous privilege to be a part of a small group of leaders from around the state," said Bouse.
"I am looking forward to spending the next 12 months engaging with my Leadership Mississippi colleagues, as well as other leaders throughout the state, in an effort not only to expand on my own leaderships skills, but also to learn more about other communities around the state and how we can continue to move Delta State, the City of Cleveland, Bolivar County and the Mississippi Delta forward in a positive direction."
Bouse has been employed at the Delta State Foundation since August 2011. The purpose of the Foundation is to foster private financial support for Delta State University. For more information, please visit http://www.deltastategiving.org/Home