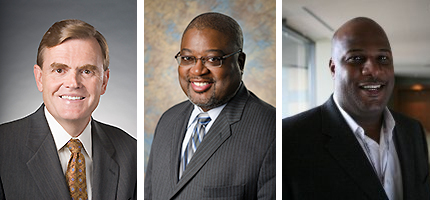 Delta State University's College of Business proudly presents the ninth annual International Business Symposium beginning at 9 a.m. April 4 at the Jobe Hall Auditorium.
This year's program features top-ranking international business professionals, whose knowledge and experience is renowned and spans the globe. Senior business officials will provide a unique look at trends in the business world.
"This year's event will be amped up," said Cooper Johnson, event coordinator and chair of Entrepreneurship in Business Technology at Delta State. "We have President LaForge helping us bring together the campus, community and guests. We are seeking to involve more than just the College of Business and showcase the excellence at Delta State."
The symposium is sponsored by David and Sherry Abney, Delta natives who currently reside in Atlanta. Abney is the Chief Operating Officer for United Parcel Service, the world's largest package delivery company.
As COO, he holds responsibility for UPS logistics, sustainability and engineering. In these roles, Abney directs all facets of the UPS transportation network serving more than 220 countries and territories.
A 1976 graduate, Abney studied business administration at Delta State and was named the 2007 Outstanding Alumnus of the Year. To this day, he serves on the Delta State University Alumni Foundation Board of Directors.
Through UPS, he has traveled the world on business, but his Delta roots are forever ingrained.
"Sherry and I wanted to do something meaningful for the Delta. By bringing global leaders onto campus and sharing their experiences with students, I believe we'll be able to expand Delta State students' horizons in how they see and prepare for their futures," Abney said in a previous Delta State interview.
Also joining Abney as a featured lecturer is William C. Bell '82, president and Chief Executive Officer of Casey Family Programs. The organization is the nation's largest operating foundation, whose work is focused on safely reducing the need for foster care and building communities of hope for all of America's children and families.
Bell has more than 30 years of experience in the human services field. Prior to becoming president and CEO of Casey Family Programs, he served as the foundation's executive vice president for child and family services, providing strategic direction to nine field offices and leading a staff working directly with young people from the public child welfare system.
Bell was named the 2012 Outstanding Alumnus of the Year by Delta State and was inducted into its Alumni Hall of Fame and Omicron Delta Kappa, a national leadership honor society.
Also presenting is Dwight C. Herlong, a 1991 graduate of Delta State's marketing program. Herlong joined Google in 2013 and is currently responsible for global store operations and logistics. He also spent four years on the Statesmen football team and was a member of Kappa Alpha Psi Fraternity, Inc.
Prior to joining Google, Herlong spent 22 years working for multiple Fortune 100 companies in the Retail Supply Chain space. These companies included Best Buy, Macy's and T Mobile USA.
The 2014 International Business Symposium is free and open to public.
"We encourage the public to join us as we welcome these esteemed business professionals to our campus and community," said Johnson. "There is something we can all learn from what our speakers have to offer."
For more information, contact Johnson at 662-846-4192 or email bcjohnsn@deltastate.edu.