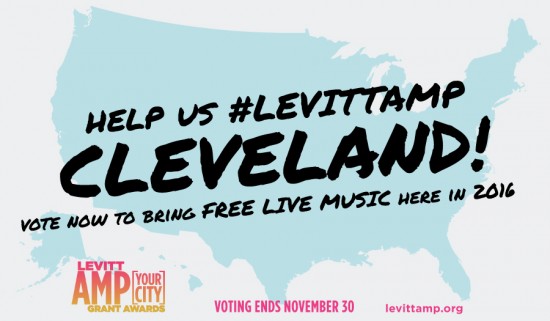 Delta State University is now in the running to bring back another 10-week live music series to Cleveland during the fall of 2016.
The concerts are sponsored by Levitt Pavilions, the national nonprofit organization behind the largest free concert series in America, and Delta State is bidding to be one of the 15 winning organizations competing in the Levitt AMP [Your City] Grant Awards in early 2016.
The Levitt AMP [Your City] Grant Awards are an exciting matching grant opportunity created by Levitt Pavilions to serve small to mid-sized towns and cities up to 400,000 people. Fifteen nonprofits, or municipalities partnering with a nonprofit group, will receive up to $25,000 each in matching funds to produce their own Levitt AMP Music Series—an outdoor, free concert series featuring a diverse lineup of professional musicians.
Delta State University successfully received a grant in 2015, and 10 free concerts were held in the Green Space of Cleveland's downtown walking trail. It was a huge success as the community came together every Thursday night between August 20-October 22 to enjoy a variety of bands from different genres. Delta State has now submitted the 2016 proposal, which is posted on the Levitt AMP website for public voting: http://levittamp.org
A successful campaign for Delta State depends on community participation to get as many online votes as possible to bring the concert series to town. Community support, as measured by the number of online votes received, will be one of the key factors when Levitt Pavilions selects the 15 winners.
Supporters are asked to visit https://grant.levittamp.org/voter-registration-page/ to register and vote. Online public voting is now open and ends Nov. 30 at 5 p.m. (PST). The Top 25 finalists will be selected through online public voting. Levitt Pavilions will then review the proposals of these 25 finalists, and the 15 Levitt AMP winners will be announced on January 5, 2016.
Amber Foster, Levitt Amp Cleveland coordinator and a student at Delta State's Delta Music Institute, said votes are important to continue the success of the previous series.
"The Levitt AMP Cleveland Music Series 2015 was awesome," Foster said. "It not only provided a free opportunity for students, but for the whole Cleveland community. That's the mission for Levitt Pavilions, bringing community together through music. Also, it was an opportunity to bring new music in our area. I can't wait to see what happens for 2016. The votes are so important for getting this grant. It's a great way to show community support when applying for a grant like this one."
Delta State asks supporters to start spreading the word to family, friends, colleagues and neighbors and rally the community to sign up and vote for Delta State's proposal.
Learn more at http://levittamp.org.