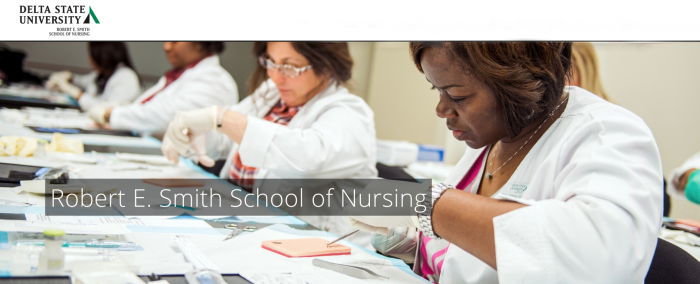 Delta State's online graduate program in Nursing ranked third in the nation in a recent list from TopMastersInHealthcare.com.
"In this ranking of the 50 best graduate nursing programs, we set out to uncover precisely what advanced nursing students want (and need) from a master's degree," according to TopMastersInHealthcare.com.
The website said it selected graduate schools based on program flexibility, faculty involvement in the healthcare field, and tuition cost.
Vicki Bingham, chair and associate professor of nursing, said, "The Master of Science in Nursing program of study has been offered online since 2000. This program of study in an online format provides flexibility to schedules and accessibility to an advanced education for working nurses in different geographical locations."
The graduate enrollment has increased from 32 in 2000 to 78 in 2016.
"Faculty in the Robert E. Smith School of Nursing are committed to offering quality degree programs and providing students with the knowledge, skills,confidence, and attitudes to practice as a professional nurse providing quality healthcare," said Shelby Polk, associate professor of nursing.
Polk said being ranked third "speaks to the dedication of our faculty in delivering a quality online program with high standards and student expectations."
The Master of Science in Nursing (MSN) can be earned either as a degree or there is a certificate option which provides study in a role concentration (i.e. Family Nurse Practitioner, Nurse Administrator, or Nurse Educator) beyond the Baccalaureate in Nursing (BSN).
Bingham said, "We have been ranked twice by the U.S. & World News report for the Best Online Graduate Nursing Program in 2016 ranked at 42 and in 2014 at 41. In addition to this ranking by the TopMastersInHealthcare, we received notification that we were ranked eighth as the 2016 Most Affordable Online College by OnlineU."
Bingham said they feel very "honored and delighted" to be ranked third among all of the other universities.
"The expertise of our faculty members, availability to the students, and affordability of the program put us as one of the best schools to obtain an education and advance in the nursing profession," Bingham said.