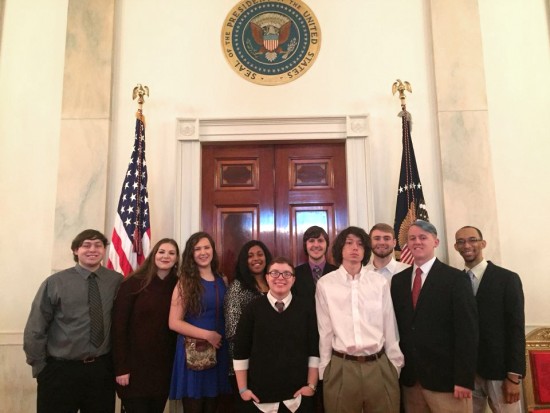 The GRAMMY Museum at L.A. Live, in cooperation with the White House and WETA (a non-commercial, public radio station in Washington, D.C.), invited Delta Music Institute students to the White House on Feb. 24 for an education program to celebrate the musical legacy of Ray Charles. The interactive workshop featured gospel legend Yolanda Adams, R&B singer Leon Bridges, singers Audra Day and Demi Lovato, and actor Jussie Smollett talking about, and performing, Charles' soulful classics for 130 youth from across the country.
These annual education programs are part of the "In Performance at the White House" concert series and is a follow-up to 2010's "Music that Inspired the Movement," 2011's "The Sound of Young America: The History of Motown" and "The History of Country Music: From Barn Dances to Pop Charts," 2012's "At the Crossroads: A History of the Blues in America," 2013's "Soulsville, USA: The History of Memphis Soul," "Celebrando el Ritmo Latino: The History of Latin Music," 2014's "I'm Every Woman: The History of Women in Soul," and "The Stars and Stripes Forever: A History of Music and the Military," and 2015's "The History of Gospel Music" and "A Celebration of Song."
This program was supplemented with curriculum and additional educational materials from The GRAMMY Museum education department as well as streamed live for students from around the country to watch in their classrooms.
Joshua Stubbs, entertainment industry major from Meridian, said, "It was awesome that we learned from the experts in D.C. exactly what we're learning in our DMI classes."
"I had a great time being able to experience the heart of America in such a meaningful way," siad EIS major Cody Upchurch from Grenada. " It was an exceptional trip that opened my eyes to what America truly is."
Along with the GRAMMY Museum educational program, the students also had the opportunity to tour the Museum of American History and monuments along the National Mall.
"What I hope our students get out of this is the connection between Mississippi and all the great genres of America music," said DMI director Tricia Walker. "I want them to be proud of the musical legacy that Mississippi has."
The DMI is an independent center of study under the College of Arts & Sciences at Delta State University, offering a bachelor's degree in entertainment industry studies. The focus of the DMI is to provide students with a broad and thorough education in the technological, creative and business areas of the music and entertainment industry. For information, visit http://dmi.deltastate.edu.