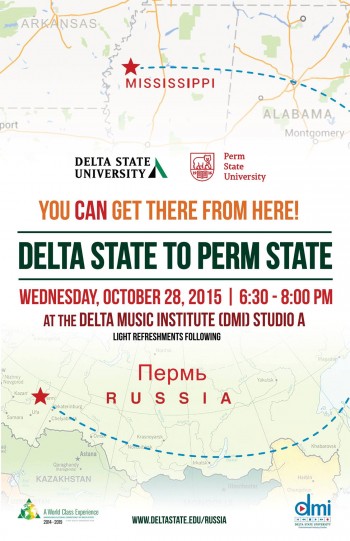 Join the Delta Music Institute and Quality Enhancement Plan for a public event Wednesday night with a discussion about the DMI's groundbreaking international exchange in Russia last May and June.
The event, "You Can Get There From Here," is free and open to the public Oct. 28 at 6:30 p.m. in DMI Studio A on the campus of Delta State.
DMI students, and participating faculty and staff, will share stories, music and photography from their exchange trip to Perm State University and Moscow.
The trip, "Rivers of Music — Rivers of Culture" utilized music as a universal language to explore the cultures, histories and heritages of the Mississippi Delta and Perm Krai regions, both situated along historic rivers.
The program was backed by the U.S. Department of State and allowed students and faculty from Perm State to visit Delta State in 2014.
"Most of our students are from small towns in a largely rural state," said Tricia Walker, DMI director. "Traveling to another country and interacting with the culture there offered a unique way for our students to broaden their perspective on the world outside of Delta State and Mississippi."
Walker added that the event would shed light on international exchange opportunities available at Delta State.
"I hope our students will come to the presentation to see what is possible for them through international travel opportunities," she said. "They can 'get there from here.' In addition, the students and community will be treated to some music created by Delta State and Perm State students, as well as some stunning photography of the Perm Krai region by university photographer Rory Doyle."
Learn more about the group's trip to Russia at http://www.deltastate.edu/russia.