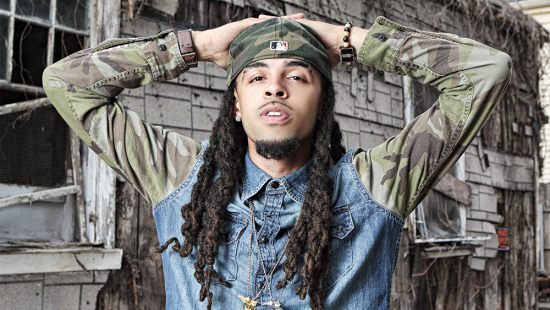 Delta State University announces hip-hop artist Dee-1 will perform a free concert in downtown Cleveland on Sept. 10 at 7:30 p.m. as part of the Levitt AMP Cleveland Music Series.
Following his graduation from Louisiana State University, New Orleans native David Augustine Jr. taught middle school math in Baton Rouge by day and performed hip-hop onstage as Dee-1 by night. Rapping has always been Augustine's therapy — his own creative means of writing about tumultuous collective experiences. Wanting to pursue his growing passion and become a rapper his students could be proud of, Augustine resigned from teaching before the 2010-11 school year to focus on his music career.
In 2011, he released "I Hope They Hear Me Vol. 2," which was a life-changing mixtape, as several singles received extensive radio play and regular airplay on "MTV Jams." The single "Jay, 50 and Weezy" received notable Internet attention for its content and mentions of Lil Wayne, 50 Cent and Jay-Z, winning the Best of Booth Award on DJ Booth. Since then, Dee-1 has given electrifying, crowd-surfing performances on national tours such as Macklemore's Heist Tour, Mur's Ridin All By Ourselves Tour, Lecrae's Higher Learning Tour, Killer Mike and Young Dro's Grind and Hustle Tour, Lupe Fiasco's Tetsuo and Youth Preview Tour and his own Too Focused to Fail Tour. He has also performed with Lil Wayne, Drake, Trey Songz, Akon, The Roots and Mýa, and was named Artist of the Year at the 2010 NOLA Underground Hip-Hop Awards. 
The concert will take place on the downtown green space near College Street. Sweet's BBQ will sell barbecue dinners and Delta Dairy will sell frozen treats. Concertgoers are encouraged to bring lawn chairs, blankets, ice chests and bug repellant. Glass bottles are not allowed. Mic Hargrove will be the opening act beginning at 6:30 p.m.
The Levitt AMP Cleveland Music Series is supported in part by Levitt Pavilions, the national nonprofit behind the largest free outdoor concert series in America. Dedicated to strengthening the social fabric of our communities, Levitt partners with cities to transform neglected public spaces into thriving destinations through the power of free, live music. In 2015, free Levitt concerts will take place in 16 cities across 14 states, all featuring a rich array of music genres and high caliber talent. In addition to Levitt AMP, Levitt forms the only national network of nonprofit outdoor music venues, each presenting 50-plus free concerts each year. Within this region is the Levitt Shell (www.levittshell.org) in Memphis, Tenn. with concerts taking place this May, June, July, September and October. Learn more about Levitt locations and impact at www.levittpavilions.org.
The Levitt AMP Cleveland Music Series is sponsored by Delta State University and their partners: the Delta Music Institute, Delta State University Student Government Association, city of Cleveland, Cleveland-Bolivar County Chamber of Commerce, Team Cleveland, GRAMMY Museum Mississippi, Peavey, Domino's Pizza and the Delta Arts Alliance.
For more information about the Cleveland Amp Levitt Concerts Series, visit http://concerts.levittamp.org/cleveland, or call the Cleveland Bolivar County Chamber of Commerce at 662-843-2712.