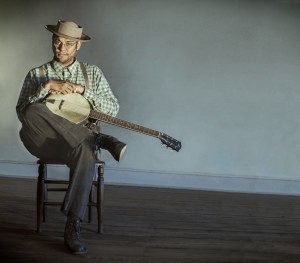 GRAMMY winner and blues-folks star Dom Flemons will perform at the Delta Music Institute Oct. 5 at 6:30 p.m. as a featured artist in the second annual International Conference on the Blues at Delta State.
The concert is free, open to the public and will be hosted in DMI Studio A.
Flemons is the "American Songster," pulling from traditions of old-time folk music to create new sounds. Having performed music professionally since 2005, he has played live for over one million people within the past three years.
As part of the Carolina Chocolate Drops, which he co-founded with Rhiannon Giddens and Justin Robinson, he has played at a variety of festivals, spanning from the Newport Folk Festival to Bonnaroo, in addition to renowned venues such as the Grand Ole Opry.
A multi-instrumentalist, Flemons plays banjo, guitar, harmonica, fife, bones, bass drum, snare drum and quills, in addition to singing. He also incorporates his background in percussion into his banjo playing. Felmon's banjo repertoire includes not only clawhammer but also tenor and three-finger styles of playing. He first picked up the instrument when he borrowed a five-string banjo from a friend who had removed the instrument's fifth string.
Flemons and the Carolina Chocolate Drops, an African American string band, won a GRAMMY for its 2011 album "Genuine Negro Jig."  The group's second album, "Leaving Eden," was also nominated in 2012.
In July of 2014, Flemons released his third solo record with Music Maker Relief Foundation, and his first since leaving the Carolina Chocolate Drops. "Prospect Hill" finds Flemons digging deeply into ragtime, Piedmont blues, spirituals, southern folk music, string band music, jug band music, fife and drum music, and ballads idioms with showmanship and humor, reinterpreting the music to suit 21st century audiences.
See the complete schedule for the International Conference on the Blues at http://www.deltastate.edu/president/international-blues-conference/schedule-of-events/.