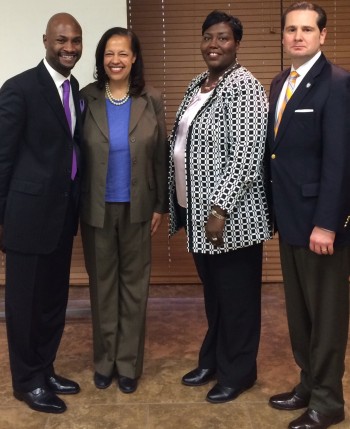 Recently, Delta State University's unique DEBTS program (Debt Education for Business Transformation and Sustainability) attended a roundtable discussion hosted by the Delta Regional Authority and U.S. Department of Agriculture (USDA) in Greenwood, Miss.
Abe Hudson, DEBTS program director, spoke about the federally funded program, which is an initiative to help entrepreneurs in the Mississippi Delta.
DEBTS was among four other programs that presented at the discussion, which included nearly 100 people from across the region.
"The event gave us an opportunity to share with the new USDA Rural Development Undersecretary, Lisa Mensah, how the funds we receive through USDA are being utilized to assist Mississippi Delta entrepreneurs," said Hudson.
Delta State's College of Business has received funding for two years to assist entrepreneurs in a four-county area —B olivar, Washington, Coahoma and Sunflower. The primary focus is to assist entrepreneurs to become more financially literate. The program is tasked to select 12 entrepreneurs per year to assist. However, over the past two and a half years, the program has consulted with almost 300 clients from across the Mississippi Delta Region.
"The DEBTS Program is an important initiative because of its focus on the lifeblood of the economic ecosystem — small business owners," added Hudson. "Joining in the effort to assist small business owners is the Delta Regional Authority. USDA and DRA have partnered together to focus on small business development.
"I have a lot of respect for the efforts they have made across the eight state areas they serve. With DRA and USDA working together, Mississippi truly can attain a higher level of entrepreneurial achievement. It provides an opportunity for two influential organizations in the Mississippi Delta to work towards improving the state from the ground up."
Learn more about the DEBTS program at http://www.deltastate.edu/college-of-business/debts-program/.