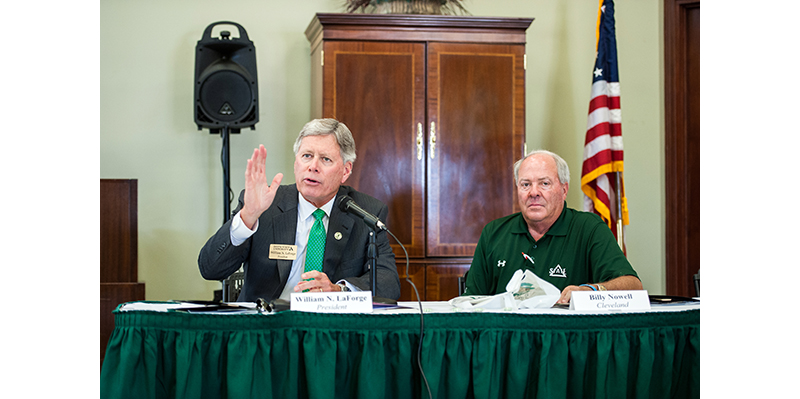 President William N. LaForge (left) recently welcomed local mayors, including Cleveland mayor Billy Nowell, to Delta State's fourth annual Delta Mayors Summit.
Mayors from across the Mississippi Delta gathered at Delta State University recently for the fourth annual Delta Mayors' Summit hosted by President William N. LaForge.
The university invited local mayors to engage in discussion about campus and community activities, and to continue forging collaborations and partnerships in the Delta.
This year's meeting focused on overall campus updates, a summary of university initiatives, an introduction of a new government leadership institute, as well as updates from a number of campus leaders.
Mayors in attendance also had the opportunity to discuss common challenges and successful initiatives in their respective communities.
LaForge was pleased to build on the success of previous summits, a conference he instituted after becoming president in 2013.
"This is a great opportunity for Delta State to showcase its programs, its successes and its offerings to the elected leadership of the Delta," said LaForge. "It's also an opportunity for us to hear from them and find out what they need in the way of workforce and programming. It's extremely important for us to build these relationships because we must all work together for the improvement of the Delta region, and we also want these cities and towns to send us their students.
"We also offer a number of outreach programs in which local municipalities can participate, such as our race relations conference, the blues conference and our annual international business conference. And today, we're announcing a program designed to provide professional development opportunities for local elected officials."
The new program, called Local Government Leadership Institute, will assist Delta communities in addressing governance challenges by providing local officials with the information and tools needed to run their municipalities effectively and efficiently.
The program is a partnership with The John C. Stennis Institute of Government and Community Development at Mississippi State University and the Mississippi Municipal League. It is being offered with financial support from the Robert M. Hearin Foundation and Casey Family Programs.
Billy Nowell, mayor of Cleveland,  is thrilled with the summit's growth each year and with Delta State's outreach efforts.
"It's very important we continue this town-gown relationship," said Nowell. "We really appreciate President LaForge planning this event. It really reminds all the mayors in the Delta that the university is here for them as well as all the students. President LaForge has shown that time and time again."
Eulah L. Peterson, the recently elected mayor of Mound Bayou, enjoyed networking with university staff and fellow Delta mayors.
"As a new mayor, I'm very pleased to have the opportunity to be here at the summit and to learn about the things we'll be working on jointly with the university," said Peterson. "It's also good to hear what other common concerns the other mayors have. This is a very positive opportunity to share and work together."
Follow all Delta State University news at www.deltastate.edu.