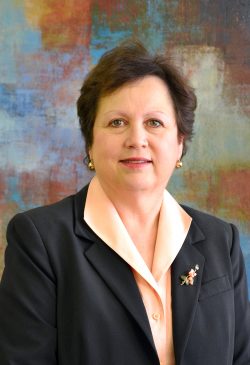 Dr. Leslie Griffin, dean of the College of Education and Human Sciences at Delta State, will continue her volunteer service as second vice president on the board of the Mississippi Association of Partners in Education.
MAPE has served as a non-profit network of educators and community partners since 1984 and is one of just a few statewide partnership organizations of its kind in the U.S. The organization is committed solely to providing training and materials to help build local support for the success of all students.
Griffin is returning to fulfill her term in the second vice president role. Newly elected MAPE officers began their terms on June 1.
Veteran board member Phil Hardwick of The Hardwick Company, LLC, was elected president. Board member Maggie Stevenson of Mississippi Public Broadcasting was elected first vice president, and Vickie Powell of Mississippi Economic Council was re-elected secretary. Patrice Guilfoyle of the Mississippi Department of Education returns as treasurer. Past president is Suzanne Bean, education and leadership consultant.
This year, MAPE welcomed new board members Kameron Ball of C Spire, Sumesh Arora of Innovate Mississippi and Sherwin Johnson of Jackson Public Schools.
Former directors re-elected to the board are: Debbie Anglin of Pascagoula-Gautier School District, Jane Beach of Parents for Public Schools, Sandi Beason of Clinton School District, Michael Bentley of Bradley Arant Boult Cummings, Nadine Gilbert of Jackson State University, Susan King of Mississippi Department of Transportation and Rebecca Starling, retired partnership coordinator for Jackson Public Schools.
Board members returning to fulfill remaining terms are Everett Chinn of Greenville Public Schools, Beth Fisher of Trustmark and Linda Southward of the Social Science Research Center at Mississippi State University.
On Aug. 23, MAPE will present the 2016 Winter-Reed Partnership Award to Oleta Fitzgerald, Southern Regional director of the Children's Defense Fund, during a tribute luncheon at the Clyde Muse Center in Pearl. Sponsorship opportunities are available by contacting MAPE at 601-573-0896 or visiting www.mapie.org. Individual tickets for the awards banquet are $75 and may be purchased online at www.mapie.org or from MAPE, P.O. Box 2803, Madison, MS 39130.
MAPE was designated as a 501(c)(3) non-profit organization in 1994.